Tuscan Tomato Bread Soup (No Croutons Required Challenge)
Today's featured dish from one of my favourite cookbooks, How to Cook Italian by Giuliano Hazan, is a Tuscan 'poor man's soup' made with a few simple, healthy, fresh ingredients.  Historically, this recipe was a way to use up stale bread so it didn't go to waste (something I still find useful now).
I loved this delicious soup; the broth with a full tomato and herb depth of flavour, made richer by the olive oil and lovely hearty bread pieces thickening it up.  The best recipes are like this; good quality, easily-accessible ingredients, no fancy kitchen gadgets or endless chopping and dicing and perfect for everyone from little ones to adults; everybody sitting around a scrubbed wooden table enjoying the company and the food.  Vegetable stock was the base in this dish instead of the traditional beef and I used a good, crusty, Italian bread to stand up to simmering in the soup.
This lovely, classic soup is a welcome peasant dish in a world where we tend to lean towards ostentatious, needless fussing over food.
It's time to come back to basics.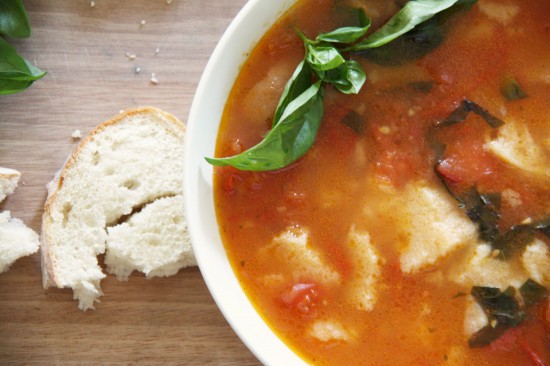 Jacqueline from Tinned Tomatoes and Dom from Belleau Kitchen have teamed up for this fun, random soup recipe challenge.  I can't wait to see what everyone comes up with.
Note:  if anybody would like this recipe, feel free to contact me.