Linguine with garlic, chilli, herbs and pine nuts
I love this pasta dish.  It's my go-to recipe when my loved ones or I need a quick pick-me-up, comforting meal.  It's quite rich and satisfying and you don't need a huge amount.  It's best with long pasta; either linguine or spaghetti.
You can add as much or little garlic as you like.  My other half likes a lot of garlic, I like a small amount so I usually compromise.  Likewise with the chilli.  Depending on what's around, or in my herb pots, I sometimes just use a handful of continental parsley or some basil and a good amount of baby spinach.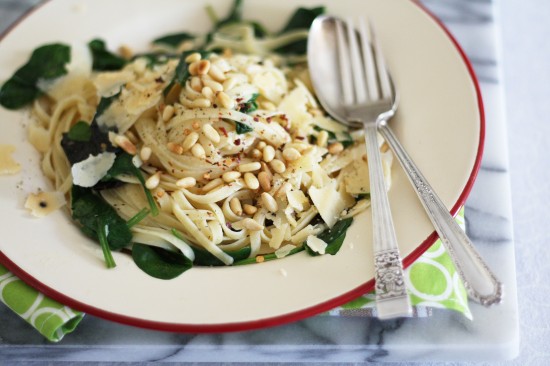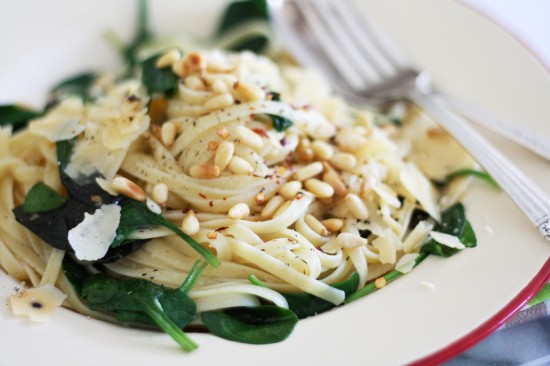 Recipe for linguine with garlic, chilli, herbs and pine nuts:
240g linguine
1/4 cup extra virgin olive oil
Grated lemon zest, to taste
Pinch chilli flakes or 1 diced, fresh chilli (seeds removed if you prefer)
2 large cloves garlic, crushed
A handful basil roughly chopped
100g baby spinach
Freshly ground black pepper and sea salt
Parmesan cheese, grated
30g toasted pine nuts
Add linguine to boiling, salted water – check if tender after 10-11 minutes then drain, reserving a cup of the pasta water.
Meanwhile, in a small, heavy based pan on low heat, slowly heat olive oil, lemon zest, garlic and chilli while the pasta is cooking.  The idea is to infuse the oil with the chilli, zest and garlic without burning any of the ingredients.  I keep an eye on this – if it starts to sizzle, I turn the heat off and leave the pan on the hotplate to continue infusing.
Drain pasta and add back to the pan on the hotplate.  Immediately add the olive oil mixture and mix with the pasta on low heat – add a splash of the reserved pasta water.  Take the pan off the heat and add the herbs and combine well.  Add the baby spinach when the pan's off the hotplate and stir to just wilt it.
Serve onto 2 plates or bowls and add more seasoning if desired, sprinkling over Parmesan and pine nuts to taste.
Serves: 2 large or 3 small