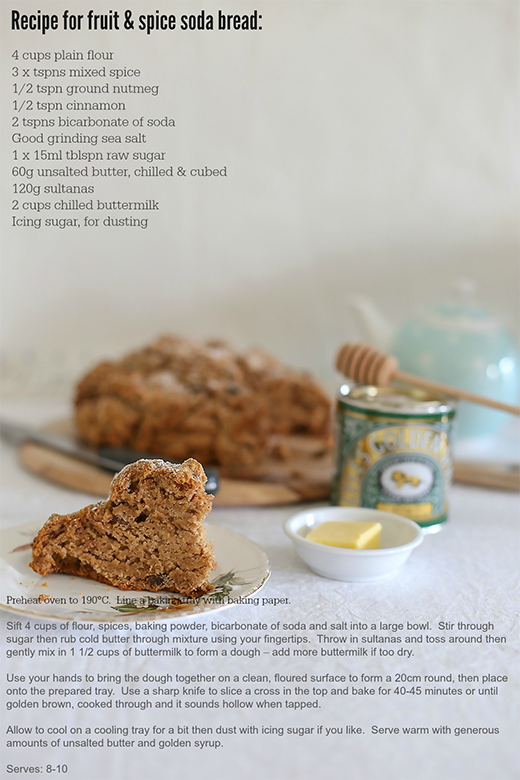 So, for St Patrick's Day on Thursday I thought I'd whip up some spicy, sultana studded soda bread to have with tea and things.  It's best with generous amounts of unsalted butter and golden syrup.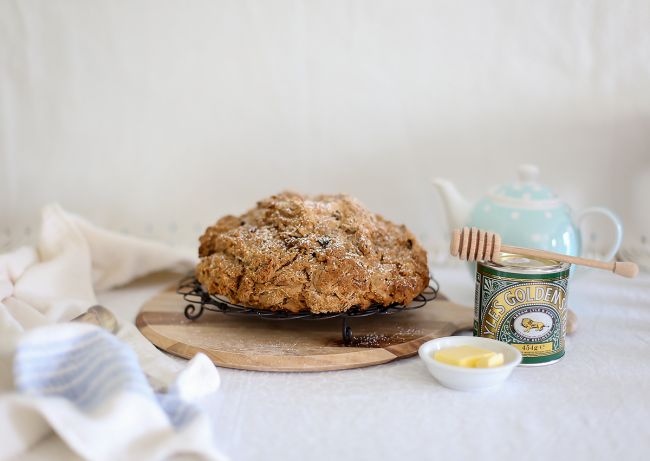 Recipe for fruit & spice soda bread:
4 cups plain flour
3 x tspns mixed spice
1/2 tspn ground nutmeg
1/2 tspn cinnamon
2 tspns bicarbonate of soda
Good grinding sea salt
1 x 15ml tblspn raw sugar
60g unsalted butter, chilled & cubed
120g sultanas
2 cups chilled buttermilk
Icing sugar, for dusting
Preheat oven to 190°C.  Line a baking tray with baking paper.
Sift 4 cups of flour, spices, baking powder, bicarbonate of soda and salt into a large bowl.  Stir through sugar then rub cold butter through mixture using your fingertips.  Throw in sultanas and toss around then gently mix in 2 cups of buttermilk to form a soft dough.
Use your hands to bring the dough together on a clean, floured surface to form a 20cm round, then place onto the prepared tray.  Use a sharp knife to slice a cross in the top and bake for 40-45 minutes or until golden brown, cooked through and it sounds hollow when tapped.
Allow to cool on a cooling tray for a bit then dust with icing sugar if you like.  Serve warm with generous amounts of unsalted butter and golden syrup.
Serves: 8-10
Recipe adapted from: Irish soda bread