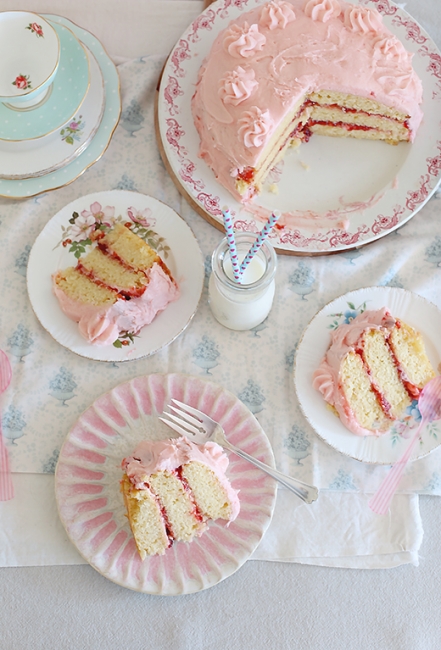 So here's a cake Ant and I made for my birthday a few weeks back.  This is from the Magnolia Bakery cookbook (online recipe is here) and is a fairly soft and dense cake with fluffy buttercream icing.  I added some jam in the middle because we in Australia love our layer cakes with strawberry jam.
Was great with a cuppa for turning a year older!
Recipe for Magnolia Bakery's vanilla birthday cake:
Cake:
1 1/2 cups self raising flour
1 1/4 cups plain flour
230g (1 cup) unsalted butter, softened at room temperature
2 cups white caster sugar
1 tspn vanilla concentrated extract or 2 tspns vanilla essence
4 large eggs, at room temperature
1 cup full cream milk
Good strawberry jam
Buttercream Icing:
230g (1 cup) unsalted butter, softened at room temperature
8 cups icing sugar, sifted
1/2 cup full cream milk
2 tspns natural strawberry essence
Natural pink food colouring
Preheat oven to 180C.  Sit eggs and milk at room temperature.  Grease 3 x 20cm round cake tins and line bases with baking paper.
Sift flour and baking powder into a medium bowl.
Add butter to large glass or ceramic mixing bowl and beat with an electric mixer for a minute or so on medium speed, until smooth.  Gradually add the sugar, beating on medium speed, until light and fluffy, around 3-4 minutes, scraping down the sides of the bowl regularly.  Add the vanilla and eggs, one at a time, beating on low speed after each addition, just until combined.
Add the flour and milk in four parts (starting with the flour), using a wooden spoon to fold in gently after each addition, making sure not to over-beat.  Use a spatula to scrape down sides of the bowl and scrape out cake batter evenly between the prepared cake tins.
Bake for 20-22 minutes, swapping the pans around after 15 minutes or so, until tops spring back when pressed and a skewer inserted into the middle of each cake comes out clean.
Cool cakes in tins for 10 minutes on cooling racks then remove cakes onto the cooling racks, peeling off the baking paper, to cool completely.  I immediately decided at this point which cake layers I was going to use as the lower and middle layers and cooled them completely upside down on the rack so the tops flattened, then turned them the right way around once they cooled.  The layer which cooled top side up became the top layer.
Place the base cake layer onto a cake stand or plate – place pieces of baking paper just under the base of the cake and around the sides.
Ice top of the base layer with around 1/3 a cup of icing, use a butter knife to spread the icing over the layer then dollop over a heaped tablespoon of strawberry jam, using a butter knife to spread out towards the edge of the layer, leaving a 2 cm border.  Place on the middle layer and repeat icing and jam application then place on the top layer.  Apply a thin crumb coat over of icing over the whole cake.  Allow to set for half an hour then apply the rest of the icing as you like.
Once you've completed the icing and decorations, remove the pieces of baking paper from the base of the cake.
Buttercream icing:
Place butter in large, clean mixing bowl with 4 cups of the sifted icing sugar, milk and essence.  Beat on low speed to combine, then increase speed to medium and continue beating for 2 minutes, or until smooth and creamy.  Gradually add the remaining icing sugar, a cup at a time, beating on medium speed until icing is of thick, smooth, spreading consistency (this usually takes up to 5 minutes).  You may not need all the icing sugar.
If you're using the food colouring, drop in a few tiny drops very gradually at this point, mixing on low speed into the icing sugar, until you achieve the colour you desire; make sure the food colouring is incorporated well.
Serves: 10
Recipe adapted from: The Magnolia Bakery Cookbook
Note: Store prepared icing in an airtight container at room temperature for 2-3 days before using.  Cake is best served on the day but can be stored in an airtight container for up to 2 days.