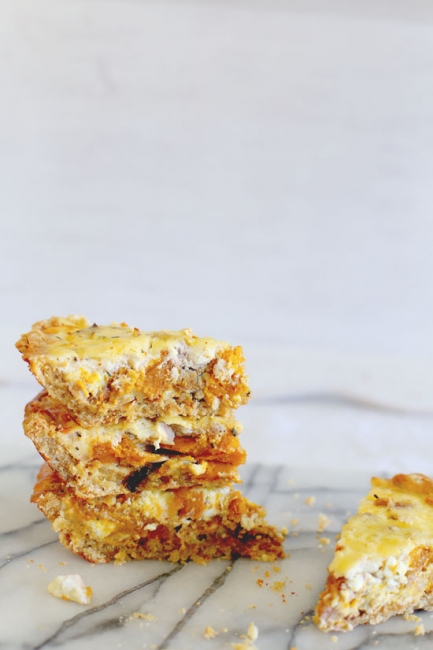 I suddenly felt like roast vegie quiche the other day after seeing a frozen one at the supermarket, and decided to do some roasting.  There's a bit of faffing about with quiche, making the pastry, cooking vegies, etc but it's worth it as long as you use a big enough tin.  I can't say this enough, as someone who far more than I want to admit, has ended up with way more egg filling than would fit in the tin.
Anyway, naturally I used one of those little enamel hipster pie tins which was way too small, so use a fairly deep pie or quiche tin and you should be right.
As expected, the combination of sweet roast pumpkin and savoury feta cheese was delicious!  Adding some rosemary, toasted walnuts, onion & garlic made this a great lunch and we had heaps for the next couple of days.  I'm seriously starting to add walnuts to everything, it's becoming ridiculous so feel free to leave them out however I do like the texture and flavour of them in the creamy quiche filling.
The quiche paired really well with a crunchy salad full of baby kale and cherry toms.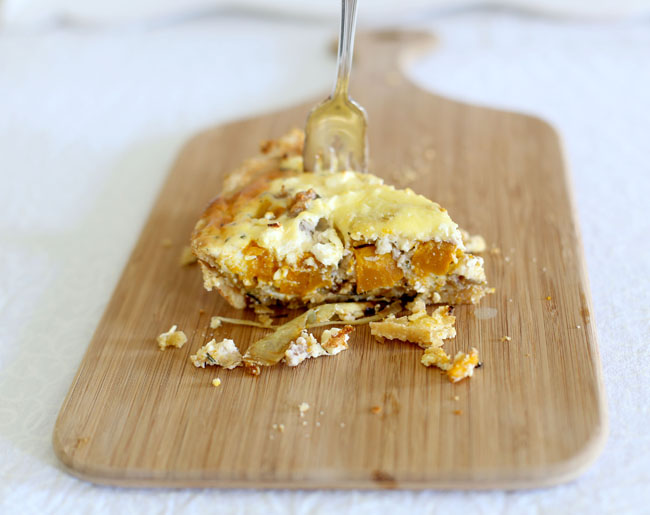 Recipe for pumpkin & feta quiche:
Pastry:
1 2/3 cups wholemeal plain flour
120g unsalted chilled butter, cubed
A good grind of sea salt
1 large egg from the fridge, separated
Chilled water
Grapeseed or olive oil
350g Kent pumpkin, peeled and cubed into 1-2cm pieces
40g walnut halves (optional)
1 brown onion, sliced
4 cloves garlic, left whole
4 large eggs
1 cup cooking cream
1/4 cup full fat milk
2 tspns fresh rosemary, finely chopped
Freshly ground sea salt and black pepper
120g good feta cheese, crumbled
40g cheddar cheese, grated
Pastry:
Grease with butter a large (around 22cm across the base) pie or quiche tin with high sides (I used a shallow pie tin 17cm across the base and it was too small).
Whisk egg yolk and 1 x 20ml tablespoon of the iced water together until combined.  Whisk egg white with a fork and set aside.
Place flour, butter and salt into a large mixing bowl and rub between fingertips until resembles coarse breadcrumbs – it's ideal if a few small lumps of butter can still be seen in the mixture.  Add the egg yolk/water and 1 tablespoon of iced water and stir with a butter knife until dough comes together, adding more water gradually as needed (wholemeal flour tends to suck up moisture).  If you can bring the dough together with your hands and it stays in a soft shape, then it's ready.
Bring pastry together in a disc using your hands and place on a lightly floured sheet of baking paper.  Use a bit of flour to lightly coat a rolling pin then roll out the pastry to a round big enough to fit your tin.  Lay pastry onto tin using baking paper and press into the base and sides in a rustic way.  Cover with plastic wrap then store in the fridge for an hour until firm.
Filling:
Preheat oven to 200C.
Find a large, flat baking sheet and place baking paper over the top.  Scatter over pumpkin, onion rings and whole cloves of garlic and drizzle over a light coating of oil and rub in.  Season well.
Roast in oven for 15 minutes, take tray out and use tongs to move the onion around a bit to avoid burning, turn the tray around then continue roasting for another 10-15 minutes.  About 7 minutes before the end of cooking time, reduce oven temp to 180C and place the walnuts on a tray and place into the oven.  Make sure the pumpkin is cooked through and the nuts are fragrant (don't burn them!) before taking out of the oven and setting aside, leaving oven on.
Once cooled, squeeze garlic out of garlic skins and break up into pieces.  Once walnuts are cooled, chop coarsely.  Whisk together the eggs, cream, milk and rosemary until smooth – season well with freshly ground black pepper and sea salt (you shouldn't need too much salt because the  feta cheese is salty enough).
Remove pastry from the fridge.  Layer baking paper then baking beads (or dried beans) onto pastry.
Bake for 8 minutes.  Remove pastry base from the oven, remove baking paper and beads and brush with egg white wash to seal the pastry.  Bake for a further 12 minutes, or until pastry is light golden brown.  Set aside to cool for a few minutes.
Place onion/garlic mixture, pumpkin and feta cheese evenly over the base of the cooked pastry base then carefully pour in the egg mixture.  Sprinkle cheddar cheese over the top.
Bake for 35-40 minutes, or until quiche has set and is light golden brown around the edges.  Allow to sit for ten minutes before removing from tin and serving.
Serves: 6
Adapted from my own recipe here