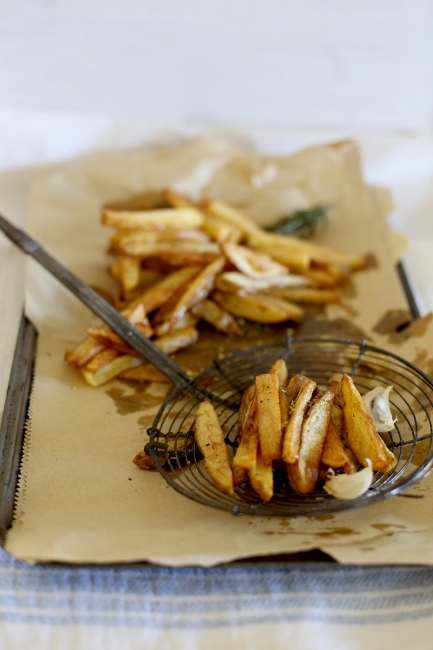 I spotted these on Nigellissima the other day and realised I hadn't made proper deep fried chips in years (normally I make ye olde oven baked chips).  Anyway … the difference between these and the ones mum used to make (in two batches, twice frying them – delicious), is that these ones go into cold oil which is then turned to a high simmer.  You'd think they'd be soggy old oily things but no, they're just as crispy outside and wonderfully fluffy inside as mum's chips but with Tuscan herb flavours, lemon and a decent sprinkle of sea salt.  Also, you don't need to land the chips into boiling hot oil!  I mean I wouldn't make these that often what with using up a huge amount of oil for one recipe but they're fun to make on a weekend.  Also, there's not much better food than hot chips, whether oven baked or fried hey?!
Re: the oil wastage, when I was a kid my mum use to re-use cooking oil a few times, cooling then straining it after each use, isn't that scandalous?!  I did this also right up to after I left uni in the late 90s when the powers that be decided that re-using oil was incredibly bad for you and to never ever do it.  How did we survive the 80s?  Hah.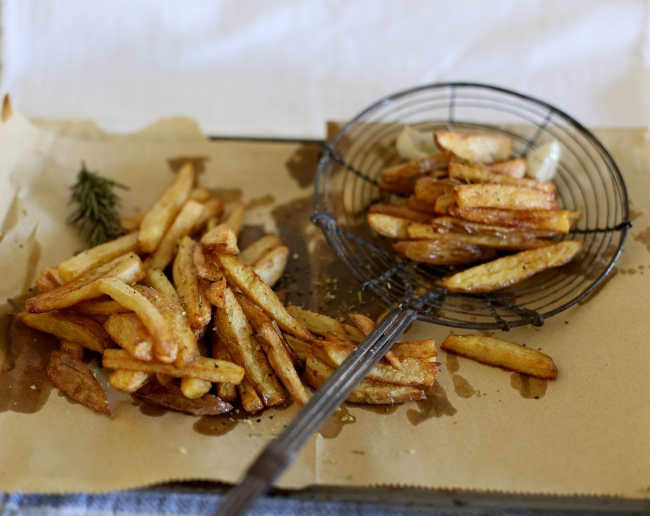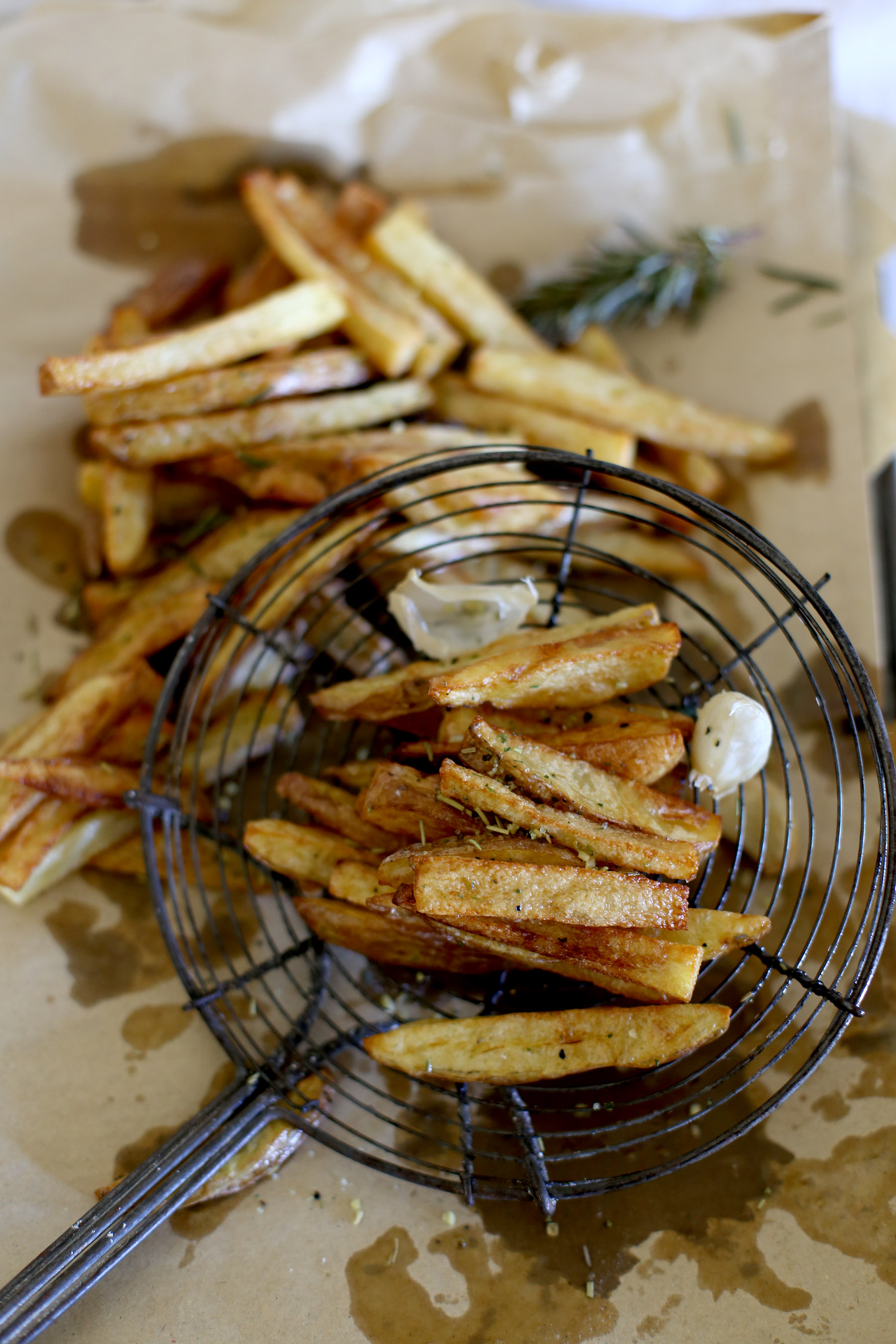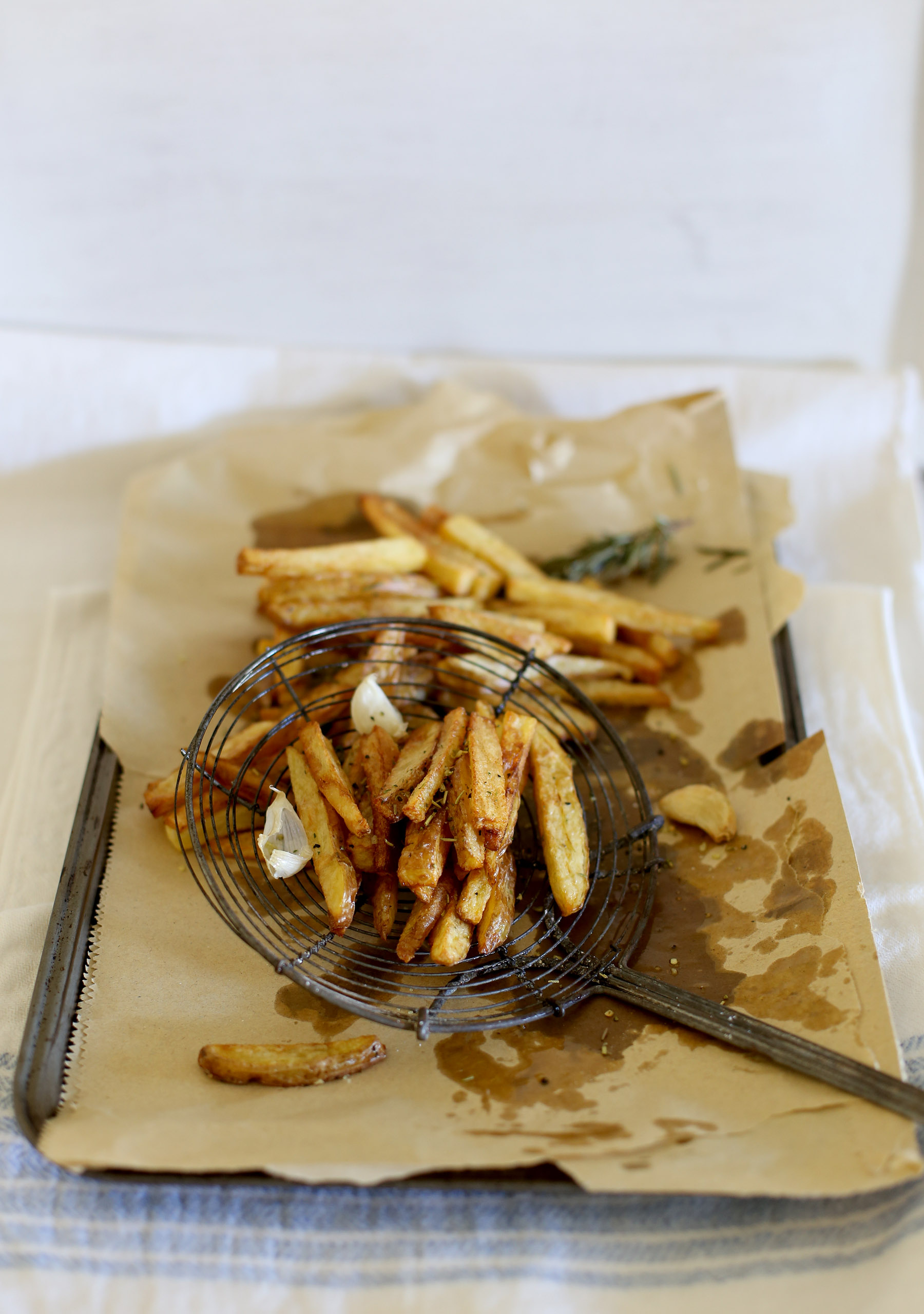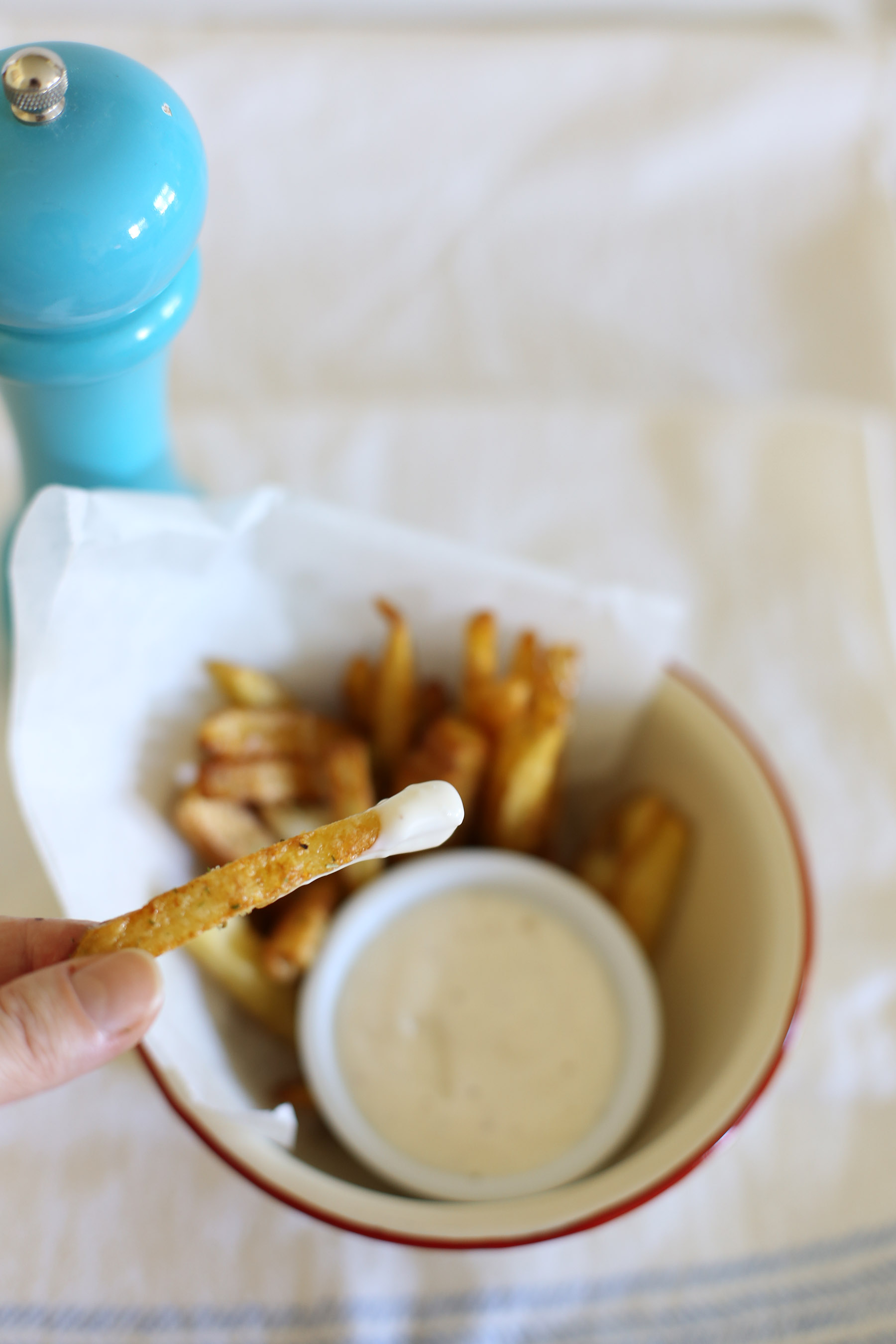 Recipe for deep fried Tuscan chips:
500g frying potatoes (coliban are a good variety), scrubbed and dried
Grapeseed oil (or frying oil of your choice)
Large sprig rosemary
4-5 cloves garlic, left in skins
1 lemon (for zest only)
Tuscan herb seasoning
Sea salt
Aioli, to serve
Note: make sure you don't leave the kitchen while making these as frying can be dangerous.
Find a high sided, heavy based large saucepan, a splatter guard, tongs, chip strainer and a large baking tray lined with baking paper and place them beside your stove  Have the rosemary and garlic cloves nearby as well.
Place saucepan over a medium sized hob and pour in around 700mls of oil.
Slice potatoes lengthwise into 1cm chips, leaving the skin on.  Pat with paper towel until mostly dry.  Use tongs to place the chips carefully straight into the cold oil so they're evenly distributed and almost covered with oil.  Turn up heat to high and stand by, waiting for the oil to come to a decent, bubbling simmer.  Place over the splatter guard, turn the heat down to medium/high, making sure the oil is still bubbling well and allow the chips to fry for 15 minutes, using the tongs to move them about a bit a couple of times.  Use your tongs to place in the rosemary sprig and cloves of garlic carefully, pushing them under the oil.  Place the splatter guard back on and continue frying for 5 or so minutes, until the chips are golden brown.
Use the chip strainer to pick up chips, draining them first then placing onto the lined baking tray so some of the oil is absorbed; grind over some sea salt and sprinkle over Tuscan herb seasoning while the chips are still hot.  If you feel like it, finely grate some lemon zest over as well.
Serve immediately with aioli or as a side for steak, chicken or fish.
Serves: 2
Adapted from: Nigella Lawson