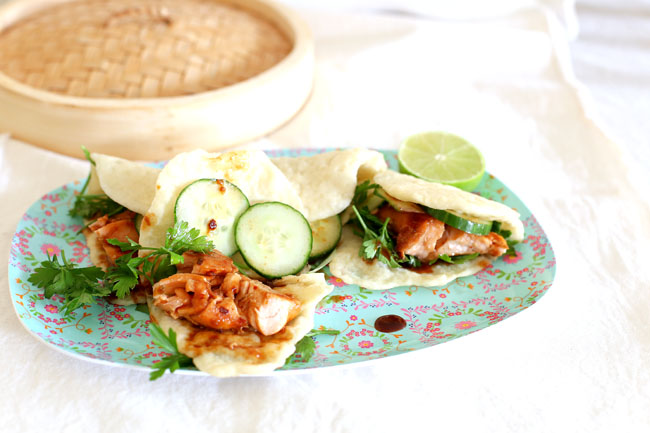 I'm absolutely obsessed with dumplings and buns and grab them from our food trucks when I can.  So when I received Rachel Khoo's Kitchen Notebook in the mail recently, I immediately zeroed in on this steamed bun recipe in amongst the other delicious looking dishes in this gorgeous cookery book.  You'll need a bamboo steamer to make the buns (I have one but hardly ever use it, I'm so happy to find an easy recipe for steamed buns I think I'll get a lot more use out of it now and anyway, you can pick up steamers super cheaply from Asian supermarkets and such).
These are really worth making!  The marinade is so spicy, sweet and sticky with the rich salmon, crisp salad and the beautifully soft, pillowy buns encasing everything.  So basically, Ant and I stood at the kitchen counter and scarfed them down because they were that good.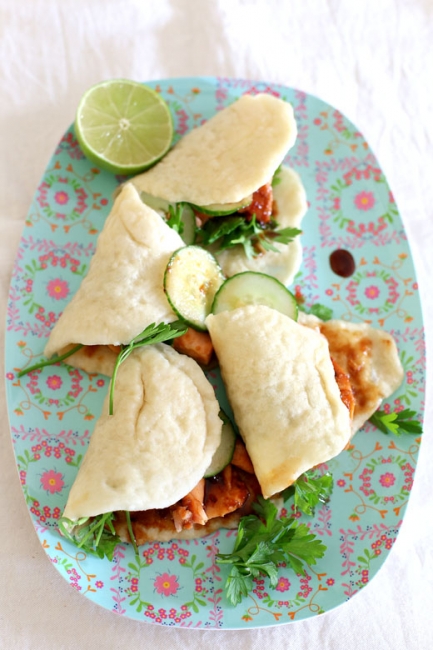 Recipe for Rachel Khoo's Teriyaki salmon steamed buns:
2 x 15ml tblspns low sodium soy sauce or Tamari
2 x 15ml tblspns honey
1 x 15ml tblspn Mirin seasoning
Pinch chilli flakes
1 tspn oil
1 tspn fresh, finely grated ginger
2 Atlantic salmon fillets (I used frozen fillets of 130g each)
Bun dough:
160g plain flour + more for dusting
1 x 15ml tblspn skim milk powder
1 x 20ml tblspn raw caster sugar
1 scant tspn dried (fast action) yeast
1 tspn baking powder
Pinch sea salt
90mls luke warm water
Oil
Salad:
1 lime, halved
Handful coriander or flat leaf parsley leaves
4 spring onions, green part only, sliced
1 Lebanese cucumber, sliced thinly
Set aside a bamboo steamer, wok or large frypan which is big enough so the steamer won't touch the sides.
Whisk together the first 6 ingredients in a small bowl.  Place salmon fillets into a ceramic baking dish lined and drizzle over the sauce, making sure each fillet is covered.  Cover dish with plastic wrap and store in the fridge.
Bun dough:
Scatter a bit of flour over a clean, dry, flat board – I line my area with baking paper and flour that as I find it easier.  Find a rolling pin and dust lightly.  Grease a large mixing bowl and set aside.
Place the first 6 (dry) ingredients into a large mixing bowl and whisk to combine.  Make a well in the centre and pour in the water; use a wooden spoon to stir until mixture starts to come together then turn out onto prepared board.  Knead dough for 5 minutes, or until dough is smooth and elastic, then form into a ball.  Place into prepared bowl and cover with plastic wrap and a damp tea towel and leave in a still, warm place until the dough has doubled, for around one to one and a half hours.
Cut 8 x 10cm squares of baking paper and space out near your previous work area in a still, warm place.
Dust the previous dough work surface with a bit more flour, including your hands.  Place the dough onto the surface, punch down and use your hands to roll into quite a thick log shape.  Use a sharp knife to slice this into 8 pieces.  Roll each piece into a ball then place onto floured surface and use your floured rolling pin to roll out each piece into a 15cm x 7cm oval shape; keep adding light flour to the rolling pin and surface as you keep rolling out each oval.  If you want your buns thicker, make the oval smaller.
Brush each oval lightly with oil and fold over, placing each onto the squares of paper as you go; allow to sit for half an hour or so covered with a dry tea towel – they'll rise a little bit.
Remove salmon from the fridge to come to room temp for 10 minutes; use tongs to turn flip the salmon fillets around, moving them around in the marinade.
While the dough is rising, preheat the oven to 200C.  Bake salmon for 10 minutes, turn the fillets around and cook for a further 4-5 minutes (I prefer the salmon rare in the middle).
Set up your bamboo steamer in the frypan or wok with about 5 cm of water in the base, or around 1-2cm  below the base of the basket.  Place pan with the steamer in it over a hotplate on medium/high heat until you can see a bit of steam coming off the water.  Place each bun on the baking paper into the steamer – I did 4 at a time in mine as it has two layers.  Steam each bun for 5-8 minutes, or until dough is pale, fluffy and firm when you press it.  Make sure the water in the pan doesn't run dry; keep some boiled water in your kettle on standby just in case although I didn't need it.
Once the salmon is baked, pour the excess marinade into a heat-proof jug.  Flake the salmon into large pieces.
Serve buns with salmon, a drizzle of lime, salad and extra marinade.
Serves: 4
Adapted from: Rachel Khoo's Kitchen Notebook