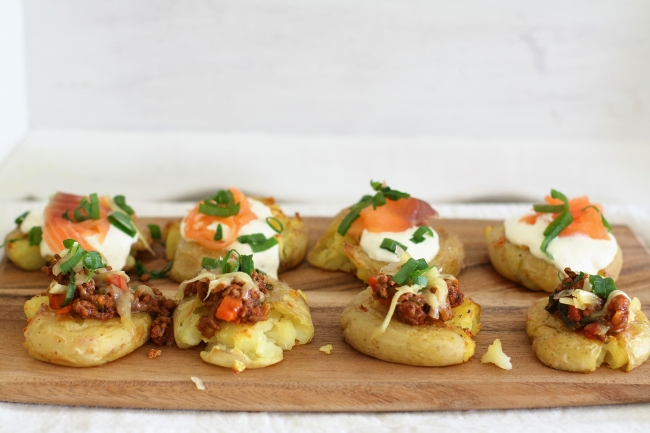 I love these crispy smashed potatoes, particularly with deliciously decadent but easy toppings.  You could top them with just about anything; I used some leftover mince from spaghetti bolognese for some and smoked salmon and garlic lemon sour cream topping for others.  You could easily make these vegetarian with some spicy Mexican beans or just use the sour cream dip and spring onions as a topping on their own.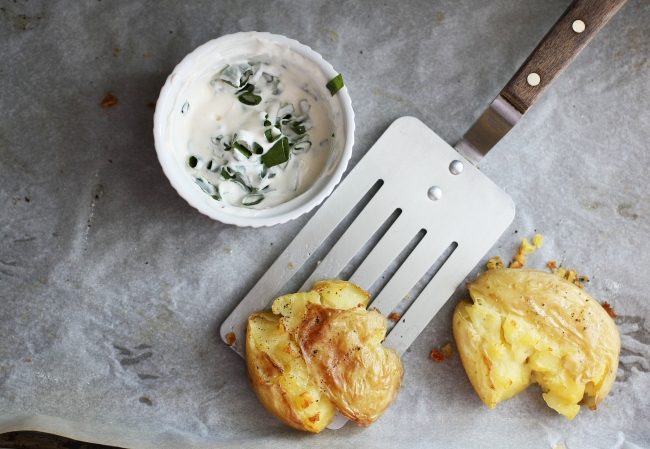 Recipe for smashed crispy loaded potatoes:
12 baby potatoes
Grapeseed or olive oil
Sour cream topping:
1/2 cup sour cream
40mls aioli or mayonnaise
1/2 tspn lemon zest
1 small garlic clove, crushed
Seasoning
Small pinch chilli flakes
Fillings:
Savoury mince, left over
Handful grated cheddar cheese
Smoked salmon, finely sliced and in bite-sized pieces
The green parts of 3 spring onions, sliced finely
Place whole potatoes in large saucepan and cover with water.  Bring to boil then simmer on medium for 15-20 minutes, or until tender when checked with a skewer – don't overcook them.
Meanwhile, place topping ingredients in a small bowl and stir until combined well.  Set aside if using straight away or store in the fridge, covered.
Simmer left over mince in a saucepan on low to medium heat, until hot and bubbling.  Turn down to lowest setting to simmer until you need to use it.
Preheat oven to 220C.
Once potatoes are ready, drain well and allow to sit in colander a bit until all moisture has evaporated.  Place potatoes on a flat baking tray lined with baking paper, spread out a bit then use a potato masher to carefully mash into a round, flattish shape.  Brush over a teaspoon of olive or grapeseed oil for each potato, season well and roast for 25-30 minutes, or until golden brown.
Once potatoes are roasted, top with:
Hot mince, grated cheese and sliced spring onions
Sour cream topping, smoked salmon, squeeze of lemon and sliced spring onions
Best served straight away.
Serves: 4 entrées