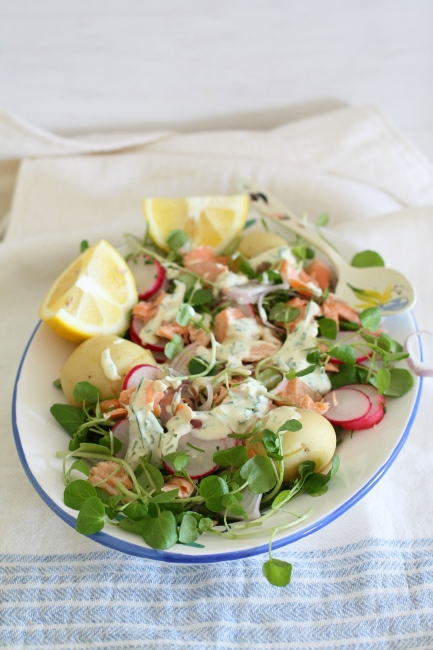 Watercress is one of those elusive things in Australia but I love the fresh little peppery leaves and how well it goes in salads so always grab a bunch when I see it.  I remember my mum growing it near a creek at the bottom of our garden when I was little and we'd walk down and pick some in the afternoons to have with dinner.  It's supposed to be super healthy too!
As it's spring, this salad is light and full of delicious contrasts; luscious, rich salmon, hearty potato and some crisp salady things .. but then the dressing!  Creamy, yet with a full on zesty lemon flavour.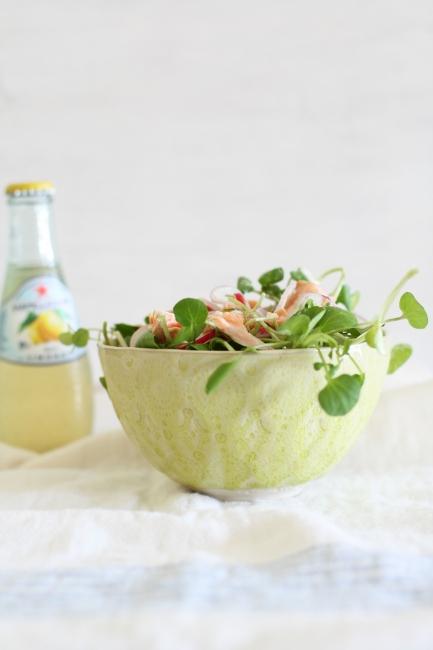 Recipe for salmon, baby potato & watercress salad:
8 baby potatoes
2 x 170g fillet Atlantic salmon fillets
2 tspns grapeseed oil
Freshly ground sea salt and black pepper
1 bunch watercress
1 small shallot, finely sliced (omit if you don't like the taste of onion)
8 radish, finely sliced
Creamy lemon dressing:
15mls extra virgin olive oil
2 tspns Dijon mustard
1 tspn finely grated lemon zest
1 x 15ml tblspn freshly squeezed lemon juice
80mls sour cream
2 tblspns chives, finely sliced
Freshly ground sea salt and black pepper
To serve:
Lemon wedges
Preheat oven to 190C.  Place baking paper onto a baking tray to fit 2 salmon fillets.  Rub oil over each fillet and season well.
Add extra virgin olive oil, mustard, lemon zest, lemon juice and sour cream to a bowl and whisk until smooth and creamy.  Add chives and seasoning to taste and stir until combined.
Boil or steam baby potatoes until tender, for around 15 minutes.  Remove from pan and set aside to cool a bit.
Meanwhile, oven bake salmon until cooked yet rare in the middle.  For frozen fillets, this will take around 20 minutes; for fresh around 10-12 minutes.  Use a knife and fork to flake into bite-sized pieces.
Add the watercress, shallot and radish to serving plates.  Add potatoes and salmon and drizzle over dressing.
Serves: 2
Inspired by: BBC Good Food