There's a few steps to this dish but don't let that stop you if you're keen for a hearty and healthy salad (it serves at least 4 so is really worth it) with spicy/sweet yet salty, fresh and crunchy flavours.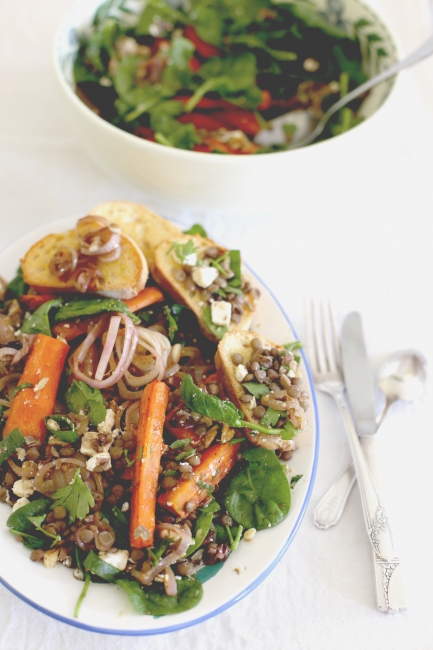 Recipe for lentil, fetta & roast carrot salad:
Grapeseed oil
8 carrots, peeled and halved lengthwise
2 tspns honey
Freshly ground sea salt and black pepper, to taste
Small sour dough baguette
1 clove garlic, halved
Extra virgin olive oil
1 cup brown, green or Puy lentils, dried (around 3 cups cooked)
1 low sodium vegetable stock cube (I use Massel)
2 dried bay leaves
50mls extra virgin olive oil
Small pinch chilli flakes
1/4 tspn ground cumin
Scant 1/2 tspn lemon zest
3 shallots, finely sliced
1 clove garlic, crushed
20mls balsamic vinegar
60g baby spinach
40g Kalamata olives, chopped coarsely
2 finely sliced spring onions (green part only)
A handful continental parsley, chopped coarsely
100g soft Tasmanian feta cheese, crumbled, for the top (can substitute shaved Parmesan cheese)
40g walnuts, chopped coarsely
Preheat oven to 200C.  Place baking paper onto a large baking tray.  Layer over halved carrots and drizzle over grapeseed oil, seasoning well with sea salt and black pepper.  Roast for 30-35 minutes, or until caramelised; remove from the oven and drizzle over honey.  Decrease oven temp to 180C.
Slice baguette into medium slices (you'll need around 8 slices for this recipe) and place on baking tray.  Rub each slice of bread well with a halved garlic clove and drizzle with extra virgin olive oil.  Season well with salt and pepper.  Bake in oven for 15-20 minutes, or until golden brown.
Meanwhile, rinse lentils in a colander, picking through them to make sure they're clean and free of stones.  Add to a medium/large saucepan and add water so that it comes up to a few cms over the lentils; add vegetable stock cube and bay leaves.  Bring to a boil, covered, on high heat, then turn down to low/medium and gently simmer with the lid on for 25 minutes, stirring only occasionally, until tender but still intact – add more water if it needs it however it should be just enough.  Drain in colander or sieve and remove bay leaves – allow to cool a bit.
Add extra virgin olive oil to a medium saucepan and turn heat to medium/high.  Add chilli flakes, cumin, lemon zest, shallots and garlic, cover pan, then turn down to low/medium and slow sauté gently for around 12 minutes, stirring occasionally, until lightly caramelised and cooked through, making sure not to burn the garlic.  Remove from the heat, add the balsamic vinegar and stir through.
Add baby spinach to a large serving dish.  Pile on lentils and carrots, olives, spring onions and parsley then drizzle over caramelised shallots in balsamic vinegar/olive oil mixture; gently stir everything through (with a serving spoon/clean hands, whatever you prefer) then scatter the fetta and walnuts over the whole dish, placing croutons on the side.  Serve immediately.
Serves: 4
Note: lentils can be cooked the day before and stored in the fridge.