This is a spicy and flavourful Jamaican dish which is a combination of a fresh and dry rub over hearty chicken legs.  If you buy chicken with the skin on, you'll get a crispy skin thing happening however I prefer not to eat chicken skin.  I also roasted it in the oven; I have eaten Jerk chicken barbecued or cooked on a skillet previously and it was pretty awesome, so cook it as you wish, just make sure the chicken is cooked completely.
The marinade is spicy, obviously, but also slightly sweet and fragrant with a fresh herb flavour coming through.  I paired this with a quick fried rice, a squeeze of lime and watercress.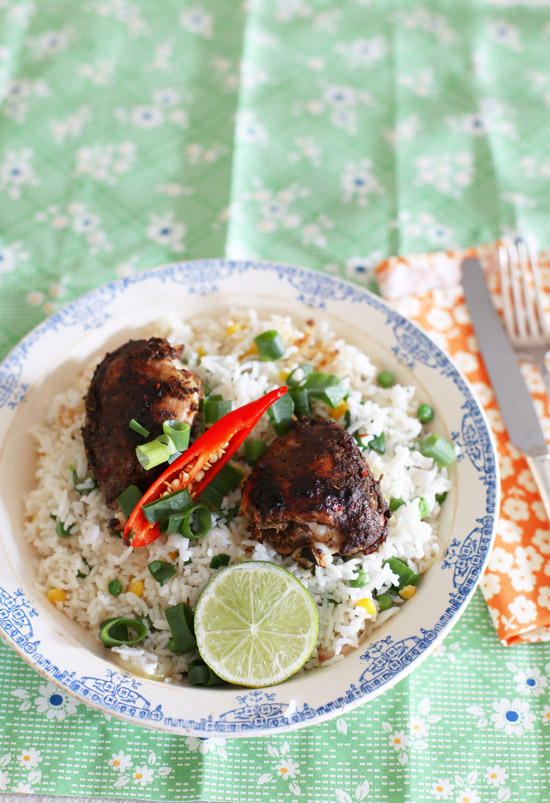 Recipe for jerk chicken:
Note: all tablespoon measures = 20ml tablespoons
Note: this dish requires marinating overnight ideally

6-8 chicken legs, bone left in (I used skinless)
Jerk paste:
Dry ingredients
1 tblspn ground allspice
1/2 tspn ground coriander
2 tspns black peppercorns
1/4 tspn ground cinnamon
1/4 tspn ground nutmeg
1/8 tspn ground cloves
1 tspn dried thyme leaves
Pinch sea salt
Fresh ingredients
3 garlic cloves, crushed
1 spring (green) onion, diced finely
1 tblspn coriander or Continental parsley, chopped finely
2 medium red chillis
1 tblspn fresh ginger, peeled and chopped finely
1 1/2 tblspns brown sugar
40mls grapeseed oil
1 tblspn fresh lime juice
2 tspns Tamari sauce
Spicy rice:
2 x 20ml tblspns grapeseed oil
Chilli flakes or finely diced fresh red chilli, to taste
2 cloves garlic, crushed
4 shallots, sliced finely
2 cups basmati rice
Freshly ground sea salt, to taste
100g green peas (fresh or frozen)
100g sweetcorn kernels (fresh or frozen)
3 spring (green) onions, sliced (green part only)
To serve:
Handful watercress (or other fresh greens)
3 limes
Place chicken pieces into a ceramic baking dish.
Use kitchen gloves to dice red chillies really finely.  Leave out membranes and seeds if you want things a bit milder.
Jerk paste:
Grind the dry ingredients in a large mortar with a pestle until fine.  Add to a small food processor and add the fresh ingredients then pulse/process until a relatively smooth paste – if you feel it needs it, add more sea salt.  If you have a big enough mortar and pestle you could always manually grind everything that way instead of using the food processor but the mixture will be a bit coarser.
Add jerk paste to chicken pieces (this is enough for around 8, I used 6) and use kitchen gloves to rub in so each piece is well coated, cover with double plastic wrap and refrigerate overnight.  I cooked the rice on the same day and chilled it overnight for the spicy rice the next day (see below for method).
Sit chicken pieces at room temperature for 30 minutes before cooking.
Preheat oven to 200C.  Roast chicken pieces for 40-45 minutes or until browned and cooked through.  Use tongs to turn over a couple of times so the chicken pieces brown all over.  Chicken pieces are cooked when pierced with a skewer near the bone and clear juices run out.
While chicken is cooking, cook the rice by absorption method if you didn't cook it the day before; rinse rice in a sieve then add to a large saucepan and pour in 4 cups of water.  Bring to the boil then immediately turn rice down to low and cook covered for 12 minutes, or until water has absorbed.  Sit rice aside covered for a few minutes.
Once the rice is cooked, heat up a frypan to medium/high heat with a couple of tablespoons of grapeseed oil; add chilli/chilli flakes to taste, garlic and shallots and sauté until just starting to caramelise then add the rice, peas and sweetcorn kernels, season well and stir fry, breaking up the chunks of rice (this happens if you cook the rice the day before) until everything's heated through.  Add spring onions and stir through.
Slice the limes into halves for serving.
Top the rice with the cooked chicken and spring onions for garnish.  Add watercress and lime halves on the side for squeezing over.
Serves: 3-4 (depending on how many chicken legs you use)
Note:  the paste can be stored in the fridge in an airtight jar for up to a month.

Adapted from: Good Food