Recently I received an email from Denis, the owner of Bezalel Art, an Etsy store based in Victoria which specialises in hand-made, beautifully embossed rolling pins.  So lucky me I got to trial one!  Bezalel has a lot of different patterns to choose from and you can even customise your own rolling pin.
I decided to make some embossed sugar cookies for my review; I found the rolling pin so easy to use, it moves smoothly and is wonderfully solid.  This rolling pin can be used for roll-out cookie dough (or even fondant icing and pie pastry with some experimenting) and would make a whimsical gift for any bakers in your life.
I used a basic sugar cookie recipe for this but also added orange zest and vanilla which made these delicately crisp cookies deliciously sweet and fragrant.  We couldn't stop picking at the raw dough!  In saying that, the baked cookies were lovely and so pretty with the embossed pattern.  These are perfect with a cuppa and some friends around for afternoon tea and are no more complicated than if you used a normal rolling pin but so much more fun.
All opinions are my own.  Thanks to Denis for sending me this product to trial and review.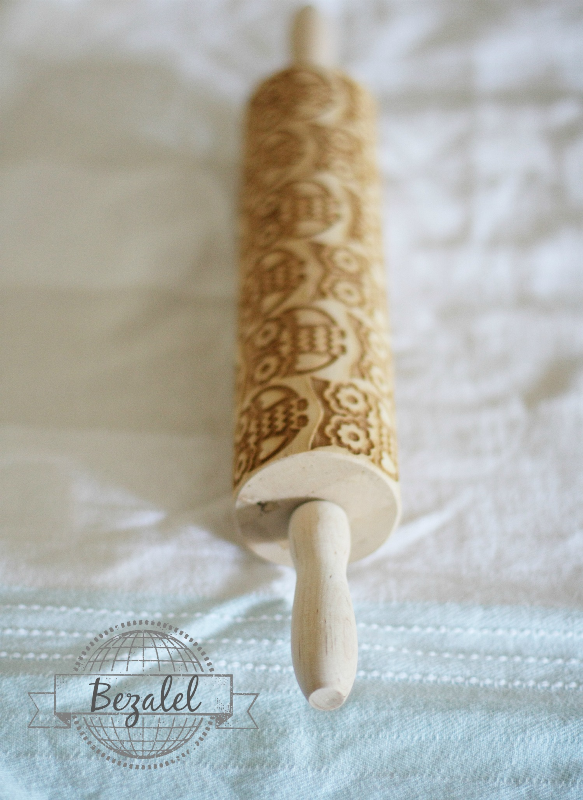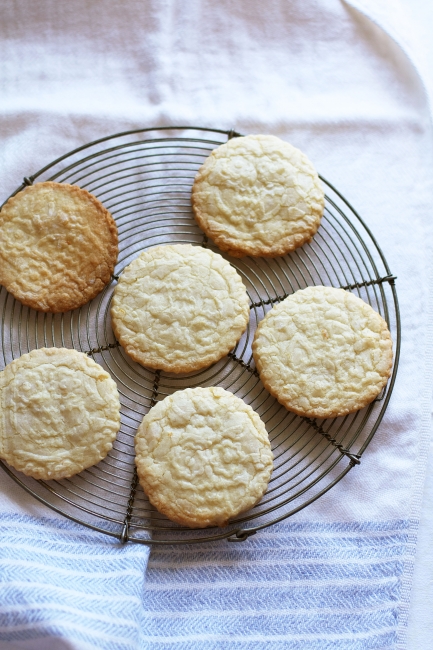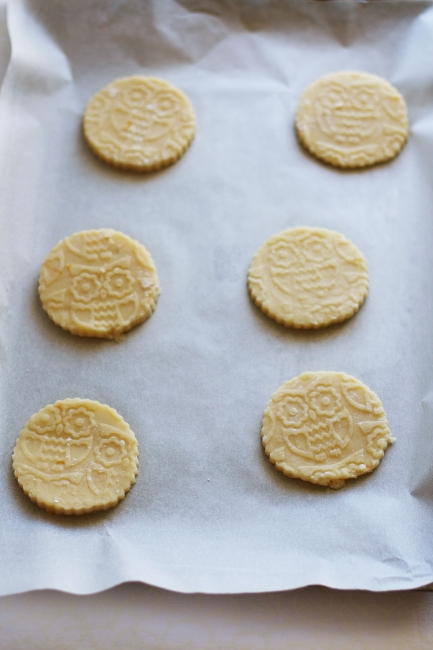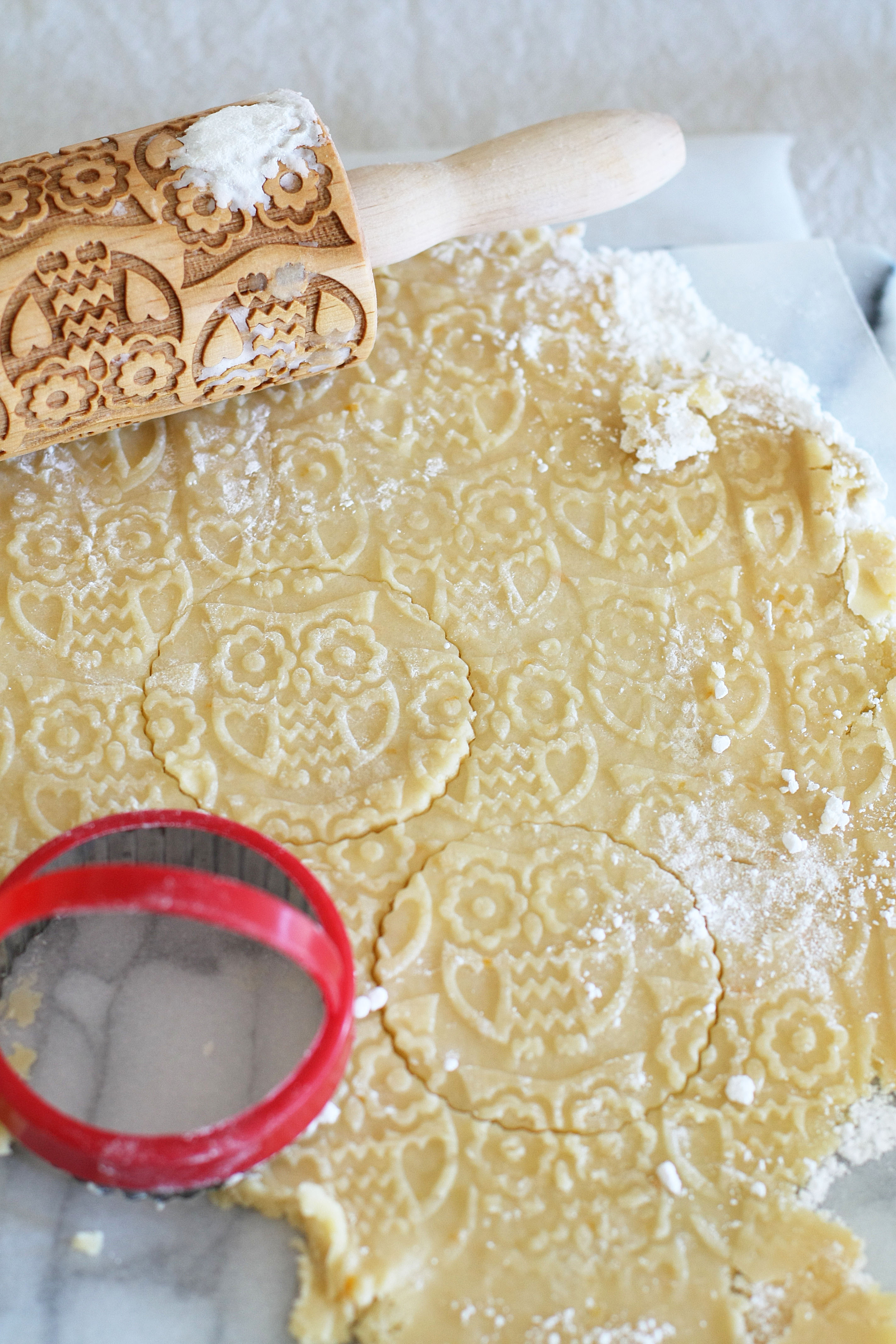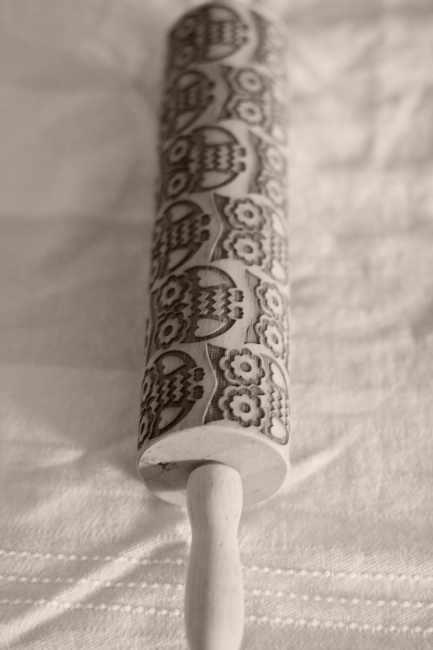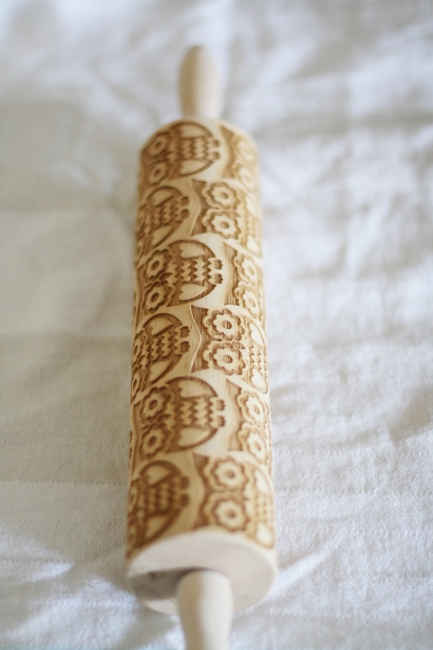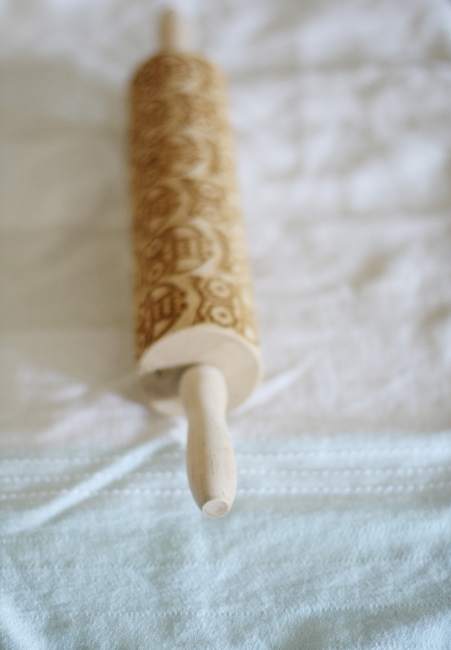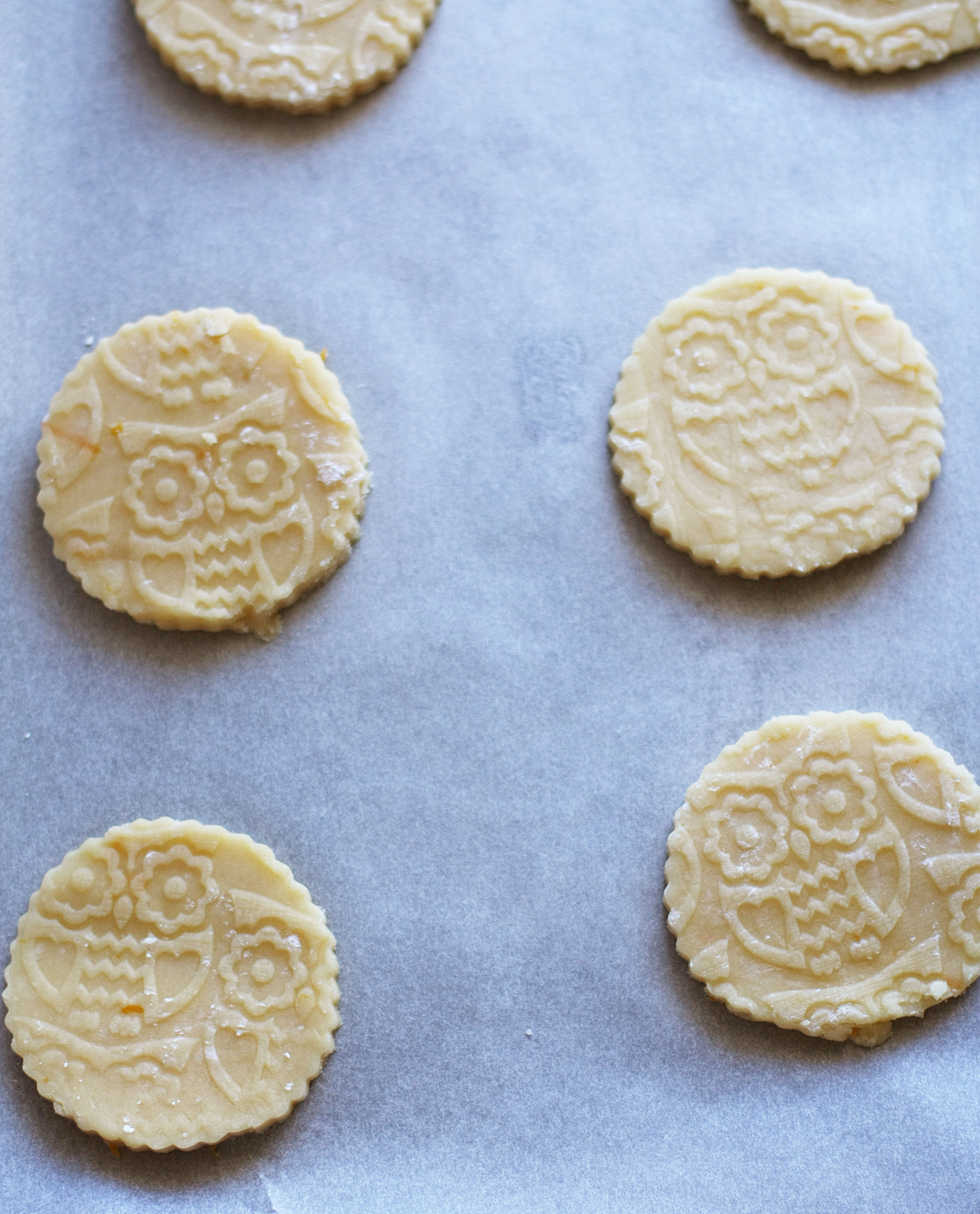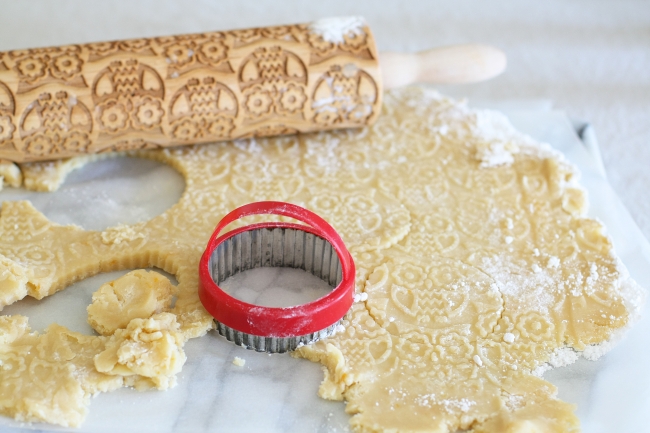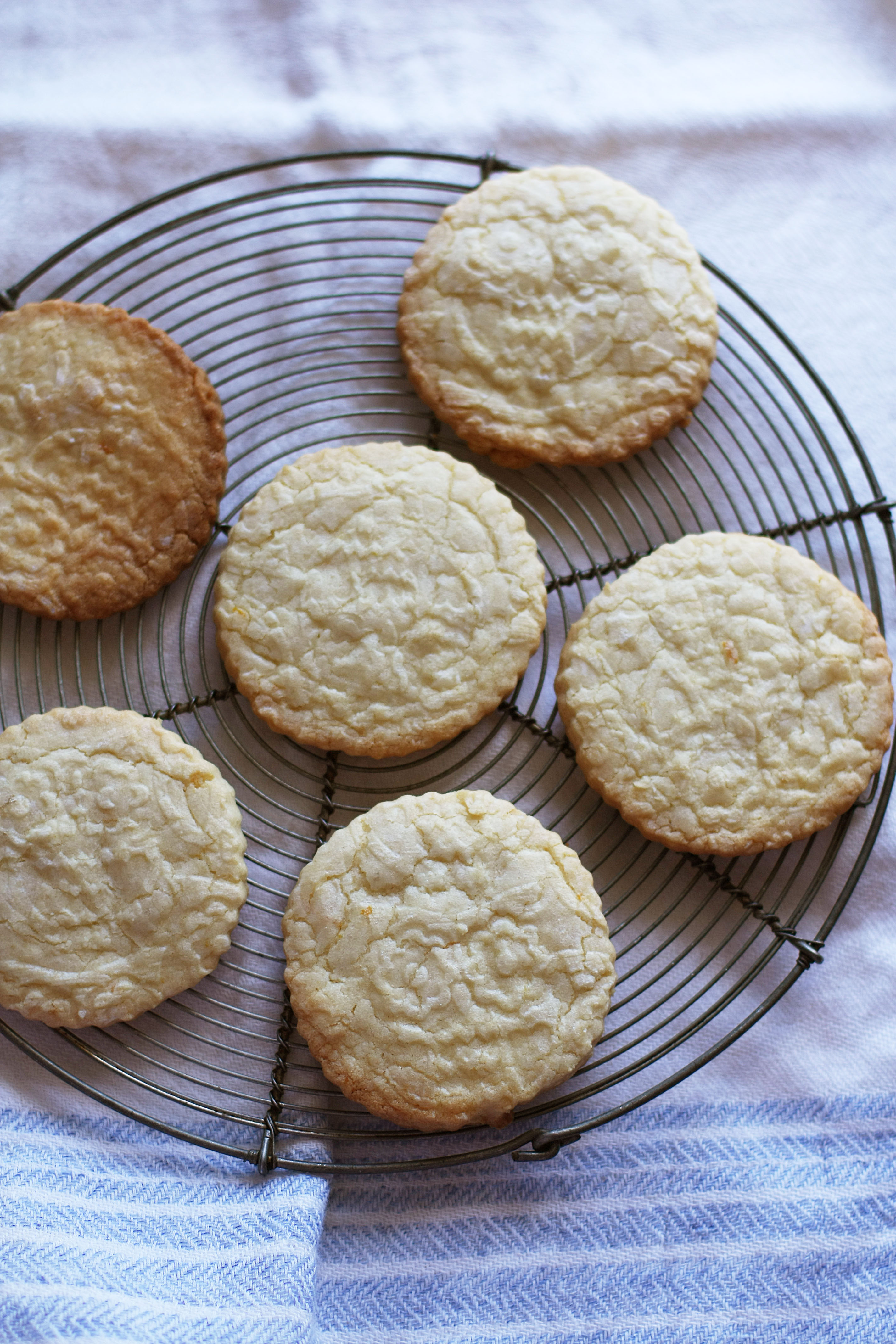 Recipe for vanilla sugar cookies:
2 3/4 cups plain flour
1 pinch salt
1/4 to 1/2 tspn baking powder
230g unsalted butter, softened at room temperature
1 1/3 cups white caster sugar
1 large egg
2 tspns vanilla extract
1 tspn orange zest
Vanilla sugar
Icing sugar
Place baking paper over a large cookie pan.
Add flour, salt and baking powder to a medium sized bowl and whisk until combined.
Place butter and sugar into a large mixing bowl.  Use an electric mixer to beat butter and sugar on low for 20 seconds then medium speed for 2 minutes, or until light and fluffy.  Add egg, vanilla and zest and beat on low speed just until combined.  Add flour mixture in 3 parts using a wooden spoon to fold in until everything's combined – I then use my hands to bring it together until a smooth but soft dough is formed.
Form into a disc, then wrap in plastic wrap and chill in the fridge an hour or two to firm.
Place baking paper onto a flat surface big enough for rolling out the cookie dough.  Dust baking paper lightly with sifted icing sugar.  Remove dough from the fridge, dust lightly with icing sugar then use rolling pin to roll out to 1/2 cm thick.  Once it's the correct thickness, roll over the dough to make the embossed pattern.
Use cookie cutter to cut out shapes around rolling pin embossing shapes.  You can bring the extra bits of dough together and roll them out again to repeat the process to make more cookies.
Place cookies on prepared baking pans with a cm or so apart and allow to sit at room temperature for around 10 minutes.  During this time, preheat oven to 180C.
Sprinkle cookies with vanilla sugar (if you have it) and bake for 10-12 minutes, or until light golden brown around the edges and on the base – turn pan around for more even baking around 2/3 of the way through.  Transfer cookies onto cooling racks to cool completely then dust with icing sugar.
Makes: around 25 x 8cm cookies
Store in an airtight container at room temperature for 3 days.
Adapted from: Wilton
A bit of advice regarding embossed cookies;
Don't over-bake the cookies,
Dust the dough rather than the rolling pin before rolling,
I found that chilling the cookie dough made the imprinted pattern more stable, and
Don't use more than 1/2 tspn of baking powder for these (1/4 tspn might even be better); if you use too much raising agent the cookies spread and/rise too much and the print isn't quite as clear as it could be.