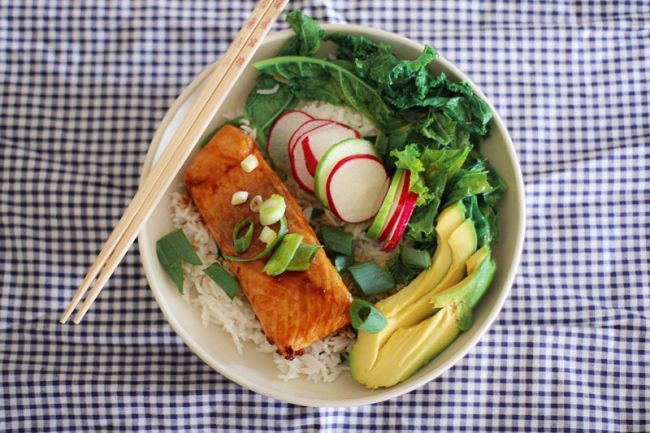 I'm really getting into rice bowls lately, they're such a perfect meal with all their little bits and pieces of crunchy vegies, luscious seafood and comforting rice.  Also, this marinade!  Teriyaki sauce is a perfect mixture of fragrant, spicy, sweet and salty and it goes brilliantly with salmon.
This healthy, fresh dish goes well equally with earthy, nutty black rice as it does with fluffy Basmati rice.  Black rice is so lovely to look at and eat; shiny and black and so full of fragrance and flavour, it's also supposedly super healthy.  I'm planning on using it in a dessert soon so check back if you're interested!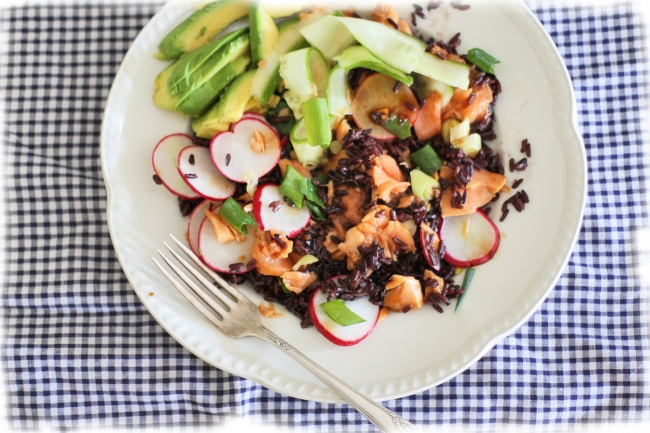 Teriyaki salmon rice bowl with kale and avocado:
4 Atlantic salmon fillets (approximately 130g each)
Teriyaki marinade:
2 tspns grapeseed or peanut oil
1/4 cup Mirin
1/4 cup Tamari sauce
2 x 15ml tblspns raw caster sugar
1 tspn fresh ginger, finely diced
1 clove garlic, minced
Pinch chilli flakes
200g Kale leaves, sliced thinly (or baby spinach if you can't find kale)
Grapeseed oil/unsalted butter
Lemon zest
2 cups Black rice or 2 cups Basmati rice
2 Lebanese cucumbers, sliced
Handful radish, sliced
1 avocado, sliced
4 spring (green onions) green and white parts sliced thinly
Combine oil, Mirin, Tamari, sugar, ginger, garlic and chilli flakes in a small bowl with a whisk.  Place salmon fillets in a rectangular ceramic baking dish lined with baking paper, season with salt and pepper then pour over Teriyaki sauce.  Wrap cling wrap over the top of the baking dish and marinate in the fridge for 1/2 an hour.  Brush over marinade every 10-15 minutes or so.
Think about what kind of rice you want to use and have a look at the packet instructions for preparation/cooking; be aware that Basmati rice takes around 15 minutes to cook and black rice takes about 35 minutes by absorption method.  Start to prepare and cook black rice at this point if using.  Start to prepare Basmati rice around 20 minutes later than this.
Remove salmon from the fridge and brush over more marinade.  Preheat oven to 180C for 10 minutes.
Bake salmon for 10-12 minutes, or until flaky around the outside of the fillets and rare in the middle.
Once rice has cooked, add half the spring onions to it then use a fork to fluff rice grains.
While rice is cooking, Add a couple of teaspoons of butter and a splash of oil to a large frypan.  Bring to medium/high heat and add kale, stirring until wilted, for around 5 minutes.  Add lemon zest at the end of cooking.  If using baby spinach instead, sauté very briefly over medium heat in butter and oil, adding the lemon zest at the end.
Remove salmon from the oven and brush over excess marinade from the baking dish.
Spoon rice onto 4 plates, place over salmon fillets carefully, scatter over cucumbers, radish and the remainder of the spring onions and place kale and avocado on the side.  Drizzle over excess marinade from the baking pan.
Serves: 4
Teriyaki sauce adapted from: Food Network