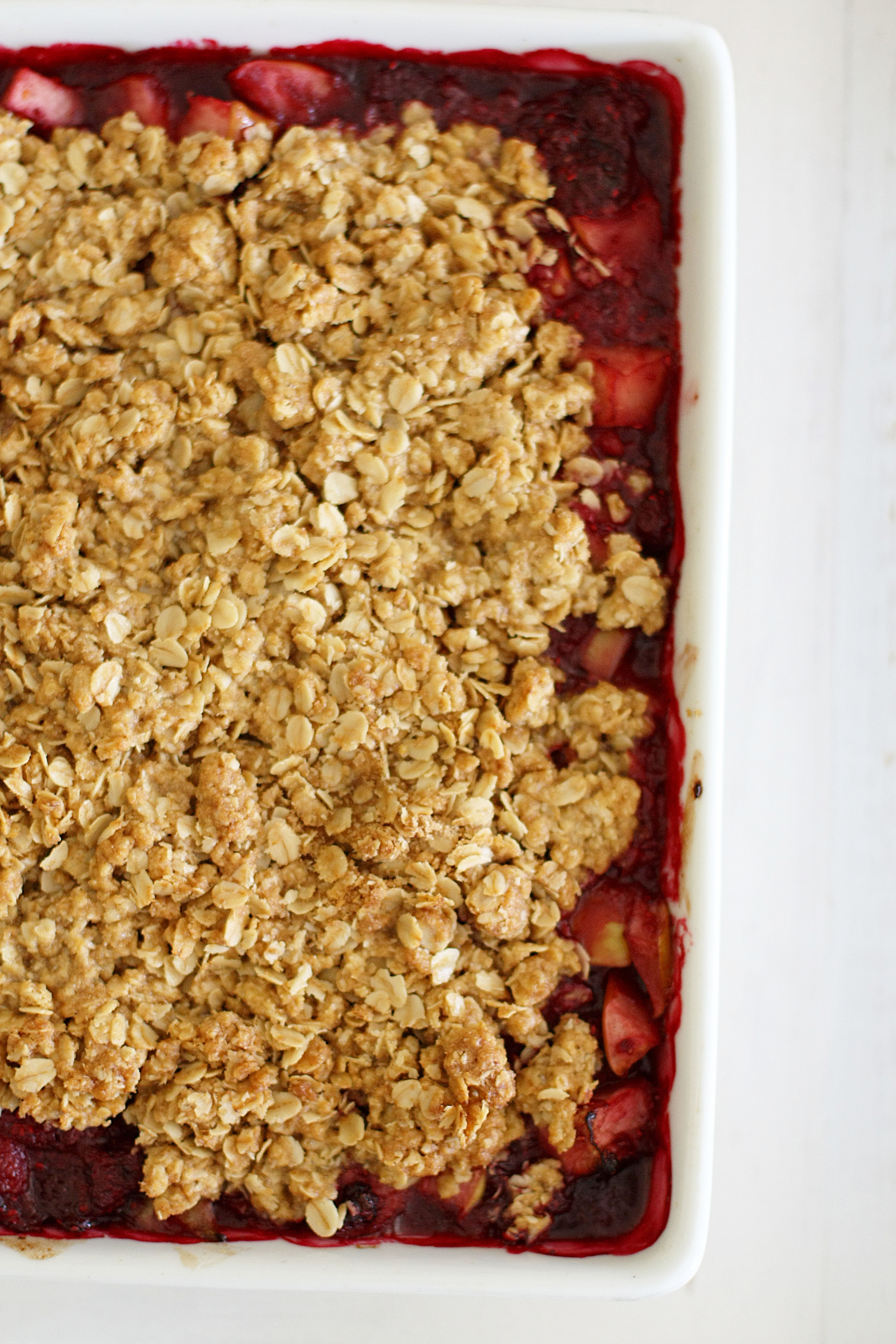 It's sort of moving into crumble weather, cooler in the mornings and such and the apples are quite nice lately so I thought I'd throw together a crumble.  Fruit crumble is such an easy dessert and with this one, you'll end up with sweet yet tart, sticky fruit in a rich, beautifully coloured sauce and a buttery, crunchy topping – I don't usually wax lyrical about my own cooking but this was so gorgeous hot with cold, thick cream you guys!  I had it three days in a row and still wasn't sick of it.
This crumble also has a great crumb -v- fruit ratio, which I loved (I was unintentionally generous with the crumble, this one's more like a biscuit topping – fabulous!).  This makes a lot of dessert but does keep for a  few days in the fridge and it's always lovely heated up for breakfast with Greek yoghurt.
Recipe for raspberry apple crumble:
4 large organic Granny Smith apples, skin left on and cubed
40g unsalted butter
600g raspberries
1/3 to 1/2 cup raw caster sugar (or to taste)
2 tspns vanilla extract
2 tspns lemon juice
1 tspn orange zest
3 x 15ml tblspns cornflour
1/2 cup brown sugar
2 cups old fashioned rolled oats
1/2 cup wholemeal flour
A couple of grinds of sea salt
1/2 tspn mixed spice
180g cold unsalted butter, cubed
Ice cream, cream or custard to serve
Grease a rectangular, ceramic baking dish and place on a large baking sheet.  Preheat oven to 180C.
Place chopped apples and butter in a large sized saucepan, bring to the boil then turn down to medium/low, cover then simmer, stirring regularly for 5-10 minutes, or until apples are just tender.  Set aside to cool a bit.
Meanwhile, place sugar, oats, flour, sea salt and spice into a large mixing bowl and stir to combine.  With clean hands, rub through butter using fingertips until mixture resembles damp clumps with large pieces of butter intact.
Add raspberries to apple mixture and break up, stirring gently until combined; add sugar, vanilla, lemon juice and orange zest and fold gently then add cornflour and fold through until combined completely.  Pour fruit into prepared pan, pile over topping and bake for 45 minutes, or until top is golden brown and filling is bubbling.
Cool for 10 minutes before serving with cream, ice cream or custard.
Serves: 6