So I had a heap of leftover ham from Christmas which I froze because there was so much food, we didn't get to it.  I couldn't see ourselves eating ham sandwiches for the next 4 months so decided to make a massive cheesy bake thing a while back.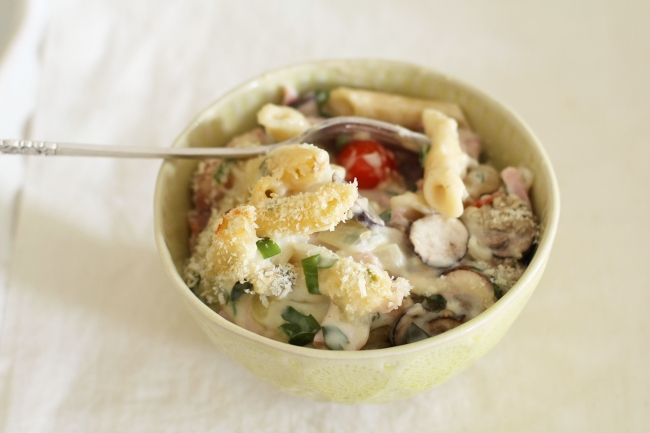 The amount in this recipe seems a lot of ham because well, basically it is, but that's how's much we had in the freezer after it was trimmed; feel free to use less if you prefer; it made for a pretty rich dish with creamy cheese sauce and a crunchy topping – what's not to like about that?  Ant loved it, so I suspect this is more of a bloke's dish which I don't usually do so I'm happy about that, both for Ant's sake who has to suffer through a lot of vegie/vegan dishes and for any fellows who might be reading.
That said, you could easily make this vegetarian by leaving out the ham and adding more vegies and perhaps a handful of chopped walnuts.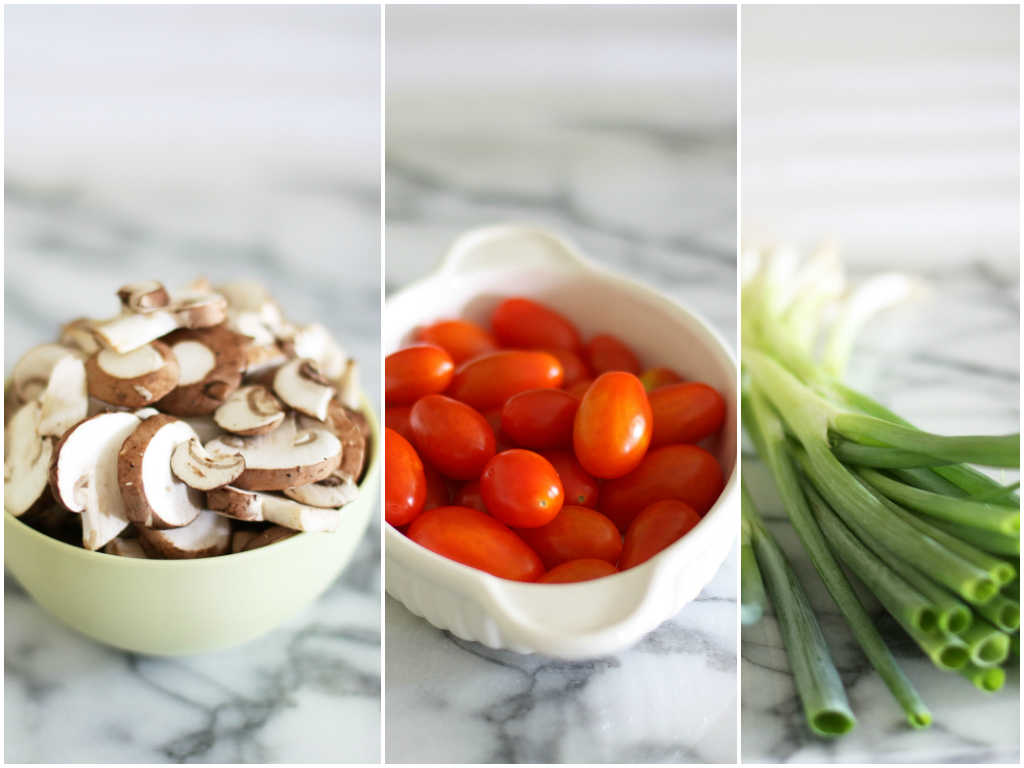 Recipe for ham and cheese pasta bake:
260g short pasta
3 x 20ml tblspns unsalted butter or margarine
20mls grapeseed oil
1 onion, diced finely
2 cloves garlic, crushed
1 small pinch chilli flakes
4 x 20ml level tblspns plain flour
3 cups reduced fat milk
2 tspns Dijon mustard
Freshly ground sea salt and black pepper
350g cooked, lean, thinly sliced ham
250g cherry tomatoes, halved
200g Swiss brown mushrooms, sliced
1/3 cup spring (the green part) onions, finely sliced
A handful Continental or flat leaf parsley, chopped
100g cheddar cheese, coarsely grated
30g Parmesan cheese, finely grated
1/4 cup Panko breadcrumbs
20g Parmesan cheese, finely grated, extra
Preheat oven to 180C.
Cook pasta in salted, slowly boiling water until tender.  Drain and set aside.  Find a large, medium high ceramic casserole dish and set aside.  The measurements of mine are 35 x 25cm diameter and 6cm height.
Meanwhile, add butter and oil to a large saucepan and bring to medium/high heat.  Add onion, garlic, chilli flakes and seasoning and lower heat to low/medium.  Place lid on and sauté slowly for a 4-5 minutes, stirring occasionally, until onion is transparent.  Add flour and bring to medium/high heat, stirring for a minute then slowly add milk then add the mustard, using a whisk to stir until mixture is smooth (the onion will make it look lumpy but the sauce itself should be smooth.  Use a wooden spoon to stir mixture for a few minutes until thickened to a pouring consistency.  Add herbs and stir through then add cheddar cheese and 30g Parmesan and stir until melted and combined.
Place pasta in the casserole dish; add ham, tomatoes and mushrooms and fold gently to combine.  Pour over cheese herb sauce and use your wooden spoon to intersperse the sauce through the ham/vegies/pasta – I didn't stir it as such, I just made holes in the pasta mixture so the sauce would come through.  Sprinkle 20g Parmesan over the top then the breadcrumbs.
Bake for 25-30 minutes until the top is golden brown and everything is heated through.  Allow to sit for 5 minutes then serve.
Serves: 6