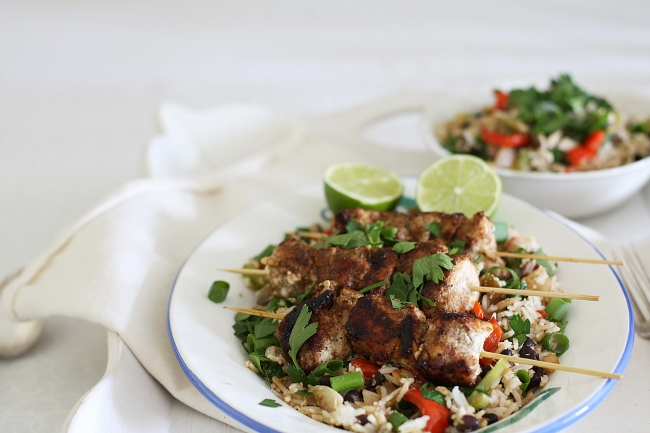 So I thought I'd make some spicy chicken skewers which are pretty much loved by most of us, including kids.  Along with the chicken skewers, I threw together a colourful, spicy rice dish full of crisp vegies and black beans.  So easy to make, this would be a great weekday dinner for the whole family.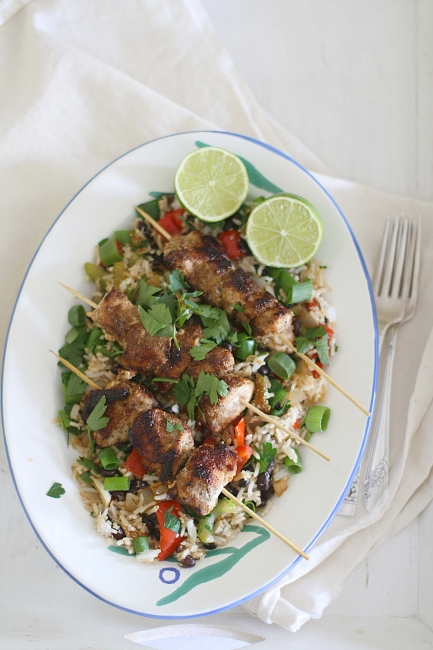 Recipe for Jamaican style chicken with lime chilli black bean rice:
8 wooden skewers soaked in water for at least an hour
500g chicken breast, sliced into bite sized cubes (around 2cm)
Grapeseed oil
Jamaican spice mix – see here
Freshly ground sea salt and black pepper
1 cup basmati rice
Grapeseed oil
1 brown onion, finely diced
2 cloves garlic, crushed
1 large red capsicum, diced
4 stalks celery, thinly sliced
1 pinch chilli flakes (or to taste)
Freshly ground sea salt and black pepper
1 x 400g tin black beans, washed and drained well
Lime zest from 3 small limes
1/2 cup coconut flakes
4 spring (green) onions, sliced finely
Small handful coriander or continental parsley, finely chopped
Lime wedges to serve
Cook rice using the absorption method.
Drizzle oil and add a generous amount of Jamaican spice mix, salt and pepper over chicken pieces, using your hands to rub into the chicken well then chill for at least 30 minutes.  Preheat oven to 150C.  Remove from the fridge and thread chicken pieces onto 8 skewers, leaving some room at the end of each skewer.
Drizzle enough oil to cover base of large frypan, turn heat up to medium/high and sauté chicken pieces in 2 batches on all sides until chicken is browned and cooked completely through, turning down heat so that they don't burn (I used a splatter guard and tongs for this step because it gets messy).  It took me around 10 minutes for each batch of skewers – make sure the chicken pieces are cooked through on each skewer by using the tip of a knife to insert into one to check there's no raw chicken.  In saying that, you don't want to overcook them, particularly with using chicken breast.
Transfer skewers to an oven proof dish as you go and cover with foil.  Place in oven to keep warm while you make the rice.
Alternately, you could use a bbq to cook the chicken skewers; just make sure they don't burn.
Turn heat down to low/medium and add around 40mls more oil to the pan – add onion, garlic, capsicum, celery, chilli flakes and seasoning and sauté slowly, covered, until slightly caramelised but being careful not to burn the garlic or chilli flakes – stir occasionally.  Turn heat up to medium/high, then add a bit more oil then black beans and toss until heated through then add rice, further seasoning, lime zest and coconut and toss for a minute or two until everything is heated through and combined – drizzle more oil over and stir through, if it becomes a bit dry.  Remove from the hotplate and stir through parsley and spring onions.
Serve rice straight away with chicken skewers and lime wedges on the side to squeeze over.  If you had any (I didn't), a dollop of plain Greek yoghurt to dip the chicken pieces in would go well also.
Serves: 4
Inspired by: Wishful Chef