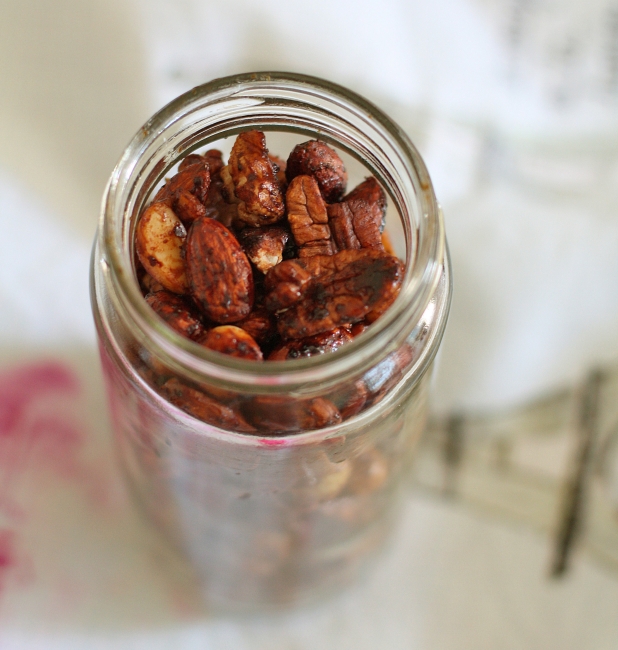 I've discovered tamari recently, a type of soy sauce, which is said to be quite nutritious.  It's slightly darker and thicker than the sauce you might use in your fried rice or whatever and it tastes much more flavourful and rich.  I plan on using it instead of my usual soy sauce although, because they are quite different in taste, I'll probably keep both around.  According to this source, when looking for it (I found mine in the organic/health food section of my supermarket), make sure you purchase a good quality tamari without additives or chemicals.
I thought it would be a great ingredient for spicy mixed nuts and found the dark, intensely savoury flavour was perfect; it gave these spicy, tasty snacks a decadent and salty kick.  I really recommend these if, like me, you like picking at munchy things throughout the day or like to have a snack on hand for Friday night cocktails and of course, your Christmas guests will love them as they're delicious but not nearly as guilt inducing as chips and things.  Oh and also!  You could make some up for gifts if you think someone you love might appreciate them.
Recipe for tamari spicy nuts:
50g each raw almonds, walnuts, macadamia nuts and pecan nuts (200g nuts overall)
50mls reduced sodium tamari soy sauce
1 shake Worcestershire sauce
1 tspn brown sugar
Pinch chilli flakes, to taste
Freshly ground black pepper, to taste
Preheat oven to 130C.  Place baking paper on a large baking tray, place nuts on and set aside.
Add next 5 ingredients to a small bowl and stir to combine.  Pour mixture over the nuts and toss through, then spread them out evenly.
Roast for around 25 minutes, or until fragrant, stirring once.  Remove from oven, stir again then cool on tray.  Serve warm or at room temperature and if any left over, transfer completely cooled nuts to an airtight container lined with baking paper to store.
Serves: 4