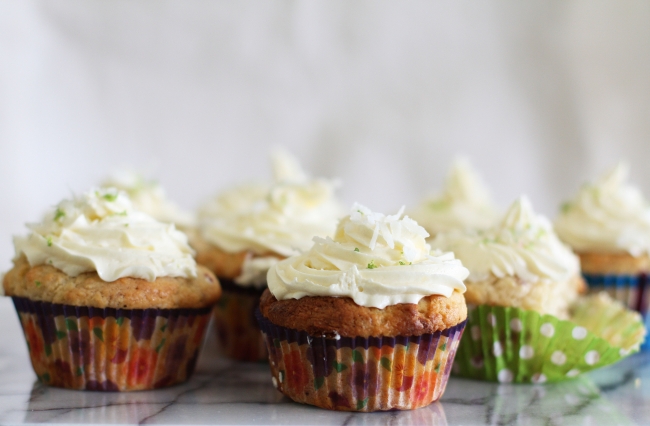 I love these sweet little rustic cakes dolloped with snowy icing.  I made them for Ant's birthday this year instead of one big cake.
Fluffy inside, studded with berries, some coconut for texture and flavour and a bit of sweet white chocolate, they're a cupcake/muffin hybrid, but without the faffing about whipping butter and whatnot.  Although, the icing is what makes it!  So I went all out with that and dragged out my stand mixer (I love it, I really do but it's so cumbersome I don't use it that often, shame).  Seriously though, the icing is creamy and luscious with a distinct lime flavour.  This recipe also makes a heap of icing to play around with, so you might have a fair bit left over.
So go make a batch and have them with a cuppa!  And happy birthday Ant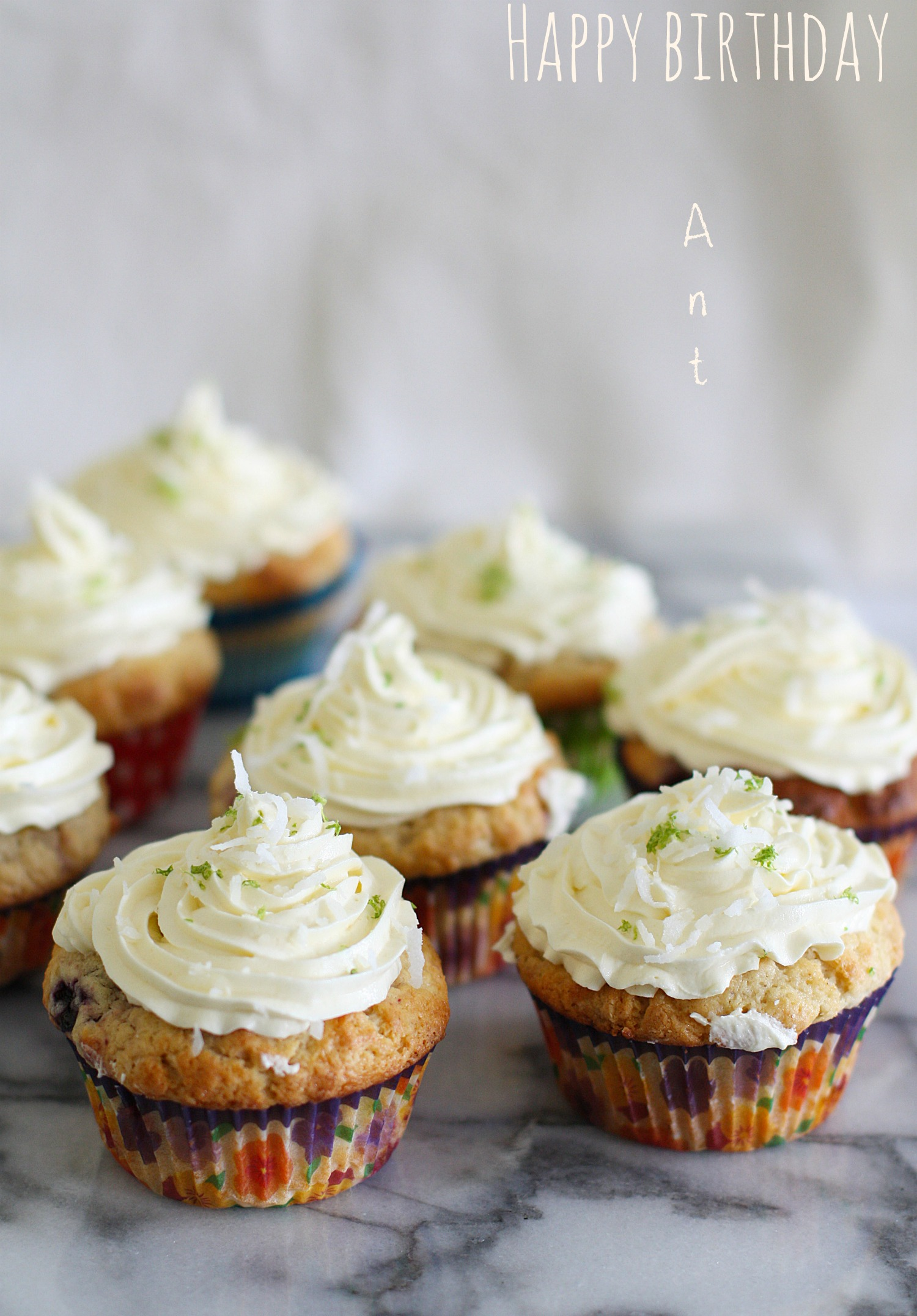 Recipe for berry, coconut and white chocolate muffins:
1 3/4 cups white self raising flour
1/4 tspn baking powder
1 cup raw caster sugar
1/3 cup desiccated coconut
120g mixed berries
60g white chocolate, chopped
2 eggs
1 tspn vanilla extract
1 cup buttermilk
120g unsalted butter, melted and cooled
Icing:
230g unsalted butter, softened at room temperature
3 cups icing sugar, sifted
20mls freshly squeezed lime juice
1 tspn vanilla extract
Lime zest and coconut flakes to decorate
Preheat oven to 180 degrees C.  Line 12 muffin cups with cupcake/muffin liners.
Sift flour and baking powder and whisk with sugar and coconut briefly in a large mixing bowl.  Toss berries and white chocolate through dry mixture with a wooden spoon.
Whisk eggs, vanilla extract, buttermilk and cooled melted butter until combined and add to dry ingredients, folding gently until just combined.  Spoon into muffin tins evenly.  Bake for around 25 minutes or until light golden brown and tops spring back when pressed lightly.
Leave cakes in muffin tins for 5 minutes then remove onto cooling trays to cool completely before icing.
Icing:
Place butter into the large bowl of a stand mixer and beat on medium/high speed until smooth and creamy, for around 40 seconds or so.  Turn mixer down to the lowest setting and add the sifted icing mixture, a heaped 1/2 a cup at a time, beating between each addition, until mixture is smooth.  Make sure to scrape down the bowl regularly.
Add lime juice and vanilla then increase speed to medium and beat for 4-5 minutes, or until icing is light in colour and fluffy in texture, scraping down the sides every minute or so.
Makes: 12