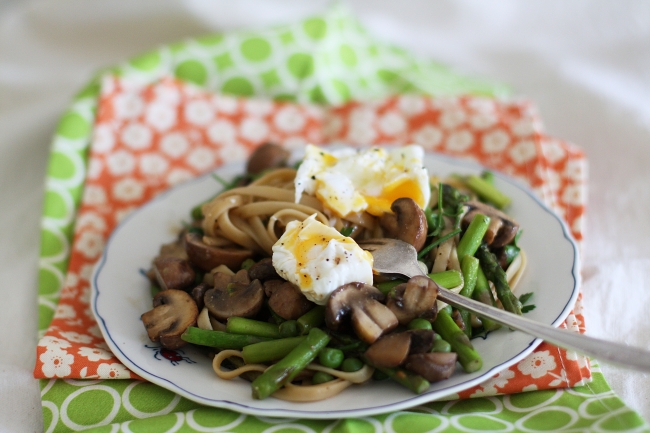 I seem to live on asparagus, mushrooms and eggs in spring – there's so much you can do with them.  I thought I'd combine my favourite things the other day; pasta, spring vegetables and a soft, rich poached egg.  This dish is for one because I was home that day and felt like a bit of a different lunch for a change, but it would be easy to make it for two or more.
I loved this dish!  I've seen recipes around for poached eggs with pasta and was really pleased with this.  The miso adds a rich savouriness to the buttery sauce and combined with creamy egg and sweet, crisp vegies, it was a special lunch for just one.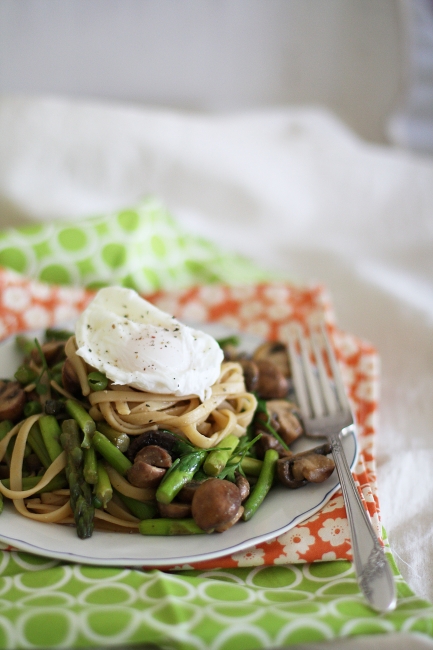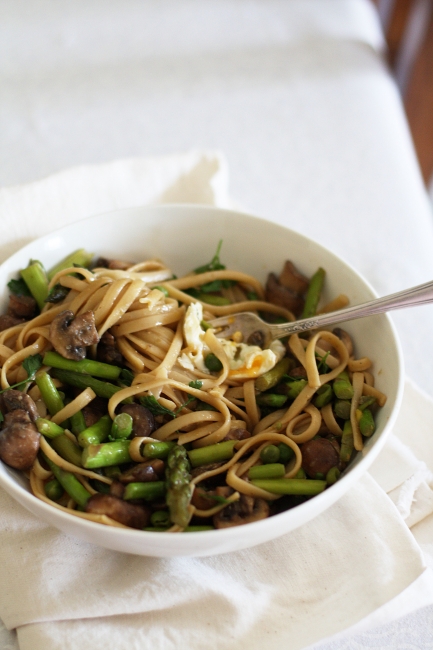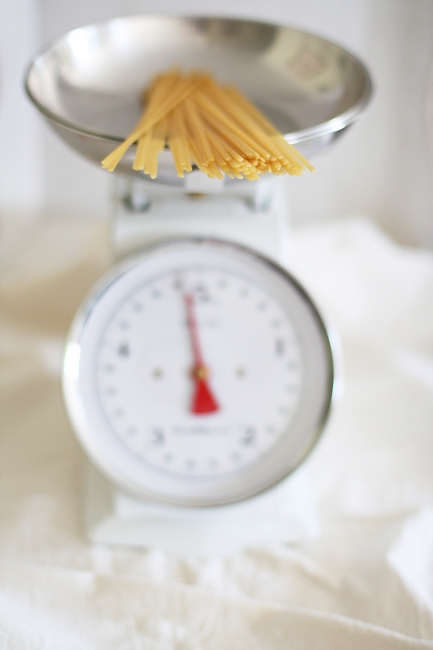 Recipe for linguine with miso, poached egg and spring vegetables:
15mls unsalted butter at room temp mixed with 15mls white miso paste and set aside.
60g linguine
150g Swiss brown mushrooms, halved or quartered (depending on size)
30g spring peas
10 asparagus stalks, tailed and sliced
Continental parsley, chopped
Freshly ground black pepper
Boil linguine in boiling, salted water until al dente, around 12 minutes.
Meanwhile, sauté mushrooms, peas and asparagus in a spoonful of butter over medium/high heat until just tender but still crisp and brightly coloured.  Set aside off the heat.
Drain pasta, retaining some pasta water.  Place pasta back into pan and add the sautéed vegetables and a small splash of pasta water, stirring to combine.  Remain on very low heat while you poach the egg.
Poaching egg:
Crack egg into a small ramekin.  Boil water in small pan with lid on then turn down to low/medium.  Slide egg into the water.  Simmer on lowish heat for 2-3 minutes covered, standing by in case it boils over.  It's around 2 minutes for a medium egg.  You'll see quite a bit of egg white in the water but don't worry, the egg will cook if you leave it alone.
Stir parsley and miso/butter mixture through linguine until combined – immediately take off heat.  Place onto plate.
Use a slotted spoon to drain egg a bit then carefully sit onto pasta and season dish with black pepper.
Serves: 1
Inspired by: Chow