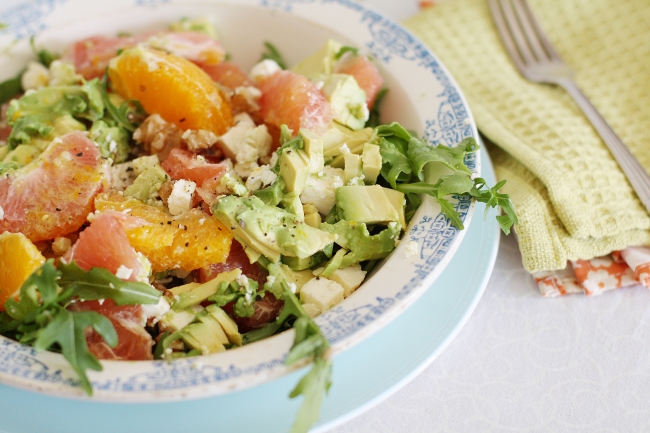 Being spring here currently and pleasantly breezy and warm and such, I felt like a fresh, zesty salad the other day.
Apart from having a pretty, sparkly appearance, this jewel-like salad has some lovely yet contrasting flavours; peppery rocket, creamy avocado, salty feta, crunchy walnuts and sweet/sour citrus.  I whipped up a light dressing with some sweetness added to it in the form of Mirin seasoning (it would be lovely this dressing, on so many things) and it made a delicious lunch recently.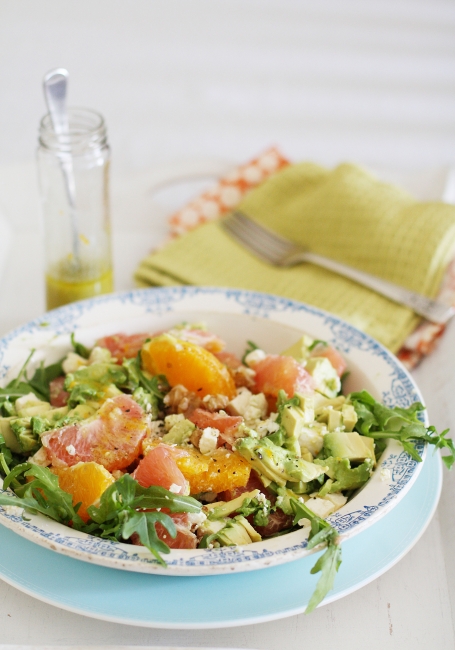 Recipe for citrus, feta and walnut salad:
60g rocket leaves
1 large red grapefruit
1 medium to large orange
120g avocado, chopped
60g feta cheese, crumbled
40g walnuts, toasted and chopped
Dressing:
20mls Mirin or Mirin seasoning
15mls white wine vinegar
1/2 tspn orange zest
1 heaped tspn Dijon mustard
40mls macadamia nut, extra virgin olive oil or avocado oil
Place dressing ingredients in a bottle and shake until combined well.
Slice citrus fruit into segments and remove seeds.
Arrange rocket in bowls.  Place remaining ingredients over the top and drizzle over dressing, as much as you like.  Season if you prefer.
Serves:  2 entrée sized