I loved this hearty sandwich I made using some of this roast chicken I made on a Sunday a couple of weeks back.  A classic chicken salad recipe, it combined the flavoursome, savoury roast chicken with crunchy, sweet, tart, creamy and fresh ingredients, all piled onto some toasted, rustic bread rolls.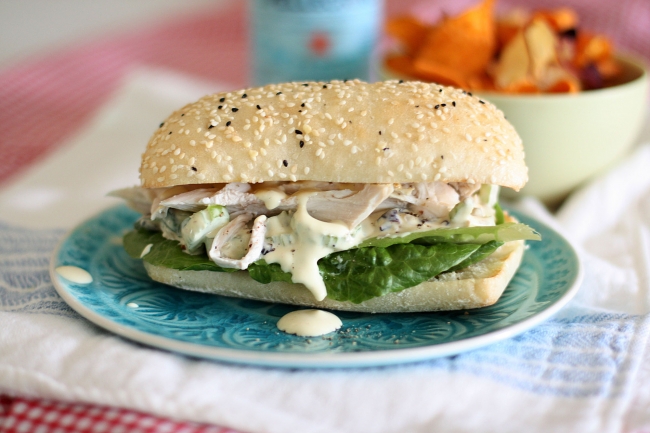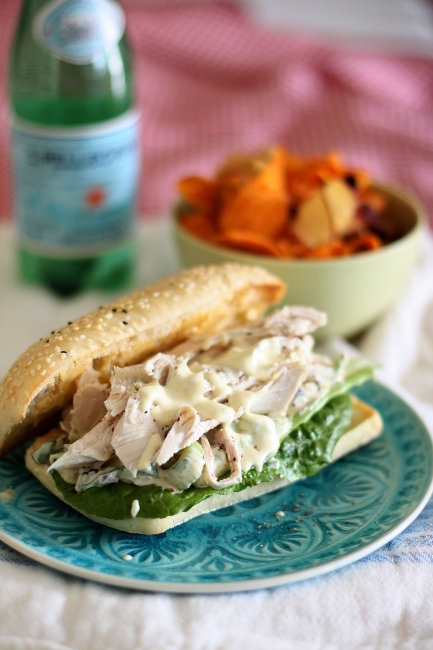 Recipe for chicken salad sandwich:
Bread or rolls of your choice for two, toasted and buttered
Around 150g cooked or roasted chicken, shredded
100mls reduced fat sour cream
45mls Dijon mustard
1 tspn white wine vinegar
25g walnuts, chopped finely
25g dried cranberries, chopped finely
1 large stalk celery, finely sliced
1 heaped tblspn fresh basil, shredded
Cos lettuce
Freshly ground sea salt and black pepper
Sweet potato crisps to serve
I roasted my own chicken for this but feel free to use rotisserie chicken from the supermarket.
Whisk sour cream, mustard and vinegar until creamy and combined.  Reserve 2 tablespoons of the dressing then stir walnuts, cranberries, celery and basil through the remainder of the dressing.
Assemble sandwich with the lettuce, walnut and cranberry mixture, chicken and a drizzle of the reserved dressing over the top.  Season if you like.
Serve sandwiches with crisps and a cold drink.
Serves: 2