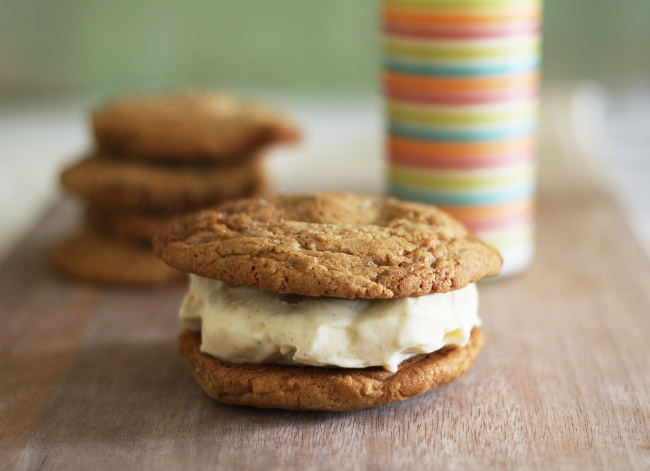 So I thought I'd offer a couple of recipes today; the first one being a caramel crunchy peanut butter sauce and it was lovely; creamy, with a subtle nutty texture and a salty/sweet flavour.  Just a warning (and it's a lovely warning), on standing it becomes v. thick and fudgy in consistency.  If you want to spoon some out of the pan and eat it that way I won't tell anybody.  Oh and also! I poured the remainder into a square plastic container and levelled it with a knife, then froze for an hour or so, sliced it into soft caramel peanut fudge pieces sprinkled with vanilla salt which made my teeth ache and fingers sticky.  Too.good.for.words.
The second recipe was a batch of chewy caramel cookies; these cookies were fudgy and salty/sweet with a sweet surprise of chocolate in the middle.  Sandwich a scoop of vanilla bean gelato between a couple of these babies and you have a fancy, adult ice-cream sandwich.
Overkill?  Oh yes, but soft and fudgy salty/sweet caramel cookies encasing creamy vanilla ice-cream = well worth it.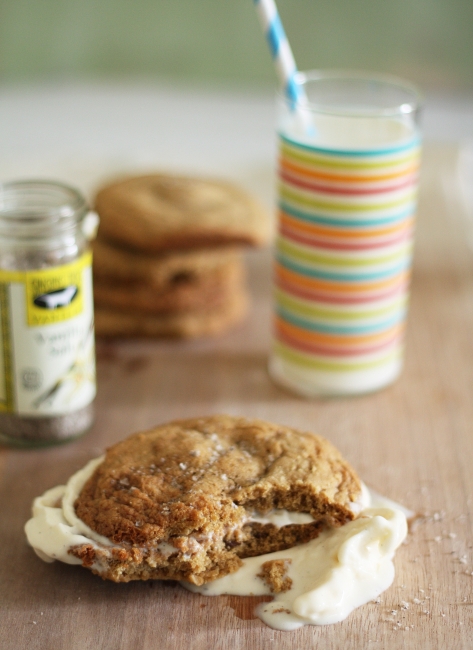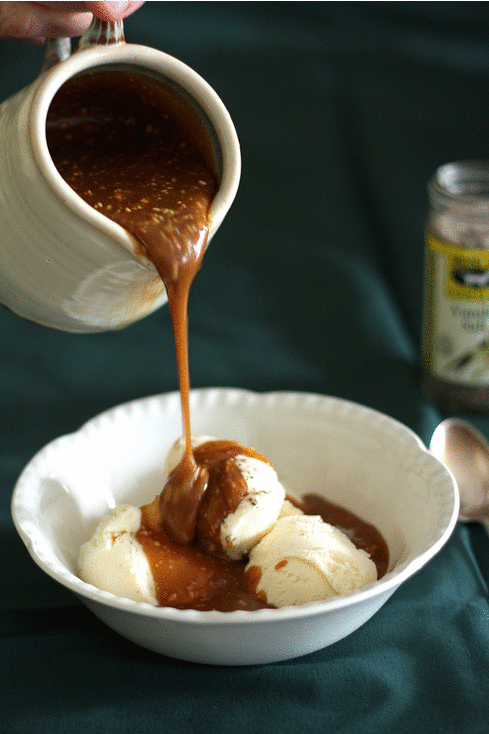 Recipe for salted caramel ice cream cookies:
1 1/2 cups plain flour
1/4 tspn mixed spice
1/4 tspn vanilla salt
1/2 tspn bicarbonate of soda
120g unsalted butter, softened at room temperature
1 cup brown sugar, packed
1 large egg (59g whole weight)
1 tspn vanilla essence
10 Rolo chocolate caramel squares
Vanilla bean gelato for filling
Preheat oven to 180C. Place baking paper onto a large baking sheet.
Sift the flour, spice, vanilla salt and bicarb of soda in a medium sized mixing bowl.  Add butter and sugar to another large mixing bowl and use electric mixer to beat on medium speed for 1 1/2 minutes, or until lighter in colour and fluffy.  Add egg and vanilla essence and beat on low speed until just combined.  Use spatula to carefully fold through flour.
Spoon out heaped tablespoons of cookie mixture, flatten then wrap around each caramel into a flattish ball and place on baking sheet with 5cm between each one (they spread a lot).  Sprinkle with extra vanilla salt and bake for 12 minutes, or until cooked around the edges and still soft in the middle.
Cool on tray for 8 minutes then transfer cookies to cooling rack.  When cooled completely, sandwich a generous amount of gelato between two cookies to make up the sandwiches.
Makes: around 10
Recipe for caramel crunchy peanut butter fudge sauce:
30g unsalted butter
3/4 cup packed brown sugar
1/2 tspn vanilla salt
1/2 tspn vanilla essence or extract
1/4 cup golden syrup
1/3 cup natural peanut butter (I used crunchy)
1/4 cup double or thickened cream
Ice cream to serve
Melt butter in a medium sized, heavy based saucepan over medium heat then add sugar, vanilla salt, vanilla extract and golden syrup. Simmer, stirring regularly for a few minutes until sugar is dissolved then add peanut butter and stir through until combined and creamy.  Stir through cream and continue to simmer for a few minutes on lowish heat until thickened and creamy.
Remove from the heat and serve immediately over ice cream.  Sprinkle sauce lightly with extra vanilla salt.
Best served straight away as it hardens on standing, particularly after chilling.
Makes: around a cup and a half
Note: if using peanut butter with added salt and sugar, you might need to adjust the amount of vanilla salt and sugar.