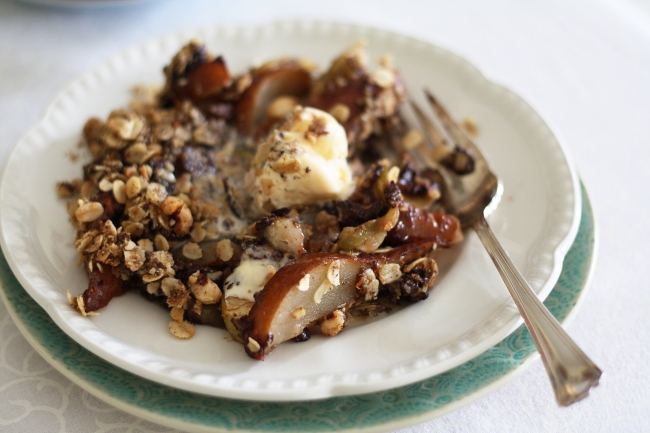 Oooh I love a good crumble, don't you?  Actually I think Americans call this a crisp as I didn't add any flour to the topping.  Anyway, it's such an easy, low maintenance dish, a few ingredients and steps always resulting in a luscious dessert and I adore the fragrance while it's baking, so cosy.
In this dish, (although it does sort of look like a heap of fruit and granola was just plonked on a plate but don't let that stop you from making it) the combination of spice and orange flavoured winter fruit with warm dark chocolate melted over and a nutty topping was irresistible .. it just tasted like winter to me and even had a sort of festive Christmas feeling.  This was gorgeous on a frosty afternoon with vanilla ice cream (hot crumble and cold ice cream – is there anything better?).
(Oh also, it tastes wonderful reheated for breakfast.)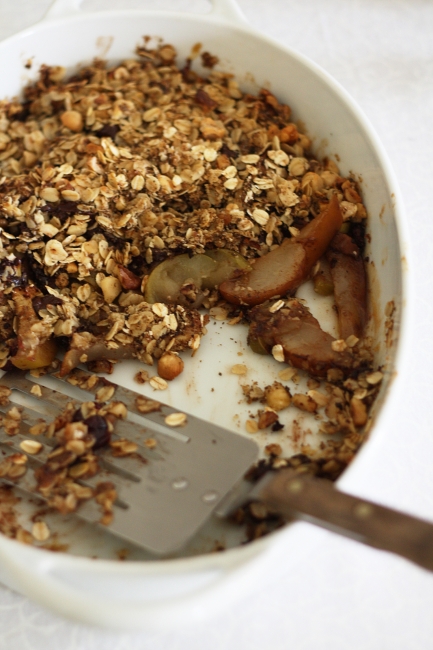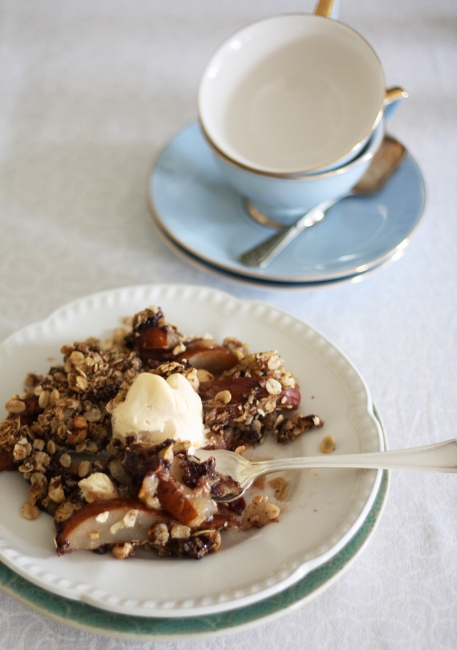 Recipe:
4 large, firm organic brown pears
3 medium organic Granny Smith apples
2 tspns lemon juice
40g dried cranberries
2 x 15ml tblspns brown sugar
1 tspn vanilla extract
2 tspns cornflour
a good scattering of orange zest
90g dark chocolate, chopped coarsely
Topping:
1 1/2 cups natural oats
1 tspn mixed spice
2 x 20ml tblspns brown sugar
2 x 20ml tblspns ground chia seeds
1/3 cup (40g) walnuts, chopped
1/3 cup (30g) hazelnuts, chopped
100g unsalted butter, cut into small cubes
Preheat oven to 180C.  Set aside a medium to large ceramic baking dish.
In a large mixing bowl, add oats, spice, sugar, chia seeds and chopped nuts and stir to combine.  Add cubed, chilled butter and use very clean hands to rub cubes of butter between your fingers and stir through the crumble.
Slice apples and pears into thin wedges (I didn't peel them).  Place fruit into baking dish with lemon juice, cranberries, sugar, vanilla and cornflour and toss gently to combine.  Scatter over zest and chocolate.
Spread over topping.  Scatter over extra bits of butter if you like and bake for 45 minutes, or until golden brown and fruit is tender.  Allow to sit for 5-10 minutes before serving with ice cream or cream.
Serves: 6