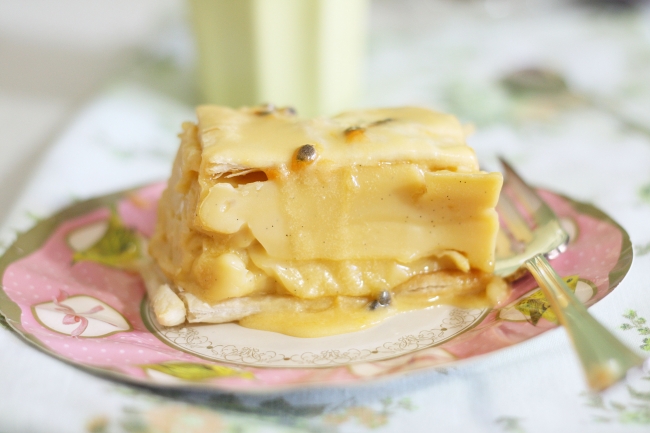 For me, this Australian bakery slice is a blast from the past.  My mum used to make these and sell them, along with other goodies like falafel and hummus wraps, salads and carob brownies, at the markets around northern NSW when I was at school.  I'd sometimes turn up to my mum's stall with my friends in the hopes of grabbing one or two, and they'd often be sold out because they were so popular.
You could also get them at the school tuckshop (although they were never as good as mum's) – remember lining up for the tuckshop at morning tea?  I'm sure school canteens are much healthier than in the 80s, but I miss those Samboy bbq chips, lemon squash and Boston bun days.
This might look complicated but really isn't, it's basically thick, creamy vanilla custard layered with puff pastry and a zesty passionfruit icing.  So delicious.  I made mine a bit fancier using vanilla bean paste for the custard (I love seeing the black flecks of vanilla seed!), but other than that, I used my mother's recipe.  Oh and I took these photos when the custard was still a bit warm and soft – the icing and custard firms up quite a bit more, particularly after being stored in the fridge.
If you're not keen on passionfruit icing, or more particularly the black seeds throughout the icing, then you could sub orange, lemon or lime juice and zest instead; as long as it's something zingy to offset the rich custard and pastry.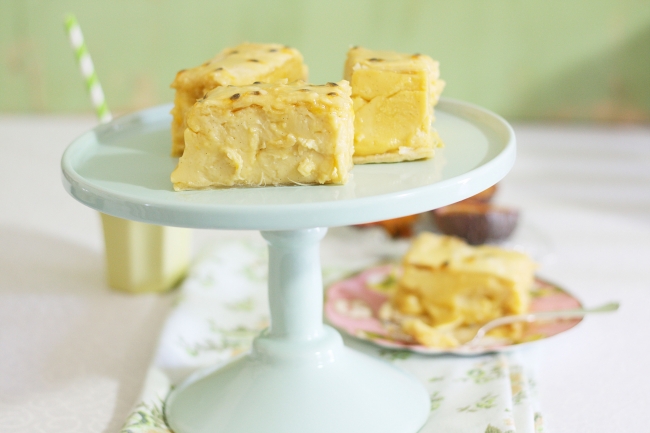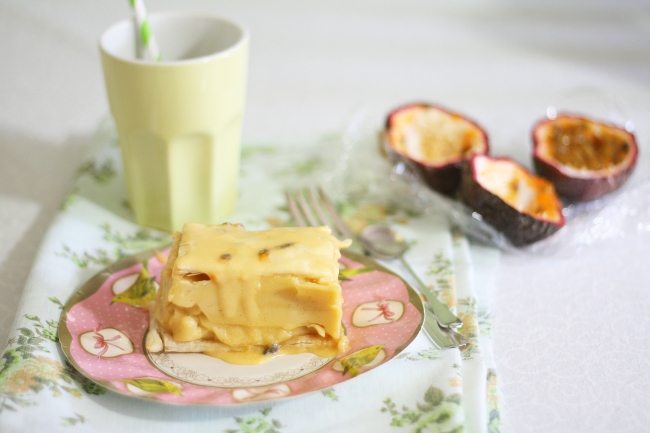 Recipe for vanilla bean custard slice with passionfruit icing:
Pastry:
2 sheets store bought puff pastry
Vanilla custard:
3/4 cup custard powder
1/4 cup cornflour
1 litre full fat milk
1 cup caster sugar
1 tspn vanilla essence
2 tspns vanilla bean paste
3 large egg yolks
40g unsalted butter, softened at room temp
Passionfruit icing:
2 cups pure icing sugar, sifted
3 tspns unsalted butter, softened at room temp
Pulp from 2 small or 1 large passionfruit
Preheat oven to 210C (200C fan forced).
http://www.bestrecipes.com.au/recipe/vanilla-slice-L1483.html
Pastry:
Line a 20cm square cake pan with 2 pieces of baking paper crossing over each other (leave some hanging over the sides for easier removal later on).  Trim pastry sheets into 2 square pieces to fit inside base of baking tin – make them a bit smaller to allow for shrinkage during baking.
Place pastry sheets on baking paper lined baking sheet, use a fork to prick each pastry sheet a few times, then bake for 8-10 minutes, or until golden brown.  Remove from the oven, immediately place tea towel over and use oven mitt to press down each square pastry sheet to flatten then place on cooling rack to cool.
Filling:
Whisk egg yolks in a medium sized bowl until paler in colour, thick and creamy.  Set aside.
In a heavy based, medium to large saucepan, add the cornflour and custard powder – pour in milk gradually, whisking to combine until smooth.  Turn heat on to high and add sugar, vanilla essence and vanilla paste, whisking until sugar has dissolved.  Bring to the boil then decrease heat to medium, using a wooden spoon to stir constantly until mixture is smooth and has thickened – right at the end, the mixture will turn a bit lumpy – give it a good whisk, take off the heat and set aside to cool down for a few minutes.
Whisk eggs briefly again to combine (they separate a bit while standing) then whisk eggs and butter into custard briskly until combined and smooth.  Set aside to cool for a few minutes.
If you see bits of cooked egg through the custard, strain it through a sieve into a heatproof bowl (I didn't need to do this though).
Place one piece of pastry in base of prepared cake tin and pour over the custard, smooth out with a butter knife then top with another piece of pastry.  Stand for 2 hours or until set at cool room temperature or, in warmer weather, in the fridge.  Once set, ice the top with the passionfruit drizzle.  Use a very sharp knife to slice into servings.
Icing:
Combine ingredients in a bowl and stir briskly until smooth and creamy – change the ratio of passionfruit pulp or icing sugar depending whether you prefer a thinner or thicker consistency.  Drizzle evenly over top layer of pastry.
Best served at room temperature.  Store in the fridge.
Serves: 6-8
Tip:  If your pastry sheets are too small (as mine were), place pastry sheet into a corner of the base of the cake tin and use two pieces of folded up cardboard inserted into the gaps between the sides of the cake pan and the baking paper, making sure the baking paper is horizontal.  This will ensure the custard is in line with the pastry top and base when it's poured over.