The omega 6 -v- omega 3 debate is something I've been reading about recently, including lots of conflicting, alarming information.  One thing seems certain; whether we're talking about heart health or general well-being and preventative health, most of us need more omega 3 fatty acids in our diet and not only that, we also need to start looking at a more balanced ratio of omega 3 -v- omega 6 in our foods, as apparently we're taking in far too much omega 6.  Macadamia nut oil, for example, isn't terribly high in either fatty acid but a decent, cold pressed macadamia oil has a ratio of 1:1 which is optimal.
As if we don't have enough dietary stuff to worry about!  I tend to eat a wide variety of foods and have always considered myself health conscious, eating tahini, almonds and sunflower seeds .. then I read I might be eating too much of them.  Can't win hey?  Although I won't be giving them up.  Any regular readers of my recipes will know that I often use grapeseed oil for roasting, sautéing and baking, which is quite high in omega 6, yet I stand by it because it has a high smoking point and works beautifully.  I mean we live in a world where a lot of people struggle with their weight (in the west we eat too much yet in developing countries people can't get enough food), so nit-picking about healthy fats is not the path I'm going down, although I'm all for being open minded about nutrition without obsessing too much.
Anyway, apart from seafood, here are some ways I've figured out to ensure an optimal omega 3 intake:
Try walnut or flaxseed oil for drizzling, on sandwiches, in smoothies, salads and in salad dressings and cold pressed macadamia oil for baking and slow sautéing
Eat certain foods raw where possible (i.e., nuts and seeds)
Rather than using whole, grind chia and flax seeds for maximum absorption and nutrition (you can also soak the whole seeds for a  few hours or overnight)
Keep nuts and seeds in an airtight container in the freezer so they last longer
Although it's important to eat foods with naturally high levels of omega 3, buying omega 3 fortified products such as milk, eggs, bread and pasta might also be beneficial in addition – check the nutritional data for omega 3 in the form of DHA and EPA
Use oils in a timely manner and store appropriately (flaxseed oil, for example, needs to be refrigerated and used within 6 weeks) to prevent rancidity and loss of health benefits
Include red kidney beans and black beans in your diet, as well as lots of green leafy vegetables (these will also add to your iron and fibre intake)
Add ground chia and flax seeds to smoothies, breakfast oats and cereal
Fish oil capsules can supplement your omega 3 intake although there is some evidence they may not be as beneficial as once thought, particularly with heart health
Try to remember it's all about balance – we don't want to eat too much of one and not enough of the other
And here are some recipes I've developed which have an omega 3 focus.  Some, like the breakfast oats and sardine toast I eat regularly, others I've thought of recently; the omega 3 ingredients are in bold.
1. Sardine and avocado sandwich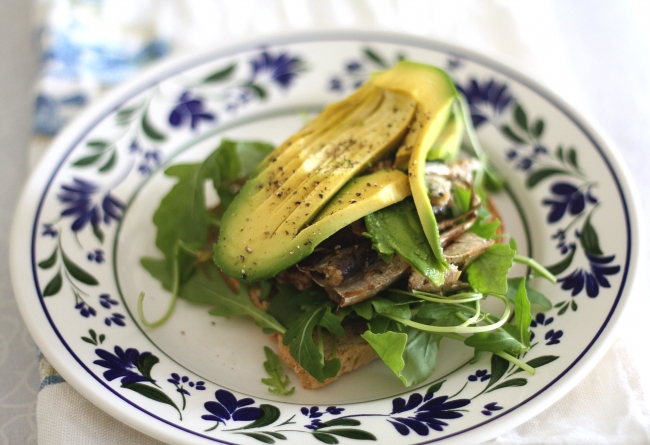 Rustic toast with rich sardines, fresh greens, creamy avocado and black pepper.
Recipe:
1 slice omega 3 fortified bread or soy linseed bread
Unsalted butter
110g tin sardines in olive oil, drained or 125g tin smoked tuna
1/2 an avocado, sliced
Small handful rocket
Toast bread then butter.  Add rocket, sardines and avocado and season with sea salt and cracked black pepper.
Serves: 1
2. Smoked salmon and leek omelet with nutty greens 
Fluffy, savoury smoked salmon and buttery leek omelet with nutty greens dressed with walnut oil dressing
Recipe:
Unsalted butter
1 medium leek, washed and sliced thinly
90g low sodium smoked salmon, diced
4 omega 3 enriched eggs
1 tblspn each of finely chopped basil, continental parsley and green onions
Seasoning
100g washed salad greens
30g walnuts, chopped
1 tblspn sunflower seeds

Salad dressing:
40mls walnut or flaxseed oil
20mls white wine vinegar
1/4 tspn Dijon mustard
1/8 tspn raw caster sugar
Pour salad dressing ingredients into a bottle, cap the lid tightly and shake until combined well.  Set aside.  Place washed and spun dry salad leaves into a large bowl.
Add a generous pat of butter to a heavy based pan over medium/high heat and add leek slices, salt and pepper, slow sautéing for 6-8 minutes, or until softened and tender.  Set aside.
Whisk eggs, herbs, seasoning and a small splash of water in a small jug.
Preheat grill on medium-high heat.
Then preheat on medium/high hotplate, a non-stick 20cm frypan you can use under the grill.  Add a pat of butter, swirling it around to coat the base of the pan.  Pour in egg mixture so it covers the base entirely and, using a wooden spoon, make gentle swirling motions within the omelet for 20 seconds or so until you can see cooked bits among the raw omelet – scatter the cooked leeks and diced smoked salmon over the top.  When the omelet is cooked underneath but there is still raw egg on the top, place under a preheated grill to cook the top for 30-60 seconds or until just firm.  Be careful to stand by and watch closely.
Slice in halves or quarters and use an egg flip to slide onto plates.
Dress salad leaves and toss through walnuts and sunflower seeds.  Serve omelets with salad on the side and extra salmon and leeks scattered over the top.
Serves: 2 large; 4 small
3. Salmon and wild rice salad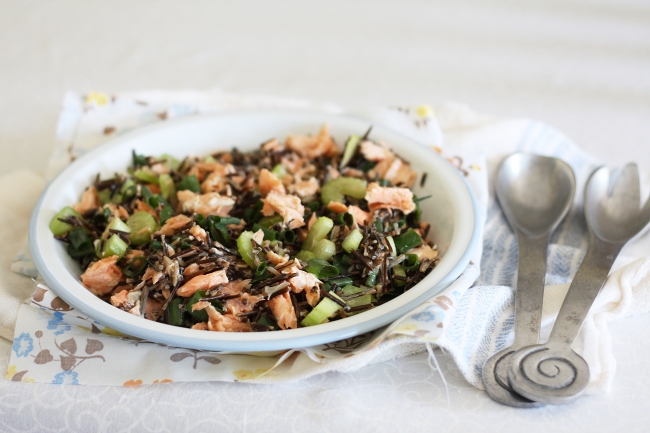 Nutty wild rice, creamy rich salmon, crunchy celery and a lemony, creamy dressing.
Recipe:
2 x 130g fillets Atlantic or Tasmanian salmon
100g wild rice
2 stalks of celery, sliced
2 green onions, sliced
Freshly ground sea salt and black pepper
Dressing:
80mls walnut or flaxseed oil
40mls white wine vinegar
2 tspns Dijon mustard
1 tspn honey, brown rice syrup or agave nectar
1/2 tspn lemon zest
Freshly ground sea salt and black pepper
Whisk dressing ingredients briskly in a bowl until combined and creamy.  Set aside.
Preheat oven to 180C.  Place salmon fillets on a baking paper lined baking try.  Rub with a drizzle of macadamia oil, season and bake for 7-10 minutes, or until just cooked through and rare in the middle.  Use a pair of tongs and a fork to flake.  Set aside.
Meanwhile, boil wild rice over medium heat for 35 minutes, or until tender.  Drain and rinse rice and set aside to cool a bit.
Place cooled rice in a large bowl – add celery, spring onions and flaked salmon.  Whisk dressing again quickly then drizzle over salad and gently combine with a wooden spoon to coat ingredients evenly.  Add more seasoning if you prefer.
Serves: 2
4. Chia seed maple spice muffins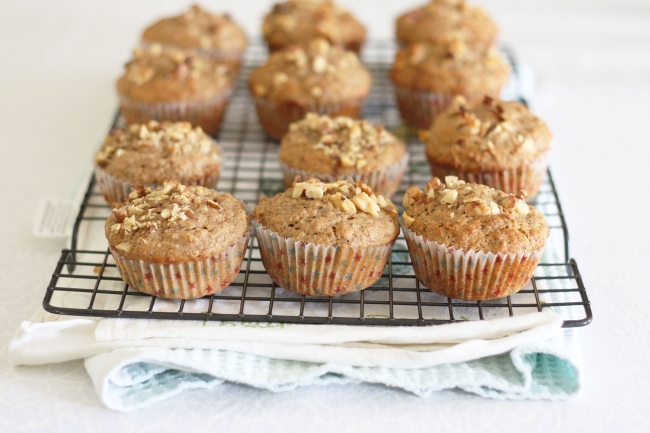 Soft, spicy, not-too-sweet little cakes with a crunchy topping.
Recipe:
1/2 cup (1 stick) unsalted butter, softened at room temperature
1/2 cup maple syrup
2 large omega 3 enriched eggs
1 tspn vanilla or maple extract
1 1/2 cups self raising flour
1/2 tspn baking powder
1 tspn mixed spice
1 tspn ground cinnamon
1/2 cup ground chia seeds
3/4 cup buttermilk at room temperature
40g walnuts, chopped
Preheat oven to 180c.  Place cupcake wrappers into 12 cup muffin tin.
Sift flour, baking powder and spices into a medium sized bowl.  Add ground chia seeds and whisk until combined.  Set aside.
Place butter and maple syrup into a large mixing bowl.  Use an electric beater to beat on medium for 1 minute, or until light and fluffy.  Add vanilla and eggs, one at a time and beat until just combined.
Use a wooden spoon to fold through flour mixture and buttermilk alternately in 3 batches starting and ending with flour – don't over-beat mixture.
Spoon mixture into muffin tin and sprinkle chopped walnuts over each one.  Bake for 20-22 minutes, or until tops spring back when pressed and light golden brown.
Makes: 12
5. Nutty breakfast oats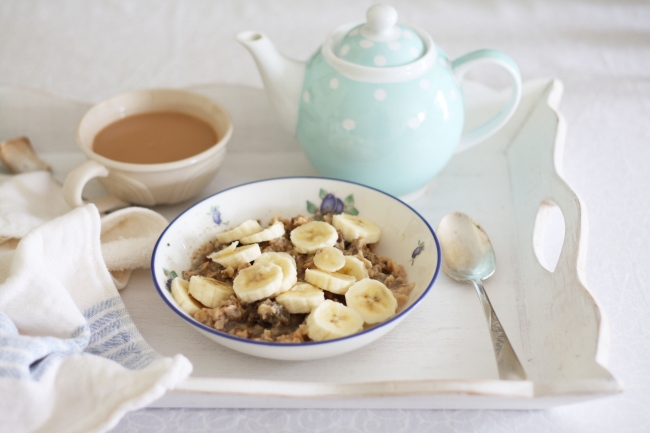 Rustic, nutty, creamy oats with fresh fruit.
Recipe:
35g natural whole oats
1/4 tspn mixed spice
1 cup organic soy milk or omega 3 fortified rice milk
20g dates, finely chopped
15g walnuts, chopped
1 x 15ml tblspn ground chia seeds
1 small banana, peeled and sliced into rounds (or other seasonal fruit)
Maple syrup
Place oats, spice, milk, dates and walnuts into a small heavy based pan.  Cook on medium heat for 2-3 minutes or until creamy and hot.  Stir through ground chia seeds.
Pour into a bowl.  Add more milk if you like it a bit thinner.  Add drizzle of maple syrup and sliced banana.
Serves: 1 large
6. Pasta with kale, sweet potato and walnuts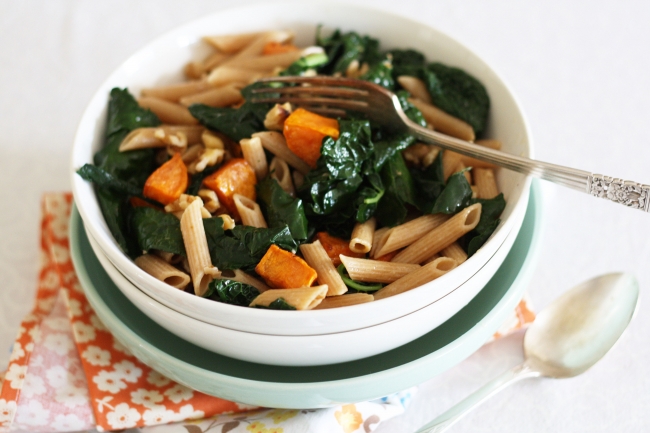 Hearty, subtly sweet, nutty pasta with fresh, slightly bitter kale, crunchy nuts and a hint of chilli, garlic and lemon.
Recipe:
20mls grapeseed oil (or whichever roasting oil you prefer)
300g sweet potato, peeled and diced
200g wholemeal or omega 3 fortified short pasta
Large bunch young kale leaves, rinsed, spun dry and stems removed
60g walnuts
80mls cold pressed macadamia oil
1 pinch chilli flakes
Lemon zest from half a lemon
2 cloves garlic, crushed
Freshly ground sea salt and black pepper
Walnut or flaxseed oil for drizzling
Preheat oven to 200C.  Place sweet potato onto a baking sheet line with baking paper, toss with grapeseed oil and seasoning and roast for 30 minutes, or until golden brown.
Meanwhile, cook pasta in boiling, salted water until al dente (around 11-12 minutes).
In a small pan on low heat, infuse chilli flakes, lemon zest, garlic and seasoning in macadamia oil until fragrant, making sure heat isn't too high and not to burn the garlic.  Set aside.
Place a large colander over a heat proof mug in your sink.  Chop kale leaves into bite sized pieces and place in colander.  Once pasta is ready, pour into colander over the kale.  Place kale and pasta back into the large saucepan and back onto the hotplate on low-medium heat.  Add sweet potato, walnuts and infused oil and stir gently until heated through, seasoning to taste.  Add a drizzle of walnut or flaxseed oil and stir through.  Add some pasta water if it needs moistening.
Serves: 2 large
Note:  young kale has smaller leaves and finer stalks.  I find it easier to use this in pasta because it just needs wilting rather than actual cooking.  If you can't find kale, substitute baby spinach instead.