Gah!  My pies always turn out super messy which disappoints me quite a bit.  Some things I would change with my current baking efforts – use fresh strawberries instead of frozen and a bit more flour (which I've changed in the recipe to reflect this) or you could try this advice or even …. forego the pastry base altogether and just plonk the fruit in a pie plate and put pastry on top and bake as usual.
But that's what baking's all about hey?  Tears and recriminations at what we should have done ..
Anyway, There's really no such thing as bad pie.  When I tasted the deliciously sweet and warm strawberry apple hybrid with the cold ice cream, let's just say it was worth all the messiness of this lovely, rustic, juicy pie – and the juice is amazing, there's just too much of it.  Ant had two pieces, one after the other (snort snort), so I can only say don't judge by appearance (but maybe take my hindsight = 20/20 advice above if you feel like giving it a try).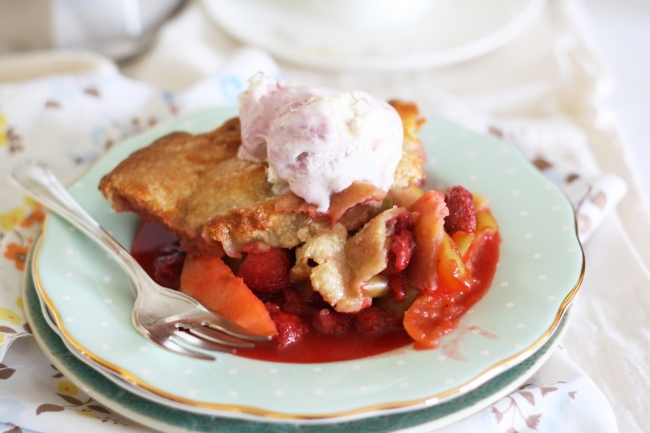 Recipe for strawberry apple pie:
Filling:
8 large Granny Smith apples
10mls lemon juice
2/3 cup raw sugar
20g unsalted, chilled butter
600g strawberries
1 tspn vanilla extract
3 x 20ml tblspns flour, arrowroot or cornflour
Shortcrust pastry:
3 cups plain flour
1/4 tspn ground cinnamon
1/4 cup brown sugar
250g chilled unsalted butter, cubed
2 large egg yolks (from 59g eggs)
40mls chilled milk
Splash chilled water
Egg wash:
1 egg and splash of milk, whisked
Raw sugar to sprinkle over the top
Ice cream, to serve
Shortcrust pastry:
Combine flour, spice, sugar and butter in a food processor, processing on pulse until mixture looks like fine breadcrumbs – add yolks, milk and splash of water and process until dough starts to come together – add more chilled water in small amounts if required.
Alternately (and this is the best way); combine flour, spice and sugar in a bowl with a whisk – add cubed, chilled butter and using clean hands, use fingertips to rub butter into flour until it resembles fine breadcrumbs.  Add milk, then enough water and stir until you can bring it together into a ball.
Turn pastry onto a flat, clean, lightly floured surface and knead gently and briefly until smooth.  Shape into a flattish disk, wrap in plastic wrap and refrigerate for 30-60 minutes or so.  Pastry can be made a day in advance.
Filling:
Slice apples into wedges (peel if you prefer, I didn't).  Add to large, heavy based saucepan with lemon juice and sugar and simmer on medium heat, covered for 5-8 minutes, stirring regularly, until apples are tender.  Drain apples into sieve set over a bowl or mug, retaining the juice from the apples.  Place apples back into pan and set aside to cool to room temperature.
Place apple juice into a small pan and add 20g of chilled, unsalted butter.  Simmer uncovered on low-medium heat for 20 minutes, stirring regularly, until mixture is reduced and syrupy in texture.  Set aside to cool (it will thicken further).
Grease a 20cm pie tin.  Place on a flat baking tray to catch any juices.
Remove pastry from the fridge and cut into two pieces.  Place a sheet of plastic wrap onto a flat, clean surface and dust lightly with flour – place one piece of pastry onto plastic wrap and use a rolling pin to roll out into a circle large enough for the base of the pie tin.  Use plastic wrap to transfer pastry into prepare tin and press gently into base and up sides of dish.  Store pie dish in the fridge.
Preheat oven to 190C.
Combine apple mixture with cooled syrup, strawberries and vanilla essence and sprinkle over flour, stirring through gently.
Use rolling pin to roll out second piece of pastry into a circle using the same method.
Spoon over filling then layer over second piece of pastry for the top – slice off overhang then pinch sides of pastry to close.  Use a sharp knife to make 3 cuts in the centre.  Brush over egg wash then sprinkle over  sugar.
Bake for 45-50 minutes, or until golden brown – you may need to place some foil around the edges if they start to burn.  Sit for 10-15 minutes before serving with ice cream, cream or custard.
Serves: 8-10
Shortcrust pastry adapted from: Taste