I love these eggs!  Trust me, you will too.
Scrambled eggs, as most of us know, are an easy and tasty breakfast you can whip up in minutes.  Well, with some bright and savoury flavours of feta, chilli and herbs added to spice up your morning, or perhaps brunch, it elevates the humble scrambled eggs to a whole new level.
Throw in some oven roasted tomatoes and mushies with a hot, buttered rustic piece of sour dough, and you have a healthy and stress-free fry up (without the actual frying and fussing over heaps of pans and things) to give you a bit more energy on a Sunday morning.
Oh and you could always forgo the bread for a low carb, high protein brekkie if that's your thing.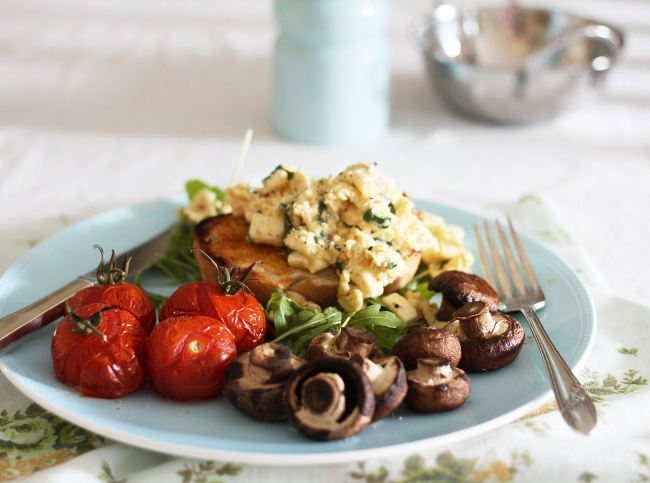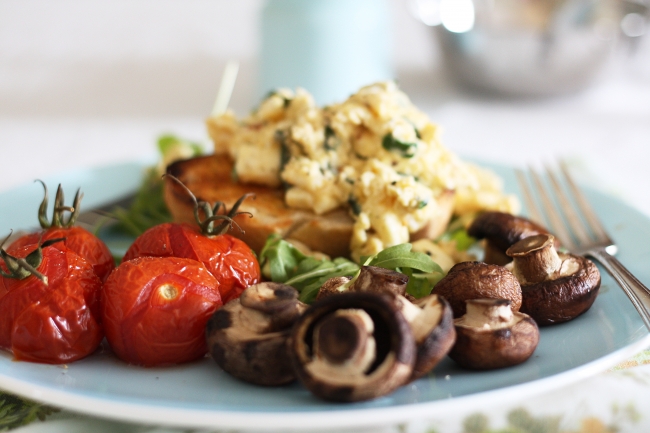 Recipe for feta, chilli and herb scrambled eggs:
Grapeseed oil
300g mushrooms
250g cherry or baby tomatoes
Butter
5 eggs
1 tblspn each Continental parsley, basil and spring (green) onions, chopped finely
Freshly ground sea salt and black pepper
A pinch chilli flakes
80g reduced fat feta cheese, diced
2 thick slices sour dough bread
Rocket or baby spinach
Preheat oven to 180C.  Place whole cherry tomatoes and mushrooms (if very large, quarter them) onto baking paper lined baking tray.  Drizzle oil over mushrooms generously to coat.  Season well and roast for 30-35 minutes or until cooked through and slightly caramelised.
Meanwhile whisk eggs, herbs, seasoning and chilli flakes with a splash of milk or water until combined.  Add to a non stick pan with a bit of butter on the base over medium/high heat and scatter over diced feta cheese.  Use a wooden spoon to stir and move the eggs around the pan until just cooked (they'll continue cooking on the plate).
Serve with buttered toast, roasted vegetables and greens.
Serves: 2