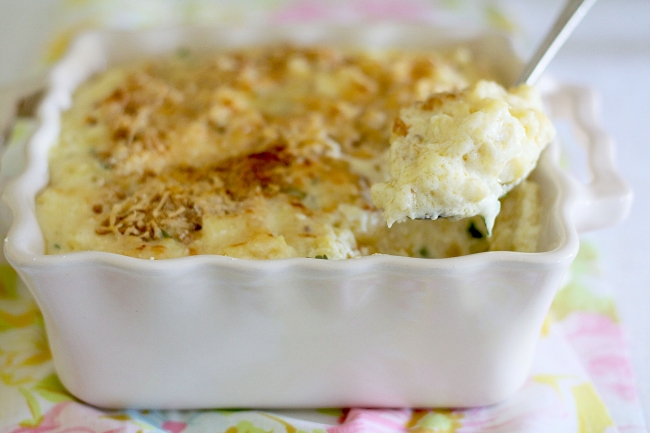 Macaroni cheese has stayed consistent throughout generations of food and dietary trends – cheesy, salty and full of fat and carbs.  What are you gonna do?!  Can't fight city hall.
So, some things I've discovered:
Don't make it low fat.  Just.don't.  If any of you are worried about your gorgeous figures, then don't eat macaroni cheese.  Eat something else.  There are hundreds of delicious, healthy pasta dishes you could have instead.  I'm sorry to be so unforgiving about it, but there it is.  This dish (in my humble/honest opinion) needs lots of cheese and full fat milk and other politically incorrect ingredients for it to work.  In saying that, you could use margarine instead of butter, but that's the only concession I'll make.
Use a variety of cheeses if you have them.  Think of some of your favourite cheeses and use those.  Think of contrasting flavours and different textures.
This is one of those special treats you make occasionally, and when you do, you should enjoy it fully then move on.  And besides, it has loads of calcium which is good for us eh?
Add something a bit different and healthy to your mac cheese – I added sliced avocado, but you could also stir through some oven roasted cherry tomatoes, steamed broccoli florets, roast pumpkin, frozen peas and sweetcorn kernels or a decent handful of chopped, toasted walnuts.
Recipe for macaroni cheese:
30g loosely packed, parmesan cheese, finely grated + 30g mozzarella cheese, grated
A couple of heaped tblspns coarse breadcrumbs, like Panko or spelt
250g macaroni, shells, penne or rigatoni
15mls grapeseed oil
2 shallots or small red onion, diced
2 cloves garlic, crushed
Teeny tiny pinch chilli flakes
4 heaped tblspns butter or cooking margarine
3 heaped tblspns plain flour
500mls whole milk
Heaped tspn Dijon mustard
2 dried bay leaves
100g Gruyère cheese +  150g extra sharp cheddar cheese (or all cheddar cheese if that's all you have), grated
Freshly ground sea salt and black pepper
Tiny pinch nutmeg
Handful continental parsley and the green part a few spring onions, chopped
1 large avocado, sliced
Set aside a 20cm x 20cm deep ceramic baking dish.  Combine the parmesan and mozzarella with the breadcrumbs and set aside.
Preheat oven to 200C.
Boil pasta in boiling, salted water in a large saucepan until al dente.  Drain then place back in the saucepan and set aside.
Meanwhile, cook down the shallots, garlic and chilli flakes in oil on low to medium heat in small pan and set aside.
At the same time, in a medium sized heavy based pan, melt the butter over medium/high heat, then whisk through the flour for a minute, then pour in the milk gradually, then the mustard and whisk until smooth.  Add the bay leaves and stir over medium/high heat for 5-6 minutes, or until smooth.  Add Gruyère and cheddar cheese, seasoning to taste and a tiny pinch of nutmeg and mix in briskly just to combine.
Remove bay leaves.
Add the onion/garlic mixture, cheese sauce and herbs to the pan with the pasta and stir through gently.  Season further if required.
Place avocado pieces on the base of the baking dish, grind over sea salt and black pepper to taste then spoon in macaroni cheese over the top and sprinkle over cheese/breadcrumb mixture; bake in oven for 20 minutes, turning around half way through, until golden brown on top and bubbling.
Allow to sit for 5 minutes before serving.
Serves: 3 large sized servings, or 4 medium sized servings