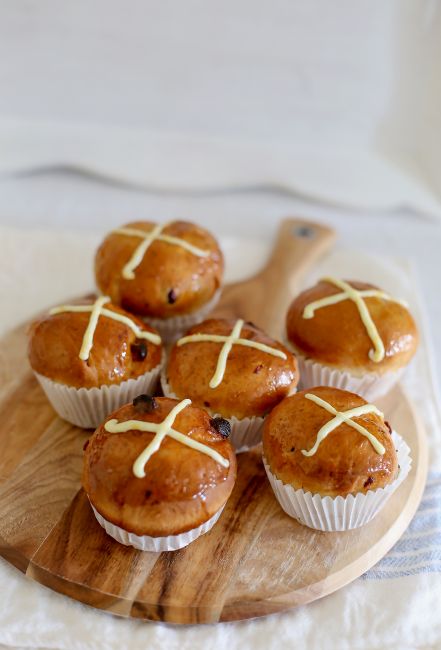 It's a bit sacrilegious I know, changing hot cross buns but … I always buy the fruit spice ones and they're lovely, in fact I usually stock up around this time of year so I can have a few stored in the freezer.  However, I wanted to bake some buns myself so thought I'd throw in a couple of different flavours, flavours I usually enjoy in a cookie.
They look a bit messy … how do people make super neat looking buns because I never seem to?!  Respect.  They taste lovely though so don't let the appearance put you off, the cakey softness of these buns combined with sweet, chewy cranberries, creamy white chocolate and a hint of orange is wonderful.
I iced the crosses on instead of using the traditional flour and water mixture.  For something even more special, you could make sticky buns by quadrupling the amount of the icing and covering the whole top of the bun, instead of just piping the crosses.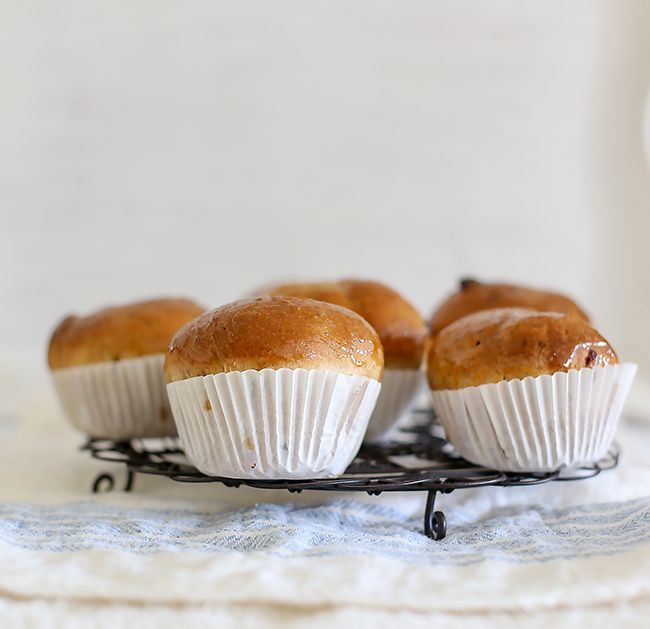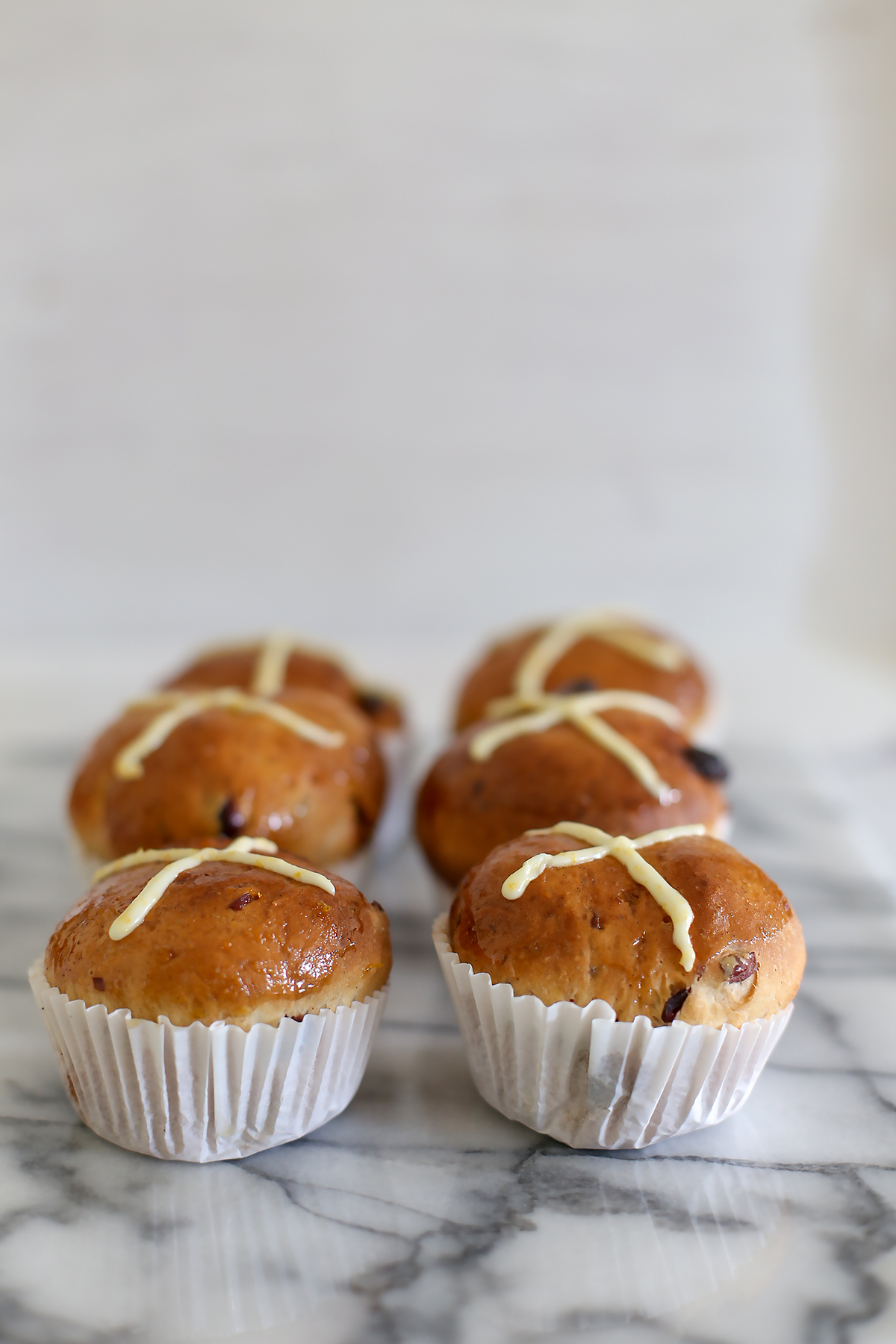 Recipe for cranberry white chocolate orange hot cross buns:
Buns:
2 cups plain flour
1 tspn mixed spice
1 tspn orange zest, finely grated
2 x 20ml tblspns raw caster sugar
A couple of grinds of sea salt
1 x 7g packet instant dried yeast (I used Tandaco sachets)
2/3 cup milk + 1 tspn apple cider vinegar
30g unsalted butter
1 large room temperature egg, whisked lightly
60g white chocolate chips
60g dried cranberries
Glaze:
40mls water
Scattering orange zest, finely grated
1 x 20ml tblspn raw caster sugar
1/2 tspn vanilla bean paste
Icing:
Scant 1/4 cup icing sugar
Scattering orange zest, finely grated
1 tspn milk
Add teaspoon of vinegar to a 2/3 cup measure; pour in milk to make 2/3 of a cup.
Pre-soak cranberries in warm water for 20 minutes.  Drain really well in colander, pat dry with paper towel and set aside.  Pre-soaking the dried fruit prevents the dough from drying out.
Grease a large mixing bowl and set aside.  Prepare a clean, flat surface area and lightly flour it – leave some excess flour aside.
Find a 6 cup Texas sized muffin tin and place in large cupcake liners if you want individual buns.  Alternately grease a 20cm round pan if you want to bake the buns in a round as you would traditionally.
Add flour, spice, zest, sugar, salt and yeast to a large mixing bowl and whisk until combined.  Make a well in the middle.
Heat butter in a small saucepan over low heat until melted then add the milk and warm until mixture is only luke-warm.
Add milk mixture with egg to dry ingredients and stir with a knife until combined, and mixture starts to come together.  It should feel quite soft ideally.
Continue bringing together in a ball using your hands and turn dough out onto the prepared surface and knead for 4 minutes, or until dough is fairly smooth yet still soft; add flour to the board as required, although try not to use too much.  Form into a flattish round, add the chocolate and cranberries into the middle; fold over dough and knead until the add-ins are distributed throughout the dough, for around 3-6 more minutes, or until dough is smooth and springs back when pressed (this varies quite a lot so just go by feel).  The add-ins do tend to fall out a bit at first, but just place them back into the dough and continue kneading, it will come together.
Place dough into prepared bowl, cover with plastic wrap and a damp tea towel and stand in a warm, draft free place for 60 minutes or until doubled in size.  I either use the oven or the microwave to store the bowl (turned off obviously).
Punch dough with your fist so it collapses (I love that bit) and turn onto a clean, flat, lightly floured surface.  Knead dough briefly, until smooth and elastic.  Form dough into log, then cut into 6 pieces, and shape into round buns.  Place buns into prepared tin.  Cover with greased plastic wrap and set aside in the same warm place as previously, for 45 minutes, or until the buns have risen and increased significantly in size.
Preheat oven to 190C 10 minutes before the end of rising time.  Bake buns for 18-20 minutes, if using muffin tin, or 20-25 minutes, if using a round baking pan, until golden brown on top and hollow when tapped.
Make glaze a few minutes before the end of baking time.
Brush warm glaze over the hot buns.  Cool on tin for 5 minutes then remove onto cooling rack to cool completely before icing.
Once cool, ice crosses onto buns with icing mixture using the zip lock bag method below.
Glaze:
Place all ingredients into a small saucepan and simmer gently for around a few minutes, swirling pan occasionally, until sugar has dissolved and mixture has reduced a bit.
Icing:
Make icing just before using.  Sift icing sugar into a small bowl.  Add zest and milk and beat with a wooden spoon until combined, smooth and thickened a bit .  Use a spatula to spoon into a zip lock bag; squeeze icing mixture into a corner and snip of a small corner with sharp scissors.
Serve with butter.
Adapted from: Taste
Makes: 6