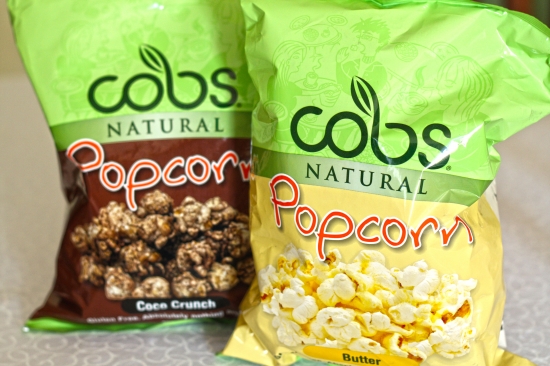 I thought I'd talk about one of my favourite snack foods, Cobs popcorn today as;
it's a delicious and healthy snack
Cobs are 100% Australian made and owned
Cobs offer organic, flavoured and natural varieties
The original salty sweet flavour is an irresistible combination of crunchy, fluffy, salty and sweet and is the flavour I've purchased regularly over the past couple of years.  Today though, I'm reviewing two special new flavours I spotted recently:
Butter
The butter flavour is a classic and I was really happy to try this; I found it had a deliciously genuine buttery flavour with just the right amount of savoury saltiness and it was fun eating it while watching a couple of movies on the weekend.  Buttery popcorn without the guilt – this is my favourite flavour now!
Coco Crunch
I admit this was a novelty when Ant bought it home and I acted like a big kid as I'd never tried chocolate popcorn before.  On tasting it, I found it to have a subtly sweet, light cocoa flavour which curbed my chocolate cravings very nicely but without the sugar and fat.  And … I tried some with icy cold milk.  It was lovely!  Sort of like chocolate rice bubbles.  Next time I'll throw in some berries or sliced banana.
Just a tip: there are copycat popcorns around (I spotted another brand of salty/sweet popcorn some time ago however I would recommend buying the original.  You know, because it's the nice, friendly, ethical thing to do).
Cobs now have an online store.  The website has a list of stockists so buy a few bags and you'll have guilt free snacks for a while.  A word of warning though, they are addictive so maybe hide the bags when you buy them so you don't stuff yourself silly on them (this may or may not have happened to me recently).
The slight challenge in obtaining this brand locally isn't at all a reflection on Cobs, but I suspect the fault of distributors or companies who don't support Australian made products enough (the big two, I'm talking to you).  If anybody spots any around Brisbane, please let me know and I'll update this post.
Note: This is a personal review I've chosen to do myself for which I haven't received any payment.