Oh banana bread – from memory, the very first thing I ever baked.  I remember afternoon tea on rainy afternoons, sitting at the kitchen table snacking on toasted banana bread and butter with my school friends.  Back then, it was a pretty basic recipe (and yet delicious as simple things often are).
This moist, light crumbed banana loaf tastes lovely not too long out of the oven and is also wonderful toasted and buttered.  As you can see, it's more cake than traditional banana bread just out of the oven really, being lightish and a bit fluffy, though after a couple of hours settles into a more moist crumb.  The coconut gives a sweet, subtle flavour and rustic texture to this banana bread rather than overpowering it, and as for the the chocolate chips, well I mean it's chocolate.  Everything's better with chocolate.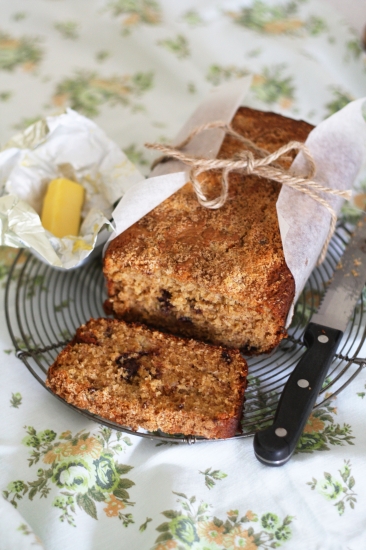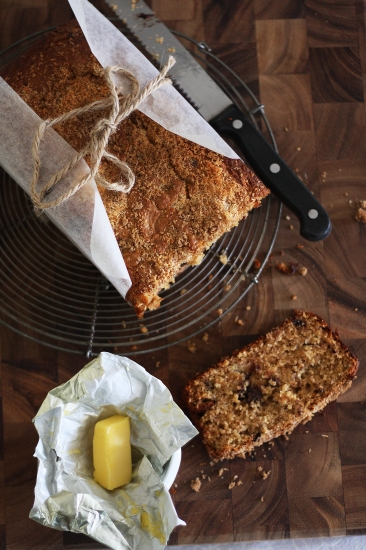 Recipe for banana, coconut and chocolate chip bread:
1/2 cup plain wholemeal flour
1 cup self raising white flour
1 tspn baking powder
1/2 tspn baking soda
Pinch fine sea salt
1/2 tspn mixed spice
60g dark chocolate chips
1/2 cup desiccated coconut
1/2 cup unsalted butter or baking margarine softened at room temperature (leave out salt if using margarine)
3/4 cup brown sugar, firmly packed
2 x 20ml tblspns golden syrup
1 tspn vanilla essence
2 large eggs (59g whole weight)
3 super ripe bananas, peeled and mashed (around 380g whole weight with skin on)
1/3 cup vanilla flavoured yoghurt
Extra desiccated coconut and brown sugar for sprinkling
Preheat oven to 170C (160C fan forced).  Grease and line with baking paper a 22x20cm loaf tin.  Leave some baking paper over the sides of the tin for easier removal after baking.
Sift the flours, raising agents, salt and spices into a large bowl.  Toss through coconut and chocolate chips.
In a small bowl stir bananas and yoghurt until combined.
Using an electric mixer, beat butter, sugar, golden syrup and vanilla essence on medium speed for 1-2 minutes, or until lighter in colour and fluffy in texture.  Add eggs, one at a time, beating on low speed after each addition just until combined.  Add flour mixture and banana mixture alternately in 3 parts, starting and ending with flour, folding through with a wood spoon until combined – don't over-beat.
Spoon into prepared tin, smoothing the top with a butter knife.  Sprinkle over a tablespoon each of brown sugar and coconut.
Bake  for 45-50 minutes, or until golden brown on top and a skewer inserted in the middle comes out clean.
Allow to cool in the tin for 10-12 minutes, then remove onto cooling rack to cool.
Serves: 10