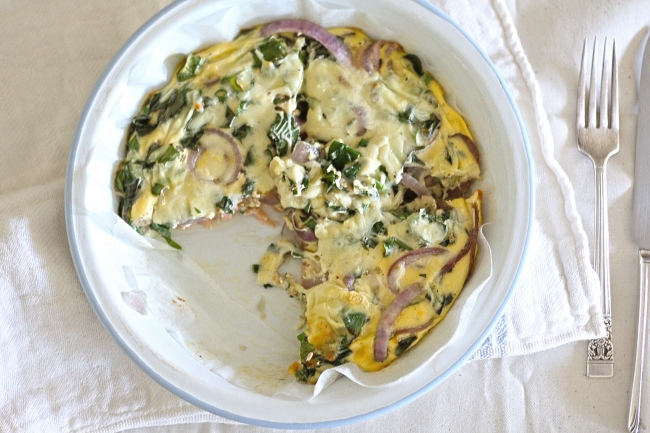 Ok.  Just imagine Christmas is over and you need a little relief from the indulgent, fattening days of eating and drinking like it's the end of the world or something.  Today's recipe is an easy, healthy little brunch which has all deliciousness of what you'd expect from a lazy Sunday morning meal, but guilt free (or at the very least, guilt reduced).  As per my previous Tassal reviews and recipes here and here, I used delicious, sustainable Atlantic salmon to whip up this easy dish but as an alternative, I tried the salt reduced sliced smoked salmon.
This tasty, creamy, health conscious frittata had that lovely smoky flavour from the salmon with some sweetness from the caramelised onion which was irresistible – this dish tasted wonderful with seasoned crispy oven chips and a green salad.  And if you have any left over, it's great for breakfast the next day!
The salt reduced smoked salmon still has that creamy, savoury, taste-of-the-sea texture and flavour, sliced delicately for convenience – it obviously doesn't taste as salty as the original however still tasted buttery and delicious and I didn't miss the extra salt at all.
Thank you so much to Natalie and Tassal for providing me and my household with such delicious products to trial for the Christmas season!
Another easy and delicious alternative for brunch (or lunch) is the classic smoked salmon and cream cheese on bagels.
Recently I toasted sesame seed bagels, slathered on reduced fat chive and onion cream cheese, Tassal reduced salt smoked salmon, a squeeze of lemon, sliced radish and green onions, cracked black pepper and served with potato chips on the side.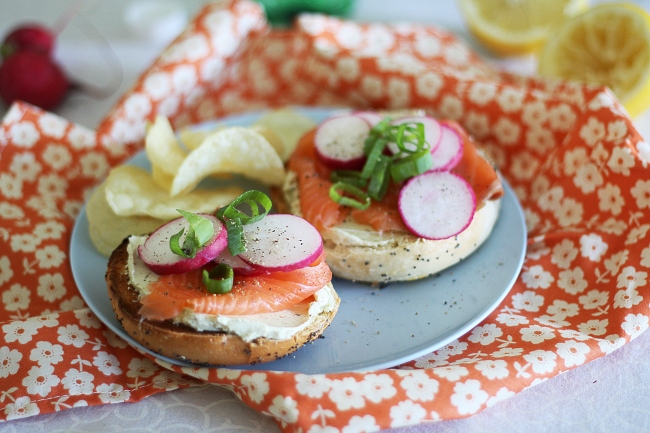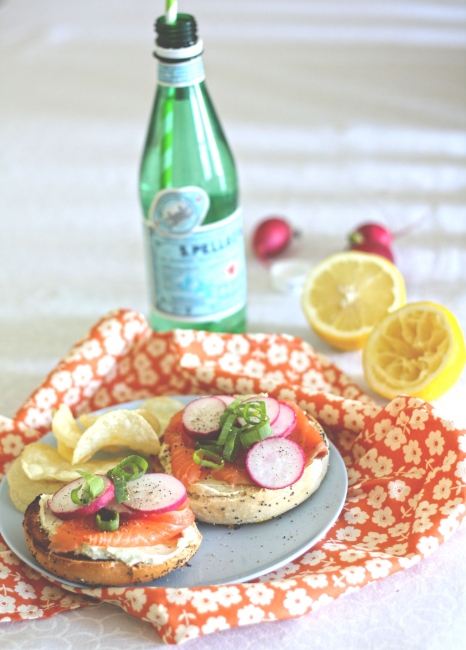 All opinions stated here are my own, I wasn't paid to trial or review any products and I wasn't under any obligation to write a positive review.
Recipe:
Frittata:
15mls grapeseed or olive oil
1 medium red onion
1 small pinch brown sugar
6 eggs
Freshly ground sea salt and black pepper
Splash milk
A decent handful of chopped spring (green) onions and basil leaves
2 x 90g packets reduced salt Tassal smoked salmon
60g low fat cheddar cheese, grated coarsely
Seasoned oven chips:
600g Dutch cream potatoes (or any other good all round potato)
Chicken salt (or any seasoning you prefer)
Grapeseed or olive oil
Green walnut salad:
150g mixed salad greens
Handful walnuts or pecan nuts
French dressing
Preheat oven to 150C.  Grease a 20cm pie dish and line with baking paper.  Line a large rectangular baking tray with baking paper.
Make salad dressing as per link.  Toast pecan nuts or walnut in the oven for 7 minutes, or until fragrant – increase oven temperature to 200C.  Chop nuts then set aside.
Slice potatoes into chip shapes and place on baking tray.  Sprinkle over chicken seasoning, drizzle over oil then mix through until coated.  Roast in the oven for 35-40 minutes, or until crisp and golden brown.
Meanwhile, slice onion and place in small frypan with 15mls oil, brown sugar, bring to sizzling high heat, then turn down to low and saute for 20-25 minutes, stirring regularly.  Once caramelised and cooked down, turn off heat and set aside.
Whisk eggs, milk and seasoning in a jug until combined.  Add chopped herbs.
Around 20-25 minutes before the end of cooking time for the chips, shred one 90g packet of salmon and layer on the base of lined pie dish, add cooled onion over the top of the salmon, then pour on eggs and herbs mixture.  Sprinkle cheese over the top.  Decrease oven temp to 180C then bake frittata for 10-15 minutes, or until just set and light golden brown on the top.
Dress salad and mix through chopped, toasted nuts.
Serve slices of frittata with more salmon over the top, the salad and chips.
Serves: 4