Although I made a summer lasagna using corn a while back, I hadn't thought about adding corn kernels to long pasta until I saw a couple of recent recipes online, however it really is inspired.  The sweet corn kernels and cherry tomatoes taste lovely mixed with fresh herbs into glossy, slightly creamy pasta with just a touch of lemon.
The perfect sunny, summer pasta dish.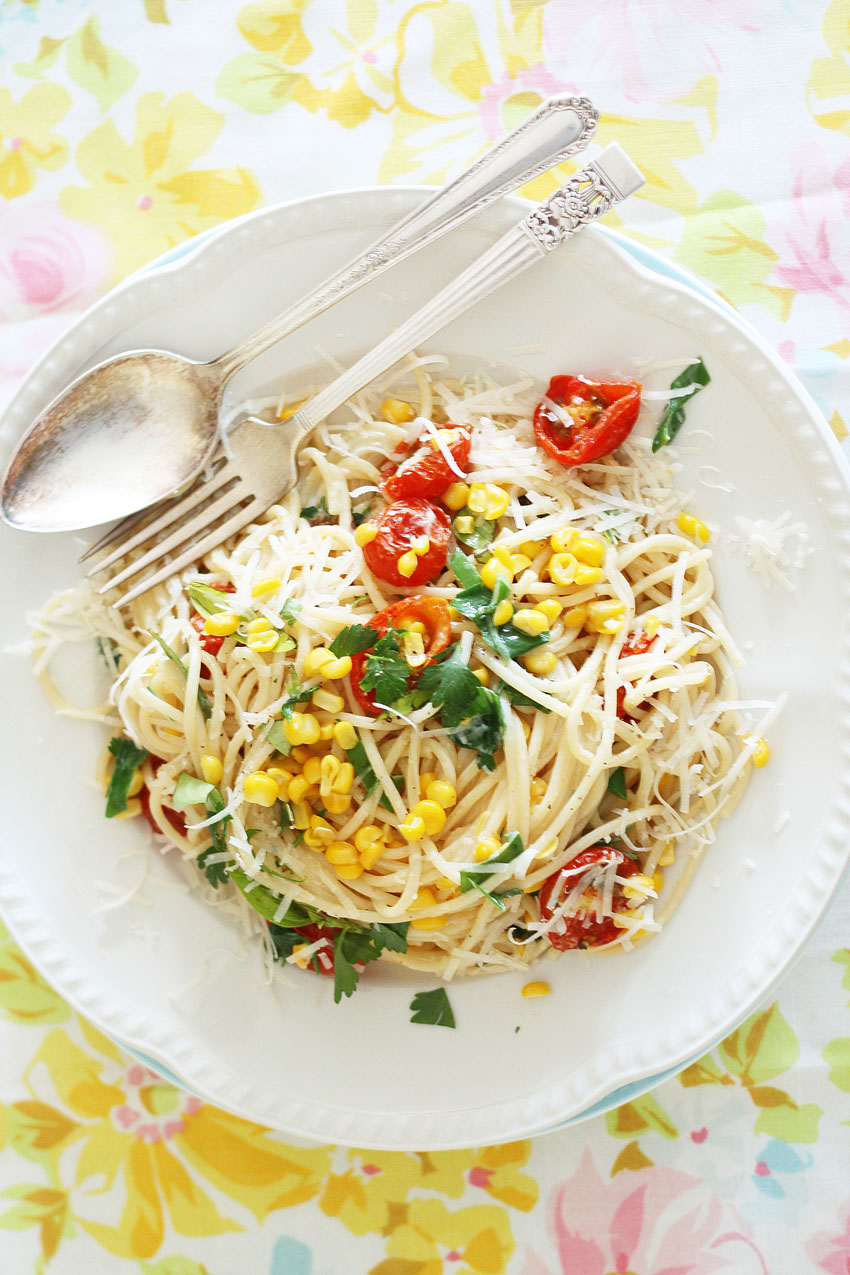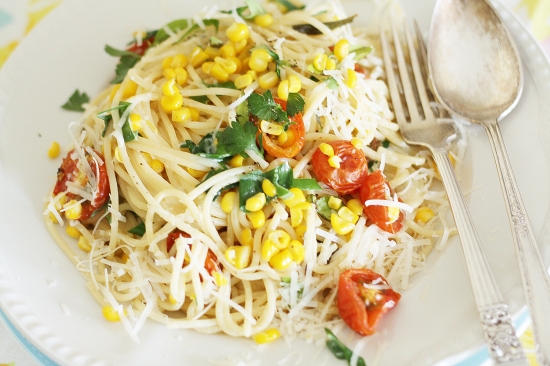 Recipe for sweetcorn pasta:
180g thin spaghetti
300g cherry tomatoes
200g sweetcorn kernels
2 small cloves garlic, crushed
45mls extra virgin olive oil
60mls cream
Basil, spring (green) onion and continental parsley, chopped
2 tspns lemon zest
Parmesan cheese, grated finely (as much as you like)
Freshly ground sea salt and black pepper
Preheat oven to 150C.  Place halved cherry tomatoes cut side up on baking paper lined baking tray and season well.  Roast for an hour or so.
Around 15-20 minutes before the end of tomato cooking time, bring a large pan of water to the boil, add salt then pasta and boil until tender.
Meanwhile, add 15mls extra virgin olive oil with garlic and corn kernels to a small fry pan and slow sauté on low heat for a few minutes, stirring (don't allow to burn).  Turn off hotplate, leaving pan on to stay warm.
Drain pasta, reserving a 1/4 cup or so of pasta water.  Add pasta back to the saucepan, add the rest of the olive oil, cream, sweetcorn mixture and tomatoes, then add enough pasta water to moisten well (but not too much).  Toss for a couple of minutes until heated through.  Add chopped herbs, lemon zest and more seasoning if desired just before serving.
Divide between two plates and add grated parmesan.  Best served straight away.
Serves: 2 large
Inspired by:  Donna Hay