Roaming Cow product review (2) and a recipe for roast cream of tomato soup with Greek yoghurt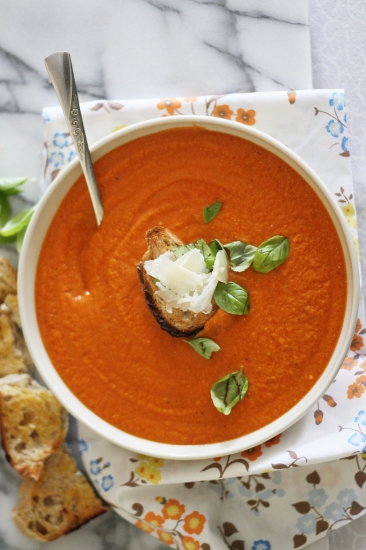 Last week I posted the first of 3 recipes using Roaming Cow natural yoghurt.  This week I thought I'd take advantage of some lovely almost summer tomatoes and make a roast tomato soup using the Greek style yoghurt Roaming Cow sent me to try.
I know I shouldn't play favourites but as lovely as the no fat yoghurt is, the Greek style is seriously gorgeous – so thick and creamy the spoon stands right up in the pot on it's own.  It was delicious with some fresh blueberries and flaked almonds scattered over.  But I digress, on to my recipe!
I realise hot soup isn't traditional almost-summer fare however I love the zesty, fresh flavour of tomato soup and although it's a warm dish, I find it refreshing and quite seasonal on a warm night, especially if I'm sitting outside.
As anyone who grew up with tinned tomato soup would know (that's most of us right?), the creaminess is an important part of tomato soup and Roaming Cow's Greek style yoghurt was perfect for this dish - the tangy flavour paired perfectly with the tomatoes, the luxurious creaminess gave the soup a pleasing thick texture and there was also a subtle sweetness to it.  It's not strictly necessary to pre-roast the tomatoes, but I just love how sweet tomatoes become when roasted, so it was worth having the oven on, even on a warm day.
My next (and last) recipe using the rest of the Greek style yoghurt will be up in the next week or so and this time it's something sweet and luscious so remember to check back, you won't be disappointed.
And don't forget to sample some of the delicious Roaming Cow yoghurt at the Brisbane Food & Wine Show on 9-11 November!
All opinions stated here are my own, I wasn't paid to trial or review any products and I wasn't under any obligation to write a positive review.
*Sadly, Roaming Cow's yoghurt products have been discontinued.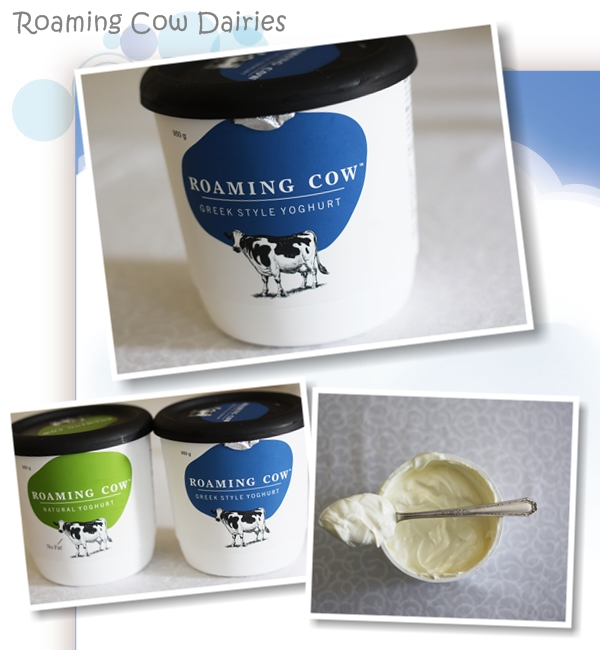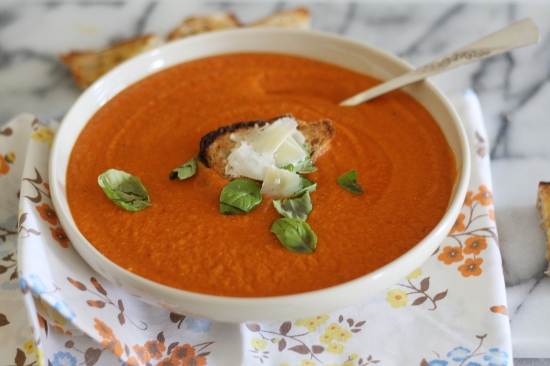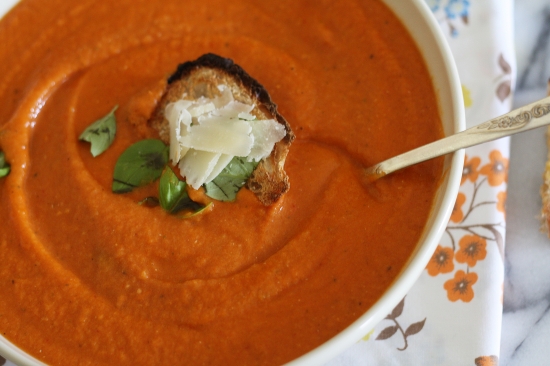 Recipe for tomato soup:
1.5kg ripe tomatoes, halved
Freshly ground sea salt and black pepper
30mls extra virgin olive oil (or olive oil if you prefer)
1 small carrot, peeled and sliced thinly
1 stalk celery, sliced thinly
1 medium to large brown onion, diced
2 cloves garlic, crushed
Small pinch chilli flakes
1/2 tspn cumin
1/4 tspn sweet paprika
1/4 cup red lentils
2 x 20ml tblspns low sodium tomato paste
1 cup low sodium vegetable stock
2 tspns raw sugar
100-120g Roaming Cow Greek style full fat yoghurt (as much or little as you like)
A small handful of fresh basil leaves, chopped
Freshly ground sea salt and black pepper
To serve:
Rustic bread: sourdough, Spelt or wholemeal, toasted and buttered
Shaved Parmesan
Chopped basil
Preheat oven to 160C.  Place sliced tomatoes on a large shallow baking pan lined with baking paper, cut side up.  Season well and roast for 60 to 80 minutes or until tomatoes have broken down a bit and are caramelised.
Meanwhile, in a large, heavy based saucepan, slow saute carrot, celery, onion, garlic, seasoning and spices in oil on low heat until slightly caramelised and onion is transparent, for around 10-12 minutes, making sure to stir regularly.  Increase heat to medium/high, add lentils and toss through onion mixture then add tomato paste and cook down, stirring, for a couple of minutes.  Add vegetable stock to deglaze the pan, stirring.  Slice roasted tomatoes into large pieces, spoon into the pan, add sugar and stir to combine.
Bring to the boil then decrease heat to low/medium and slowly simmer covered, stirring regularly, for 40-45 minutes or until tomatoes, vegetables and lentils have completely broken down and liquid has reduced slightly.  Add more seasoning if desired (it generally doesn't need any more salt at this stage).
Add chopped basil right at the end and stir through.
Cool a bit then blend soup using a stick blender (if you don't have one of these, then process in food processor) until completely smooth.
Place pan of soup back on medium heat, add yoghurt and stir until hot and creamy.  Serve with toasted sour dough bread, extra basil leaves and Parmesan cheese.
Note: Can be frozen without the yoghurt for a couple of months.  Defrost in the fridge overnight, simmer on stove until heated through then add yoghurt and continue heating.
Serves: 4