I love porridge.  I eat it pretty much all year around, just changing the ingredients a bit – dates, maple syrup and walnuts in winter then fresh berries and light almonds for the warmer months and I love to add in a few ground nuts and seeds.  I mean what's not to like?  It's like dessert for breakfast.
Lately I've been using unstablised oats which turn out creamy and puddingy (and not in a bad way trust me) but any oats are good.  Just don't ask me about steel cut because I have no idea how to cook those, although they do sound sort of edgy and cool.
My summer inspired breakfast today – creamy, crunchy and fresh all at the same time and not too sweet.  If you prefer a stronger coconut flavour, I recommend using coconut milk.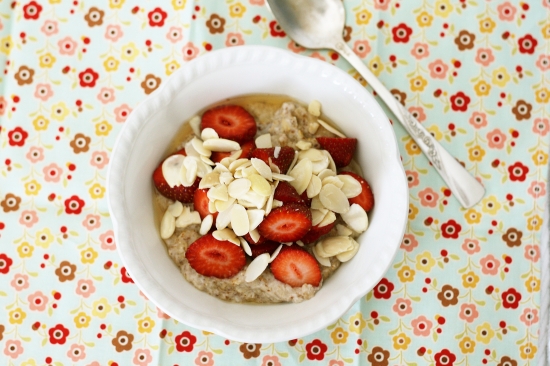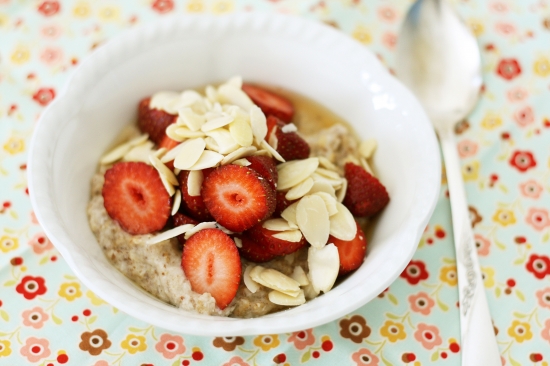 Recipe:
35g oats
3/4 cup milk of your choice (coconut, almond, dairy, organic soy)
1-2 heaped tblspns organic, unsweetened desiccated coconut
1 x 15ml tblspn ground flax or chia seeds
2 tspns agave nectar
A good handful chopped strawberries
A few flaked almonds
A couple of spoonfuls of Greek yoghurt (optional)
Add oats, milk and coconut to a small, heavy based pan.  Bring to a simmer, then turn down to low, place the lid on and simmer for 4-5 minutes, stirring regularly – take off hotplate and stir through flax meal.
Pour into a bowl, add agave nectar, strawberries and almonds.  Add a dollop of Greek yoghurt to thin it out a bit if you like.
Serves: 1