My housemates and I used to make this back in uni days from someone's mum's old recipe, only without the berries (from hazy memory, I think I used to sprinkle over candied macadamia nuts).  I can never remember exact quantities and such but it's super easy with a basic biscuit base, ice cream filling of your choice, some berries scattered over, and drizzled with your favourite home made butterscotch sauce (which is to be honest, the best bit).
This recipe has loads of possibilities too; you could try a chocolate biscuit base with caramel ice cream and chocolate sauce, or white chocolate ice cream and strawberries.  You could also use a round dish if you prefer (which would look super cute).
I much prefer the berries fresh and at room temperature, not frozen (fresh, juicy berries are just amazing with ice cream) but to save time when I made this ages ago, I put it all together and stored it in the freezer which is why they look a little frosty.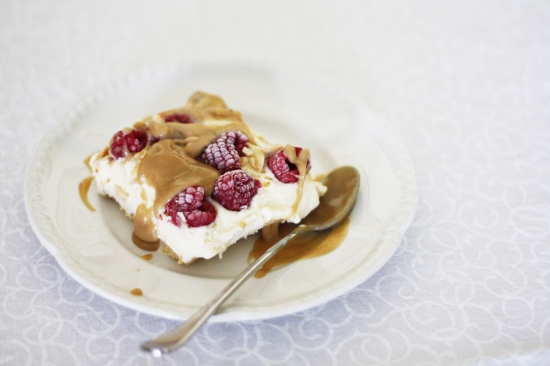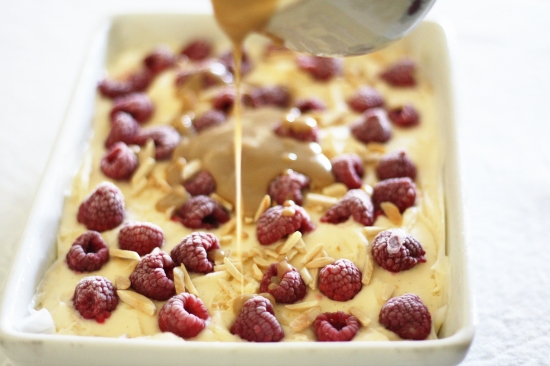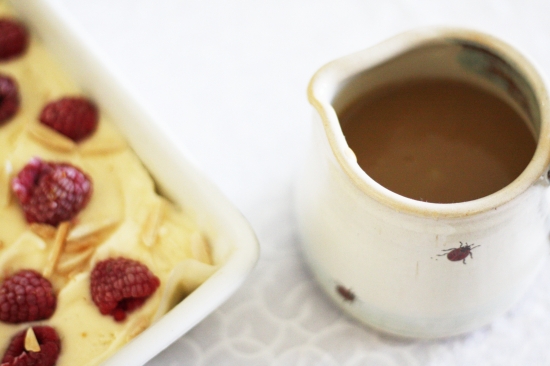 Recipe:
250g packet plain sweet biscuits (the sort you'd use to make a cheesecake base, eg Scotch Finger or Butternut Snap)
100g unsalted butter, melted and cooled
A tub of vanilla bean ice cream
Flaked or slivered almonds
Fresh berries of your choice
Butterscotch syrup:
40g chilled unsalted butter
1/2 cup brown sugar (packed firm)
1/2 tspn vanilla essence
140mls heavy cream
Grease and line with baking paper, a standard sized, ceramic rectangular or round baking dish.
Break biscuits into pieces, then process in food processor until fine crumbs.  Pour into a medium sized bowl then add butter gradually and stir until combined and mixture is damp but not soggy (you mightn't need all the butter depending on the type of biscuit you use).  Press crumb base firmly into the base (and up the sides a bit if you like) of a prepared ceramic dish.  Store in the fridge for an hour or until firm.
Spoon ice cream onto base and level using a butter knife.  Cover tightly with plastic wrap and store in the freezer for an hour or two, or until firm.
Just before serving, scatter berries and flaked almonds over the slice and press in a little.  Slice and serve with hot or warm butterscotch sauce.
Butterscotch sauce:
Whisk the butter, brown sugar, vanilla essence and cream in a small-medium, heavy based pan over medium heat (I find it easier to bring to high then turn down), until combined and smooth.  Simmer on low to medium heat for 5 minutes, stirring occasionally (and staying nearby) until smooth and creamy.
Serves: 8-10