This was meant to be brownies but it's really more of a fudgy chocolate cake .. or maybe it's a cakey brownie.  No matter, it turned out really well although I was anxious waiting for it to finish baking in the oven, as I had no idea what it was going to be or how it was going to turn out.  I was having a scatty day that day.
I love chocolate cake and this cake was a lovely surprise with a dense, sort of squishy, soft chocolate texture and flavour pairing really well with subtle bites of blueberry.
I added some white chocolate chunks but they somehow disappeared (?!), I think because I used delicate Lindt white chocolate (very decadent I know but it was all I had) instead of the more hardy Cadbury bar I usually use – all good though because I'm sure the melty chocolate pieces added to the fudgy nature of the cake.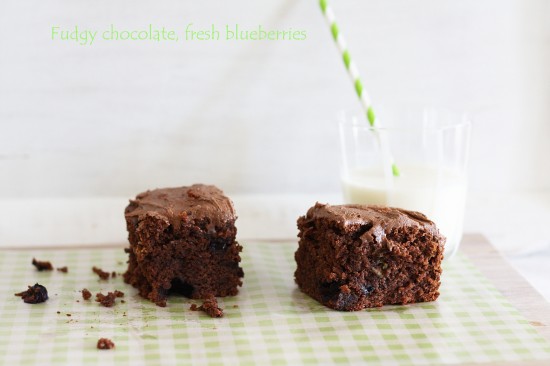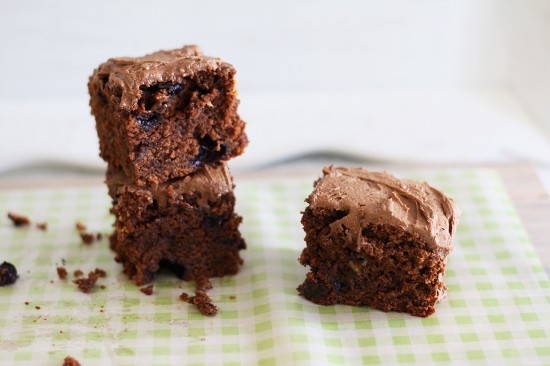 Recipe:
100g dark chocolate, chopped
30mls golden syrup
1 3/4 cups self raising flour
15g cocoa powder
1/4 tspn salt
100g blueberries
80g white or milk chocolate, chopped (or use chocolate chips)
125g unsalted butter (can use baking margarine although leave out the salt if you do)
200g raw caster sugar
1 tspn vanilla extract
2 eggs
1 cup sour cream (can use low fat)
Icing:
1 1/2 cups icing sugar
1 heaped 20ml tblspn cocoa powder
45g unsalted butter, softened
20mls hot water from the tap
Make sure cold ingredients sit at room temperature for around 10 minutes before using.
Preheat oven to 160 C.  Grease a 20cm x 20cm square baking tin with butter and line base and sides with baking paper, leaving some paper over the sides for easier removal later on.
Melt dark chocolate and golden syrup in a heatproof bowl over a small saucepan of simmering water, mixing slowly, then set aside.
Sift flour, cocoa powder and salt.  Toss through white chocolate and blueberries until coated with flour and set aside.
Beat butter, sugar and vanilla on medium speed with electric mixer for 2 minutes or until fluffy and light.  Scrape in melted chocolate mixture with a spatula then beat on medium speed until combined.  Add eggs one at a time and beat on low speed until combined.  Use a wooden spoon to fold in flour/ berries mixture and sour cream alternately in 4 parts, ending with sour cream.  The mixture will be very stiff at this stage.
Spoon into prepared tin and smooth top with a butter knife then bake for 50 minutes to an hour, or until skewer inserted in the centre comes out clean.
Cool in tin for 8 minutes then remove onto cooling rack to cool completely then ice.
Icing:
Sift icing sugar and cocoa into a large bowl.  Add butter and water and beat well with a wooden spoon for around 2-3 minutes, or until smooth and thick and of spreading consistency.  You could use an electric beater, however I was a bit lazy at the time.
Serves: 9
Tip:  Because of the blueberries, this needs to be stored in the fridge.  I've read placing a sliced apple half in with the cake in an airtight container keeps it fresh, although I haven't tried this myself.