This is a meal a lot of us would remember from our childhoods.  You could be really retro and serve it with garlic bread and a glass of red wine.  There are some dishes I never get over no matter how many new and exciting ideas come on the market, and spaghetti and meatballs with all the fixings is one of them.
To ensure the meatballs don't dry out, I cook the onion and garlic down in oil before I add them to the beef mixture and I also simmer the meatballs in the marinara sauce for the last 5 minutes or so.
This rich, fragrant and comforting meal was great for a weekend lunch.  The meatballs were flavoursome and tasted wonderful with the sweet and spicy sauce.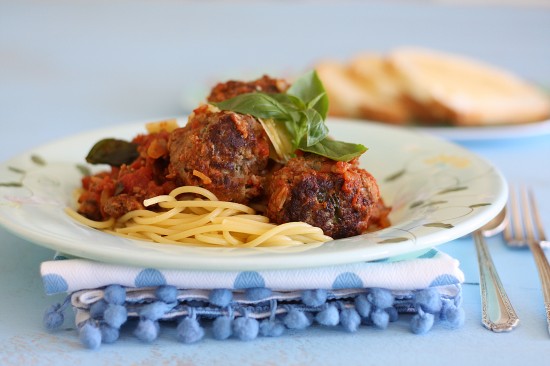 Recipe for spaghetti and meatballs:
400g uncooked spaghetti
Sea salt
Marinara sauce, recipe doubled
Handful fresh sweet basil, torn into large shreds
Meatballs:
15mls olive oil
1 small onion, diced finely
2-3 cloves garlic, crushed
1 tiny pinch chilli flakes
500g lean beef mince
1 heaped tblspn tomato relish
A good sprinkling of finely grated Parmesan cheese
Freshly ground sea salt and pepper (season well!)
1 egg, beaten lightly
1/3 cup dried spelt breadcrumbs (or any breadcrumbs you have)
1/2 tspn dried, ground sage
1 small handful continental parsley and fresh basil, chopped finely
Toppings:
Parmesan cheese, shaved
A few extra fresh basil leaves
Meatballs:
Saute onion, garlic and chilli flakes in oil over medium heat until slightly caramelised and cooked down, for around 5-7 minutes, stirring regularly.  Set aside to cool a bit.
In a large glass bowl, mix onion, garlic and oil mixture with the rest of the ingredients until combined, using a metal spoon or your clean hands – if preferred, use kitchen gloves.  Don't over-mix as this can toughen the meat.
Meanwhile, bring a large pan of water to the boil; add a teaspoon of salt then add the pasta and boil until tender, around 10-12 minutes.
Using clean or kitchen gloved hands, mold mixture into 2-3cm balls and place on plate (I ended up with 12).  Preheat on medium heat, a heavy based, large (non-stick preferably) frypan with 1 tblspn olive or grapeseed oil added.  Drop in meatballs one at a time, taking care not to overcrowd the pan and brown, but don't completely cook through.  Use tongs to turn the meatballs around so they're sealed and golden on all sides.
Once browned all over, add the marinara sauce to the meatballs.  Simmer covered on low to medium heat for 5 minutes, or until meatballs are cooked through and sauce is hot.  Add fresh herbs right at the end and stir through gently.
Serve pasta with meatballs, sauce, Parmesan cheese and more fresh basil if you like.
Serves: 4