A cheerful Sunday night meal which was easy and tasty – roasted spice and herb rubbed chicken with vegies and chorizo.  I used chicken thighs which are marvelous for roasting but you could always use chicken drumsticks, breast or a mixture.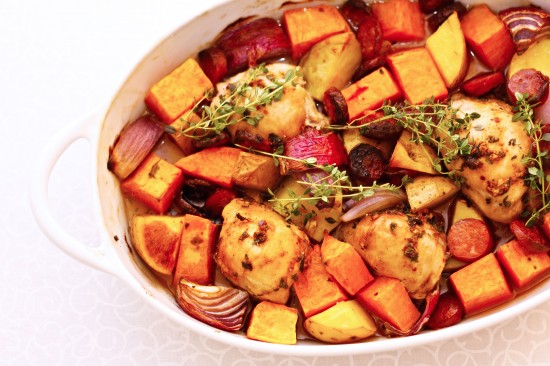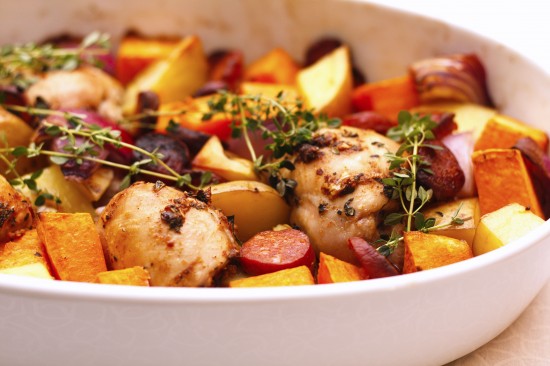 Recipe for spicy chicken:
600g skinless chicken thighs (4)
Spice rub:
1 tspn lemon zest
1 red chilli, diced finely (you can de-seed if you prefer it less spicy) or chilli flakes, to taste
Sea salt and black pepper
1/2 tspn sweet paprika
1 tspn ground cumin seeds
4 sage leaves, chopped finely
2 tspns fresh thyme, chopped finely
1/4 tspn ground dried coriander
2 cloves garlic, crushed
3 tspns brown sugar
3 x 15ml tblspns grapeseed or olive oil
One large roasting potato, diced
400g orange sweet potato, peeled and diced
1 large red onion, sliced into wedges
100g chorizo sausage, sliced
Grapeseed or olive oil
Sea salt and black pepper, to taste
Spice rub:
Mix together ingredients in a small bowl then rub over chicken pieces, place in one layer in a ceramic dish and sit covered in the fridge for an hour or two.
Preheat oven to 200C (190C fan forced).  Use tongs to place chicken in a large baking dish.  Add the vegetables and chorizo around the chicken, drizzle with oil and mix with hands to ensure vegetables are coated well with the oil.  Season well.
Roast for 45 minutes, or until chicken and vegetables are browned and cooked through.  You may need to move the vegetables and chorizo around half way through cooking to prevent burning.
Test the chicken with a skewer to make sure the juices run clear before serving.
Serve with a leafy green salad and crusty bread.
Serves: 4