Since blood oranges aren't around for very long (they're available in August here in Australia), I like making something special with them.  This sparkly juice drink tastes great and you can make it as healthy and sugar free as you like.  The orange flower essence is optional (I really can't remember where I purchased mine and it's way over the use-by date) but does add a little something.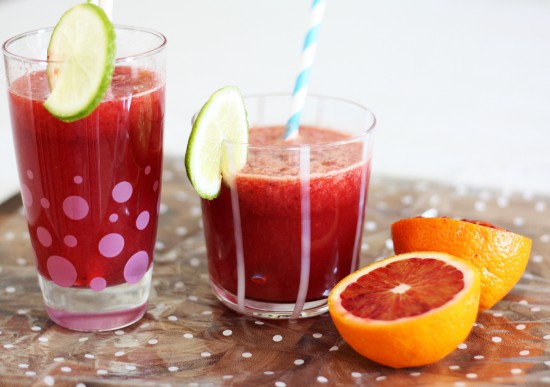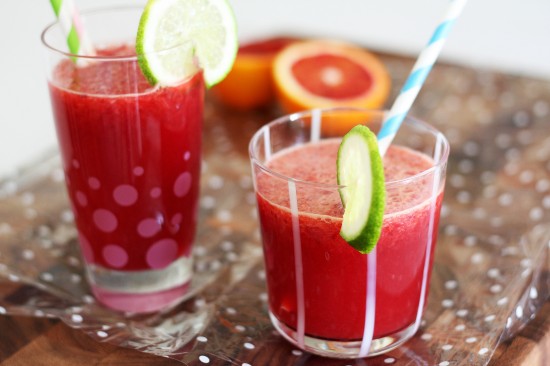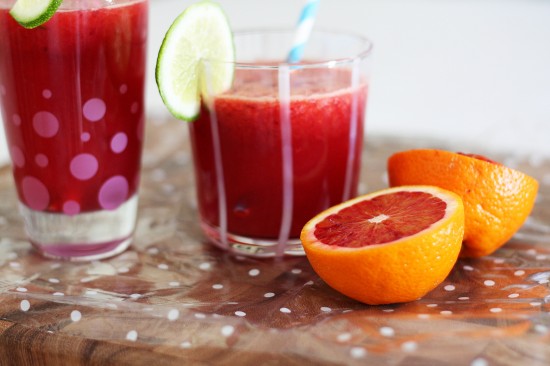 Recipe for blood orange sparkler
1/4 cup of water
1/4 cup raw caster sugar
4 blood oranges (640g), juiced
1 large tangelo (280g), juiced
1 tspn orange flower essence (optional)
Squeeze lime juice
140mls chilled sparkling (carbonated) soda water
Lime slices
Add 1/4 cup water and 1/4 cup caster sugar to a small pan and heat, stirring on low/medium heat until sugar has dissolved.  Cool a bit at room temperature then pour into heatproof jug and chill.
Add juices, orange flower essence and lime juice to a jug (if you prefer a pulp free drink, sieve the juices first).  Add soda water and taste then add sugar syrup to taste (I used around half the mixture).
Add ice or chill in the fridge for 15 minutes or so, if desired.  Add lime slices just before serving.  It does keep in the fridge quite well but will lose it's sparkle over time.
Serves: 2-3
Note:  You could try this recipe with oranges and red or yellow grapefruit, which are more readily available