This is one tasty way to get some of the green stuff which is so important in our diet; a fresh, creamy and healthy soup perfect for cooler nights with just a hint of spicy chilli.  You can taste the broccoli but it's not strong by any means, more of a savoury vegetable flavour if that makes any sense.
I used coconut milk to add a subtle, luxurious flavour but you could always use dairy, rice or almond milk if you prefer.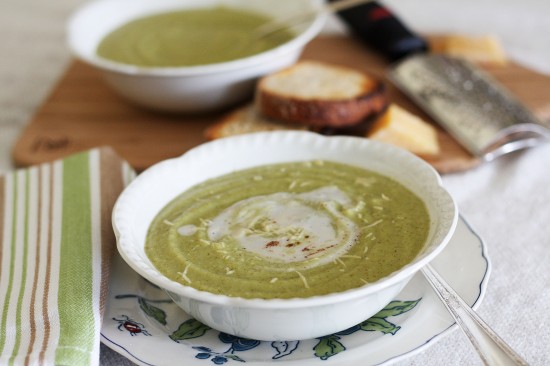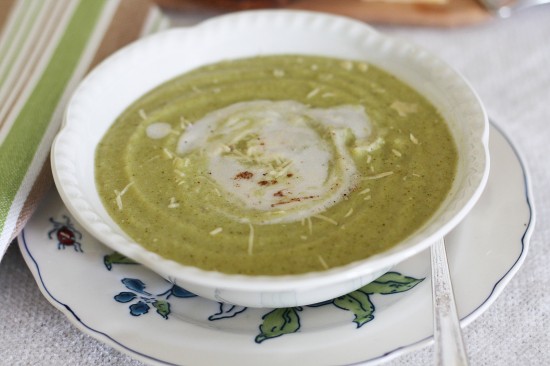 Recipe for Cream of Broccoli Coconut Soup:
1 x 15ml tblspn butter or cooking margarine
1 x 15ml tblspn grapeseed or olive oil
1 medium sized onion, diced
2 cloves garlic, crushed
Tiny pinch chilli flakes
200g organic potato, diced (I left the skin on)
450g broccoli, chopped
2 -3 cups low sodium vegetable stock
Seasoning
1/2 cup coconut milk (or to taste)
Extra 4 tblspns coconut milk at room temperature
Grated parmesan cheese
Tiny sprinkling nutmeg
In a large, heavy based saucepan on low to medium heat, saute onion, garlic, chilli and seasoning in butter and oil until transparent.  Add potato and toss until coated with oil mixture.  Add 2 cups of stock, place the lid on, then bring to the boil, turning down to low/ medium heat and simmer for 5 minutes; add broccoli and continue simmering covered for 8-10 minutes until vegetables are tender, stirring every now and again.  Add a bit more stock if needed during cooking.
Allow to cool down a bit then puree in blender or food processor until smooth.  Return to pot, add coconut milk and heat to piping hot over medium temperature, adding more seasoning if desired.
Serve with extra swirls of coconut milk, grated parmesan cheese and a tiny sprinkling of nutmeg.
Serves: 4 entrée sized dishes