Winter salad with massaged kale, roast sweet potato, brown mushrooms and toasted peanuts
Honestly, if anybody ever told me I'd be massaging kale I'd have thought they were mad.  But apparently, kale needs to be massaged to bring it to sort of a wilting texture before you use it raw in a salad.  Or maybe it's just really temperamental like a movie star.  Either way I love the stuff, there's no other green vegie which makes me feel so robustly healthy and I eat a lot of them.
I dutifully followed this advice and I don't know if you need to do it necessarily, you might be able to slice kale really thinly and use it that way or perhaps use younger kale as opposed to fully matured kale, but this massage technique sure made my salad taste wonderful.  The kale was still pleasurably substantial and crunchy but was somehow softened, and tasted as if it was cooked by the kneading (I was even asked how I cooked it), and it went so well with nutty chickpeas, creamy avocado, caramelised sweet potato, roasted hearty mushrooms, a handful of crunchy peanuts and a creamy dressing drizzled over.
This is an unusual salad but deliciously nutty and full of everything healthy and substantial.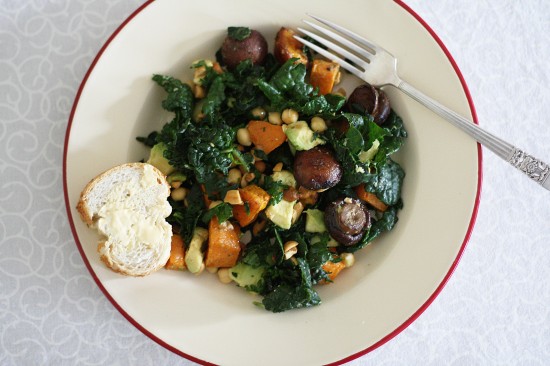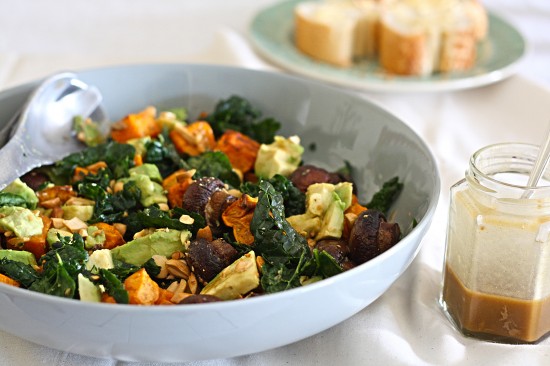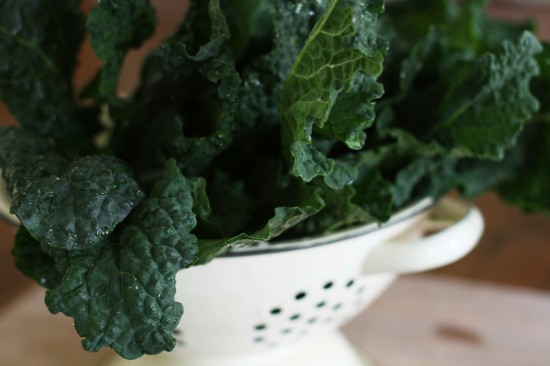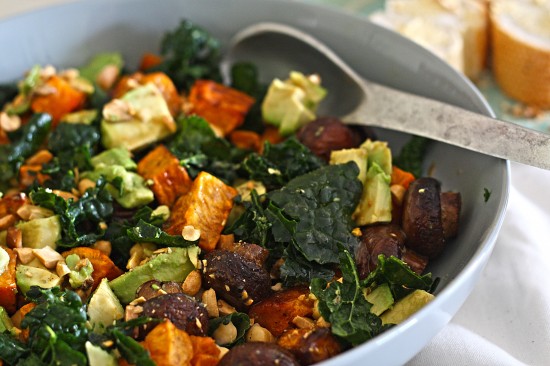 /p>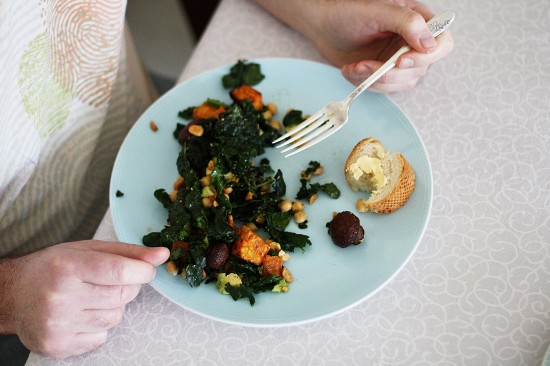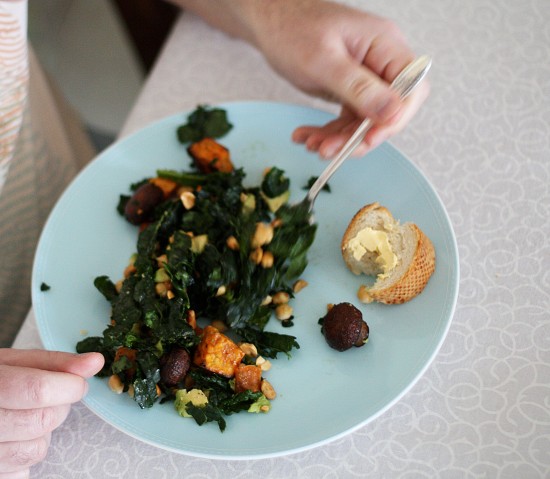 Recipe for kale and winter vegetable salad:
A smallish bunch of organic kale leaves, stems removed, washed and spun dry
Olive or grapeseed oil
360g sweet potato, peeled and diced
200g whole Swiss brown mushrooms (I used the smaller ones, if using larger mushrooms, then halve or quarter them)
1 small to medium ripe avocado
75g chickpeas
25g peanuts
Freshly ground black pepper and sea salt
Dressing:
25mls tahini (I used unhulled – using hulled will mean a milder flavour)
10mls white wine vinegar
10mls dark agave (you could use light agave or honey)
55mls extra virgin olive oil
Preheat oven to 200C (190C fan forced).
Add dressing ingredients to a glass bottle, cap the lid and shake really well to combine.  Store in the fridge until read to use then leave at room temperature for 20-30 minutes.
Toss sweet potato with a drizzle of oil and seasoning and place on baking paper lined large, flat baking tray and place in the oven for 20 minutes.  Toss mushrooms with a drizzle of olive oil and seasoning.  Remove tray of sweet potato from the oven and add mushrooms then place back in the oven for a further 20-25 minutes or until vegetables are golden brown and caramelised.
Massage kale and place in a large bowl – it took me around 7 minutes overall to do a decent bunch.
Around 5 minutes before end of roasting time, place peanuts on a baking paper lined, flat baking tray into the oven and roast until golden brown – make sure they don't burn as the oven will be very hot by now.
Set vegetables and peanuts aside for 5 minutes or so to cool down a bit then roughly chop the nuts.
Peel and dice avocado.
Place vegetables then nuts over kale and season, then drizzle dressing over to taste and toss through gently.
Serves: 2 large, 4 small
Note:  tahini is sesame seeds ground into a smooth and creamy paste.  It comes in unhulled, which is darker and slightly more bitter; and hulled, which is lighter in colour and milder in flavour.  Both have excellent health benefits which you can read more about here.