These gorgeous cakes turned out completely by accident.  I had the idea today of making lemon blueberry cupcakes with a lemon icing but when I removed these from the oven, they promptly sank.  I'm not sure if I overfilled the cupcake wrappers or maybe added a bit too much buttermilk but I was a bit gloomy when I saw them.
When I tasted them though; they were wonderful, especially still warm from the oven!  Moist, soft crumb with squidgy blueberries and a crusty exterior.  So nice that I decided they didn't need icing and were lovely on their own.  If the appearance puts you off, you could try making 12 cakes and perhaps they wouldn't sink quite as much but I really feel it added to the texture.
In the summer months you could make a lemon glaze and pile some fresh blueberries in the centre for a fresh dessert.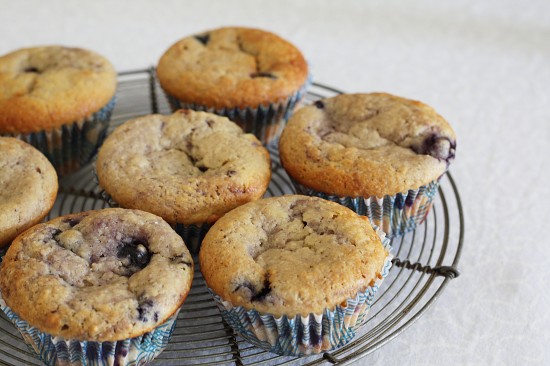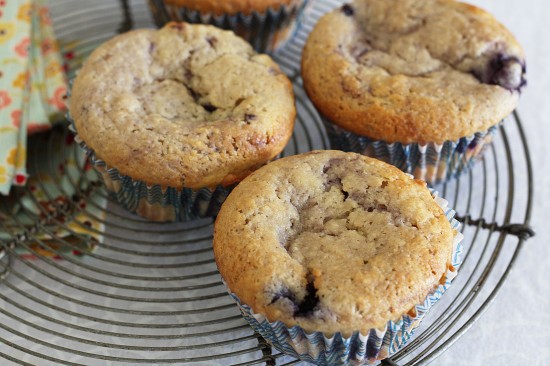 Recipe for lemon blueberry cakes:
1 1/4 cups self raising flour
1/2 cup almond meal
1 cup raw caster sugar
1/4 tspn salt
1 cup fresh or frozen blueberries
290mls buttermilk (1 cup plus 2 x 20ml tblspns)
1/4 cup unsalted butter, melted and cooled
2 eggs (59g whole weight)
2 tspns lemon zest
Preheat oven to 180°C/175°C (fan forced).   Line 10 cups of a 12 cup cupcake or muffin tin with cupcake wrappers.
Sift flour into a large mixing bowl and add almond meal, sugar, baking powder and salt and whisk to combine.  Add berries to coat with the flour mixture.   Whisk together buttermilk, butter, eggs, and lemon zest in a jug.  Add wet ingredients to flour mixture and fold until just combined.
Spoon into cupcake wrappers and bake for 25-30 minutes, or until tops spring back when pressed and are golden brown.
Allow to cool in tin for 5 minutes then move onto cooling rack to cool completely.
Makes: 10