This lush, creamy, dark chocolate treat is full of nutritious energy.  It's so rich you only need a few bites and for a chocolate fix, it does the job very well.  I thought a maple nut crunch sprinkled over the top would be a nice contrast to the deeply dark chocolate.
I used raw cacao powder but you could always use baking cocoa instead.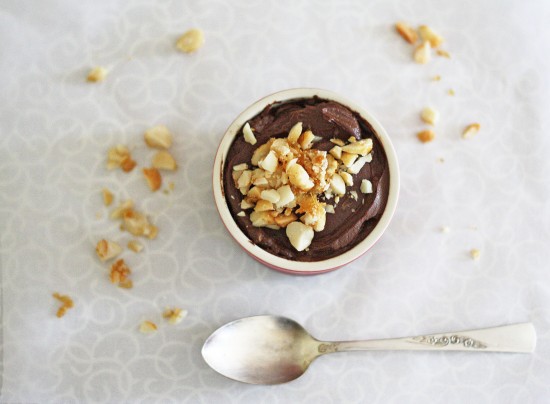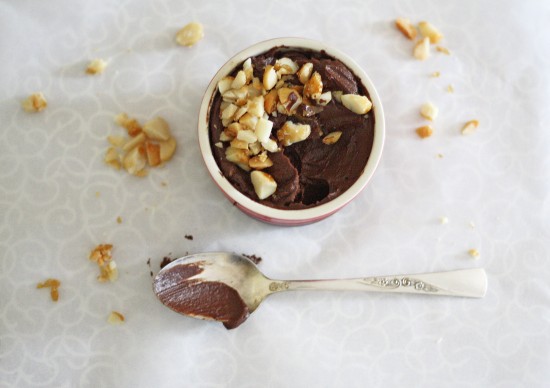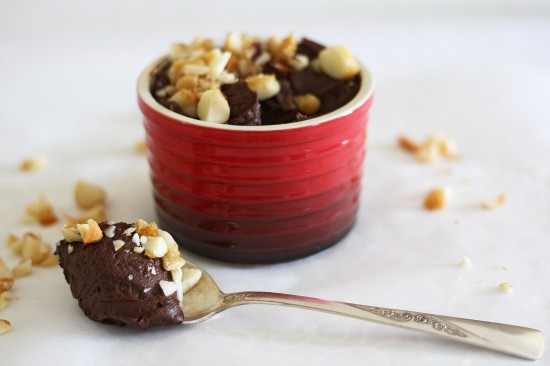 Recipe for cacao avocado mousse with maple macadamia topping:
2 medium sized, just ripe, good avocados, chopped
Heaped 1/2 cup raw cacao powder or baking cocoa
90mls agave nectar (or to taste)
1/2 tspn vanilla bean paste or 1/2 vanilla bean, scraped
Topping:
A small handful macadamia nut halves
Organic maple syrup
Preheat oven to 160C (150C fan forced).
Toss macadamia nuts with a decent drizzle of maple syrup until combined and covered well, then place in single layer on baking paper lined baking tray.  Bake for 15 minutes or until light golden brown.  Remove from oven and set aside to cool and harden.
Place mousse ingredients in food processor and blend on high speed until smooth and creamy.  Spoon into dishes and refrigerate until firm.
Roughly chop cooled, hardened nuts and maple syrup.  Sprinkle nutty topping over mousse and serve either at room temperature or cold from the fridge (I prefer room temp).
Serves: 2