There's nothing quite like the classic pairing of a cheesy, tasty quiche with a fresh, zesty salad – it's really one of my favourite meals to eat.
I developed this recipe in a fairly impromptu way and consequently made too much filling so I made 2 mini quiches as well as the main quiche.  I used a rectangular, 30x10cm quiche tin which was far too small, in any case, this really makes a large quiche – I would say a 24cm round tin with deeper sides (I have one of these and the sides are around 4cm which in retrospect, would have been perfect) or a 28cm round tin – rather than the standard 20cm.
I was super happy with the quiche apart from making too much; the mushrooms offered a hearty texture and flavour and paired really well with the sweet onions.  The rustic, wholemeal shortcrust pastry was tasty, substantial and added an interesting texture to the dish.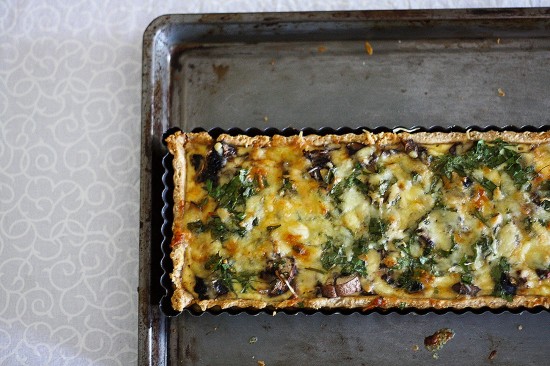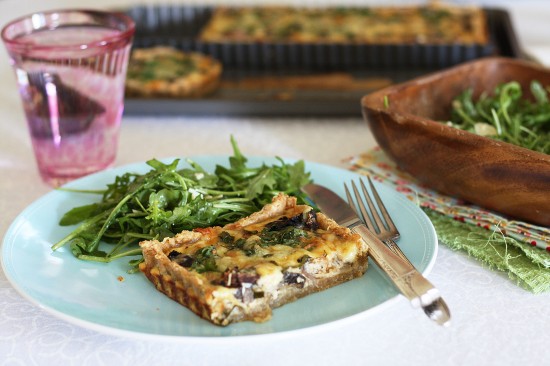 Recipe for three cheese, mushroom and caramelised onion quiche
15mls grapeseed or olive oil
1 large red or Spanish onion
1/2 tspn brown sugar
120g brown and field mushrooms – diced into smallish pieces
140g cheese (I used equal parts Parmesan, a good cheddar and Gruyère cheeses)
4 eggs
1/4 cup low fat cream
1 1/4 cups 2% milk
The green parts of 2 spring onions, sliced
2 tblspns Continental parsley, chopped
Seasoning
Crust
1 1/2 cups wholemeal plain flour
130g unsalted cold butter, cubed
1/4 tspn sea salt
3-4 tblspns ice water
1 egg from the fridge, separated
Pastry:
Whisk the egg yolk and one tablespoon of the iced water together until combined.  Whisk egg white with a fork and set aside.
Place flour, butter and salt into food processor and process on low speed until mixture resembles fine breadcrumbs – it's ideal if bits of butter remain in amongst the mixture.  Add the egg yolk mixture and 2 more tablespoons of iced water to the processor and process on medium speed until dough comes together – add a bit more water if needed (wholemeal flour tends to suck up moisture so this type of pastry needs a bit more water I've found – it will probably depend on the weather as well).
Place on a piece of plastic wrap and bring together in a ball using your hands.  Store in the fridge for an hour or freezer for half an hour until firm.
Filling:
Grease a large, round quiche tin with butter or spray with olive oil.  Preheat oven to 180C (170 fan forced).
Peel onion and cut in half.  Slice thinly and place into small, non stick pan with oil and sugar and bring to high heat, then turn down low and slow cook, stirring occasionally, until browned and caramelised, for around 20-25 minutes.  Set aside to cool a bit.
Meanwhile, remove pastry from the fridge/freezer and place on baking paper.  Use a bit of flour to coat a rolling pin then roll out the pastry to the desired shape, to fit your quiche tin.  Lay pastry onto quiche tin and press into the base and sides.  Use a butter knife to slice off excess pastry.
Layer baking paper then baking beads (or dried beans) onto pastry.  Bake for 8 minutes; remove from the oven, remove the baking paper and beads and place back into oven for 5 minutes uncovered.  Remove pastry base from the oven and brush with egg white wash to seal the pastry, then bake for a further 8 minutes, or until pastry is light golden brown and cooked.  Set aside to cool for a few minutes.
Coarsely grate the cheddar and Gruyère cheese; finely grate the Parmesan.  Whisk together the milk, cream and eggs then mix in the spring onions and parsley – season well with freshly ground black pepper and salt.
Place caramelised onion into pastry base, then diced mushrooms, most of the cheese (reserving some for the top of the quiche) then carefully pour in the custard mixture.  Sprinkle the rest of the cheese over the top.
Bake for 30-35 minutes, or until quiche has set and is light golden brown.  Allow to sit for ten minutes before serving.
Serve with some washed and dried rocket dressed with French dressing and sprinkled with shaved Parmesan.
Serves: 6 main sized servings; 8 entrée sized