This hearty, tasty, stick-to-your-ribs sandwich is a very pleasing combination of healthy, fresh and decadent with a cheeky touch of bacon and a subtle hit of lemon and chilli.  It's pretty easy to whip up, especially if you already have this chickpea spread knocking around in the fridge left over from the other day.  It's also a good way to encourage my guy to eat chickpeas, he's not the biggest fan.  Loves bacon and avocado though, go figure!
You do need good bread; chewy, crusty ciabatta or sour dough always makes my day so I decided on some sour dough rolls from our local bakery.  And please excuse the massive amount of avocado but we had a bigger one than usual and I hate to let it go to waste!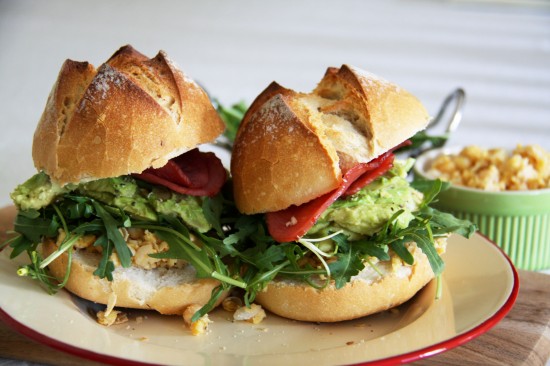 Recipe:
Ciabatta or sour dough bread, sliced
80g rindless, lean eye bacon
Chickpea spread
A handful washed and dried, rocket, baby spinach or fancy lettuce
1 medium sized avocado, peeled and sliced
Freshly ground sea salt and black pepper
Cook bacon to your liking; I roast it on a baking paper lined baking pan in a 190C oven for around 15-20 minutes, turning it around halfway through.
Assemble sandwich with chickpea spread, rocket, avocado and bacon, making sure to season the avocado.
Serves: 2 hungry people
Note:  these particular rolls were a bit epic – I had to take mine apart to eat it.  If you prefer a say, daintier sandwich, use some rustic bread or smaller rolls.