My version of baked oatmeal I made a couple of weeks back – egg free, dairy free, frozen strawberries (fresh would be wonderful but we have none of those currently), crunchy almonds, creamy almond milk and the last of summer bananas.
I loved this – fluffy, soft and nutty with a mere hint of spice, sweet, lush fruit, and it went perfectly with some Greek style yoghurt.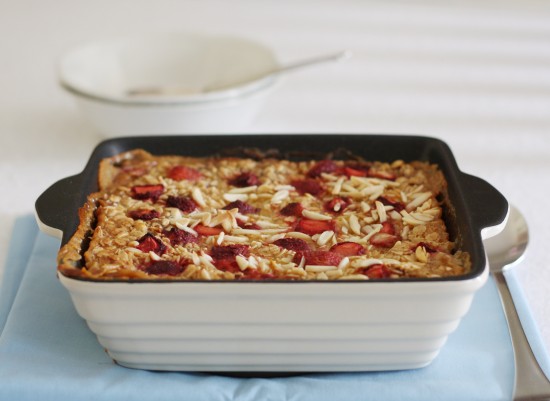 Recipe for Baked Strawberry and Almond Oatmeal:
2 1/4 cups rolled oats (not instant)
50g slivered almonds
1 x 20ml tblspn ground LSA (linseed, sunflower and almonds)
1 teaspoon baking powder
1/2 teaspoon mixed spice
2 cups almond milk or organic soy milk
2 tspns vinegar
80mls rice syrup or maple syrup
2 x 20ml tblspns melted vegan margarine or coconut oil, cooled slightly
2 tspns pure vanilla extract
1 large or 2 small ripe bananas, sliced into rounds
170g halved or chopped strawberries, depending on their size
To serve: Greek yoghurt, rice malt syrup, agave nectar or maple syrup
Preheat the oven to 180C.  Grease a 20cm x 20cm, deep baking dish.  Add the vinegar to the almond milk in a large jug, stir or shake a bit and set aside for 5-10 minutes.
In a large mixing bowl whisk together oats, 40g of the almonds, LSA, baking powder and spice.  Add the rest of the wet ingredients to the almond milk and whisk until combined well.
Layer sliced banana, then the strawberries then oat mixture in the baking dish, leaving a few strawberries aside.  Pour the milk mixture over the oats and, using a wooden spoon, press the oats into the milk.  Sprinkle the rest of the strawberries and almonds over the top and press in gently.
Bake for 40 minutes until the top is golden brown and oats have set but are still a bit wobbly in the middle.  Remove and allow to cool for 5 minutes or so – it will continue setting as it stands.  Serve with a drizzle of syrup of your choice and top with Greek yoghurt.
Serves: 6