An off-beat, sort of unusual combination no?  Surprisingly; gorgeous and deliciously sweet figs pair really well with all different types of nuts and aren't around for long, so I like to use them where I can in season.
Here are some super easy and healthy dishes which you can put together in a flash:
A nutty breakfast full of energy and protein – this breakfast is so luxurious it almost feels like pudding
A sweet little creamy snack on rustic bread to give you some energy throughout the day
A light pizza combining sweetness with a crunch of nuts and some savoury Parmesan cheese and red onion
A sweet, nutty and rich little no-bake tart for a dessert treat
Spicy breakfast quinoa with figs, honey and almonds
1/4 cup almond milk
1/4 cup water
1/4 cup organic white quinoa
1/4 tspn vanilla bean paste
1/4 tspn mixed spice
1 x 15ml tblspn honey
12g whole, raw almonds
1 small to medium sized fig
Greek yoghurt – around a heaped tablespoon
Rinse quinoa and add to medium sized, heavy based saucepan with milk and water; bring to a boil covered, on high heat then reduce to low/medium, cover and simmer for 15 minutes or until liquid has been absorbed, making sure to stand by as milky things tend to boil over.
Remove from heat; stir through vanilla bean paste and mixed spice – cover and allow to sit for 5 minutes.
Add honey, a dollop of Greek yoghurt, sliced fig and chopped almonds to serve.  Drizzle over a bit more milk if desired.
Serves: 1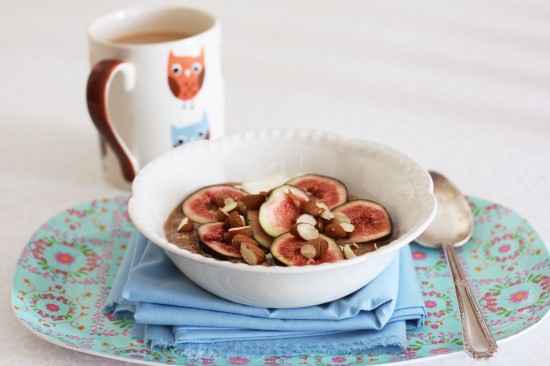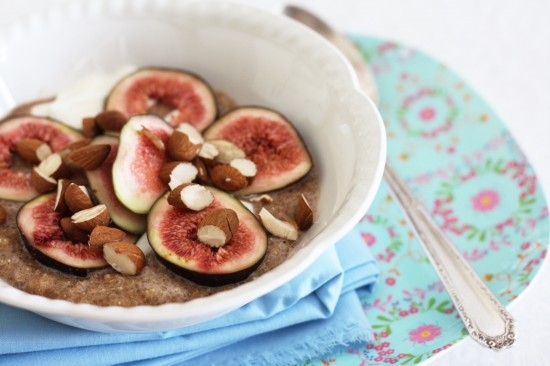 Toasted sour dough bread with vanilla and honey flavoured creme fraiche, figs and walnuts
1 slice sour dough bread
2 tblspns creme fraiche
1/4 tspn vanilla bean paste
1/2 tspn honey
1 medium sized fig
10g pecans or walnuts
Extra honey (optional)
Combine creme fraiche, vanilla bean paste and honey and set aside in the fridge.
Toast the bread and allow to cool for a few minutes.  Slice figs and roughly chop the nuts.  Spoon the creme fraiche on top of the toasted bread slice, add the sliced fig, the chopped nuts and an extra drizzle of honey.
Serves: 1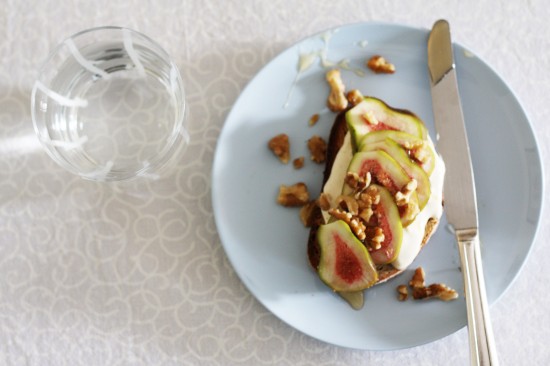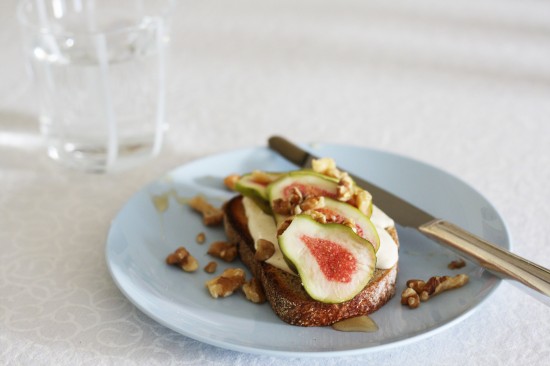 Mini pizza with figs, red onion, Parmesan cheese and hazelnuts
1 wholemeal pita bread
Olive or grapeseed oil
1 medium sized fig
A few thin slices of red onion
20-30g Parmesan cheese, shaved
20g hazelnuts, roughly chopped
Preheat oven to 200C.
Place pita bread onto a shallow baking pan lined with baking paper.  Drizzle some oil over the top.
Thinly slice fig and place over each pita bread with the red onion.  Add cheese then the nuts sprinkled over the top.  Drizzle with a bit more olive oil.
Bake for around 12-15 minutes or until golden brown.
Serves: 1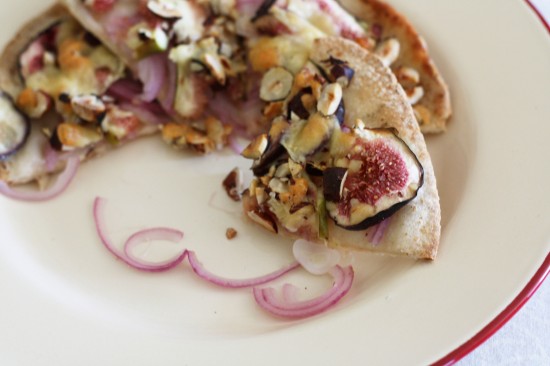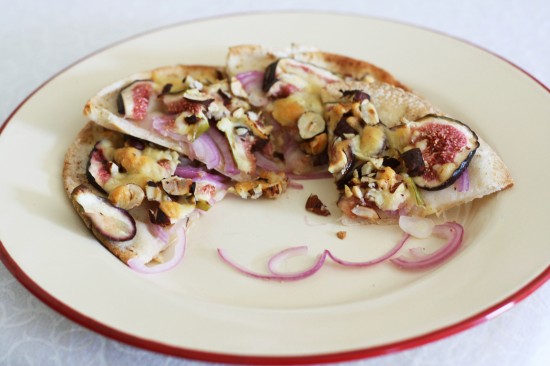 Mini no-cook fig and peanut butter tart on walnut and date crust
40g walnuts, stored in the freezer
20g pitted dates
10g natural peanut butter, softened
Brown rice syrup or agave nectar
1 small fig
Grease 1 mini tart tin – it's easier using one with a removable base.
Add quartered dates to mini food processor with walnuts and process very quickly until just ground and combined.  Don't over-process as it can turn to nut butter – I find it easier if the nuts are cold or even frozen (I keep mine in the freezer anyway as they last a long time and don't have a chance to go rancid which nuts can).  Alternatively you could use a mortar and pestle to grind the dates and nuts.
Press mixture into greased tart tin and place in the freezer for an hour to firm.  Meanwhile, slice fig thinly.
Remove base from fridge and very carefully remove onto plate – I used an egg flip to get under the tart base.  It can fall apart a bit but it's easy to press back together.  Spoon peanut butter into tart base.  Drizzle over whichever syrup you prefer and add sliced fig on top.
Serve with a strong coffee.
Alternative option:  You could try this with a just ripe, sliced banana, if figs aren't in season
Serves: 1