A sunny, breezy summer day a while back brought to mind some sunny baking; a creamy, lemony fresh tart with cute little bouncy blackberries.  The sweet lush filling paired perfectly with the slight tartness of the berries; you could also use raspberries, blueberries or mixed berries as a lovely alternative.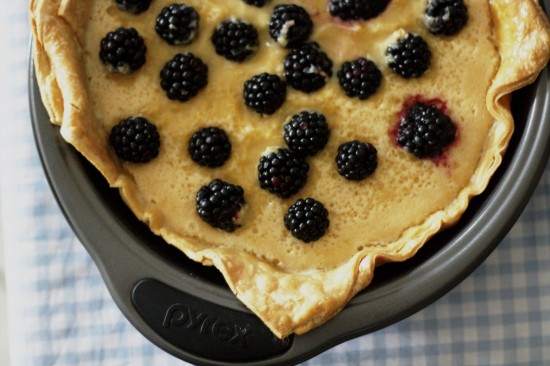 This tart is dead easy to make, particularly if you use ready-made pastry which I did this time, however I have made pastry from the original recipe which includes almond meal, egg yolks and icing sugar and is almost similar to cookie dough, in that it's quite soft when raw, and when cooked, is crumbly and rich.  Making your own pastry isn't absolutely necessary – the stars of the dessert are the lemon and blackberries after all.  I will be honest though, the homemade pastry is worth it if you feel like making it, as that tender richness just adds something special to the filling.
You can either have this tart chilled, with the filling slightly firmer, or very slightly warm and soft after cooling at room temperature from the oven, it's lovely either way.
For the recipe, scroll further down the post.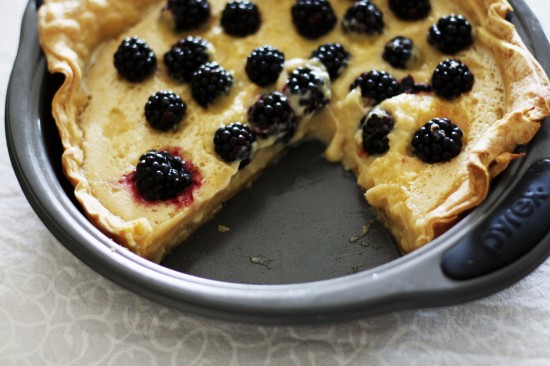 And .. I've decided on a giveaway today, my first one!  So it's a bit exciting.
I really want to thank everyone who's read my blog, commented, used a recipe or otherwise supported my site – I really, truly appreciate all you lovely readers.  I feel quite honoured that people are reading my ramblings and slightly messy recipes, especially when they themselves have such inspiring websites.
Sweetie! 50 Delectable Treats, released on 1st Feb, is mine to give away and is a brand new, hardcover cookbook purchased from the Australian shopping site Lark.  I thought I'd throw in a few cute cupcake cases as well (2 packs minis, 1 regular sized), to start the winner on their baking adventures through the book.
I'm going to find it very difficult to part with this whimsical little cookbook, designed and illustrated by talented Melbourne designer and illustrator Daniella Germain.  The book features sweet, pretty illustrations and beautifully creative recipes such as cheesecake pops, Persian rose macarons and blueberry mojito popsicles.  Click on the first and second links above to view some recipe samples and images from the book.
Blueberry.mojito.popsicles.  Oh my!  Would it be tacky of me to nick the recipe before I send the book?
Some bits and pieces you need to know:
The giveaway is open to all Australian and overseas readers (as long as you have a postal address and don't live on top of a mountain in a tree or something – although that would be very cool I have to say and I would probably have immense respect for you.  Moving along.)
I'll be sending the book at no cost to the winner.  Neither the book nor the cost of postage is transferable.
The giveaway will be open for a week from today and will close just before Easter weekend at midnight on Thursday, 5th April 2012 (Eastern Standard Time, Queensland, Australia); entry must be received by that date.  If, however, the site is unavailable for a length of time due to technical difficulties (this has been known to happen unfortunately), I'll keep the giveaway open for longer and will update this post of the new closing time and date.
To enter, you need to leave a comment to this post and tell me …. vanilla or chocolate – which is your favourite flavour?  Yes, it's the hard hitting questions.
Only one entry per person will be considered.
The winner will be chosen at random by random.org and I'll be emailing the lucky person to inform them and will also ask for their full name and postal address so I can send the book.
All personal information will be kept strictly confidential and will at no time be disclosed to any party.
This giveaway is not associated with any professional groups – the book has been purchased at my cost.
*GIVEAWAY – NOW CLOSED*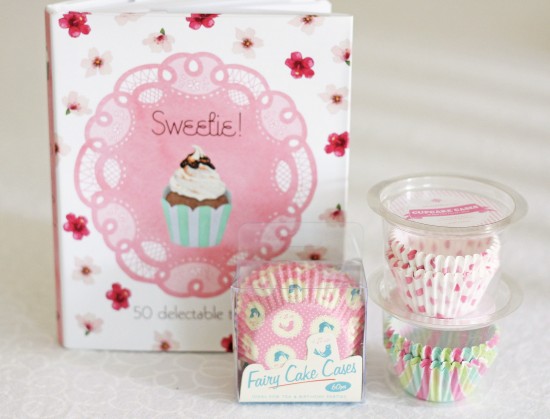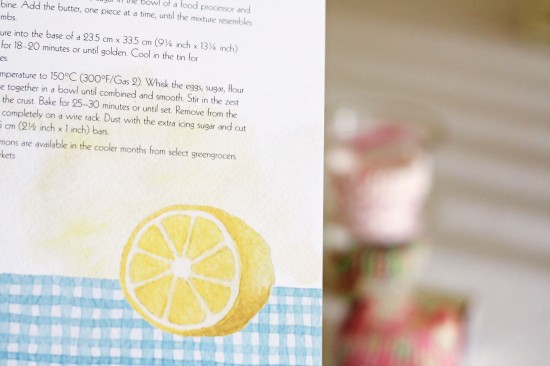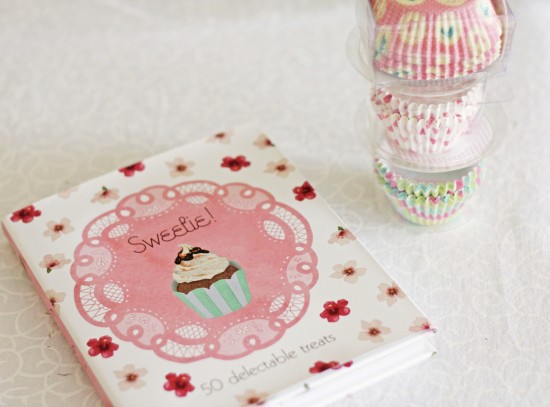 Lemon blackberry tart recipe:
One sheet ready rolled shortcrust pastry of your choice; or
pastry from the original recipe *
1 x egg white, whisked with fork
Filling
200g raw caster sugar
4 x 59g eggs
150ml heavy cream
Grated zest of 2 lemons
100mls freshly squeezed, sieved lemon juice (I used 4 small-medium lemons)
130g blackberries (or berries of your choice)
Preheat oven to 180 degrees C.  Grease a 20cm pie tin.
Line the pie tin with sheet of rolled out pastry; line with baking paper then fill with baking weights or dry rice or legumes**.  Bake in oven for 10 minutes (blind bake).
Remove tart base from oven, take out the paper and weights and return to the oven for a further 5 minutes or until the base of the pastry is dry.  Remove from the oven once more and brush with whisked egg white then return to oven again for 5 minutes, or until the base is shiny and dried.  Remove from the oven and set aside.
Immediately decrease oven temperature to 150 degrees C.
By hand, whisk sugar and eggs until mixture is foamy and sugar is starting to dissolve.  Whisk in cream, then lemon zest and juice until mixture is smooth and creamy.  Pour into tart case and bake for 40 minutes or until just set – don't be concerned if it's wobbly in the centre, as it sets as it cools.  Allow tart to sit for 5 minutes then lightly press berries over the top, allowing the warm filling to soften the berries slightly (this brings out their flavour even more).
Allow to cool to room temperature then store covered with plastic wrap in the fridge.
Inspired by the ABC Delicious Sweet cookbook
Serves: 6
* Note 1:    if anybody would like the original pastry recipe, feel free to contact me.
** Note 2: if using rice or legumes for blind baking, allow them to cool completely then place in an airtight container to use again as pastry weights, as they can't be used for cooking