To celebrate St Paddy's Day I whipped up a cool little breakfast – Irish potato cakes with an egg on top.  I love these comforting little patties which are crisp on the outside and sort of a cross between potato cakes and hash browns.  They're at their absolute best served with a full Irish breakfast or, as I had mine, with a fried egg and some fresh rocket leaves.
Happy St Patrick's Day!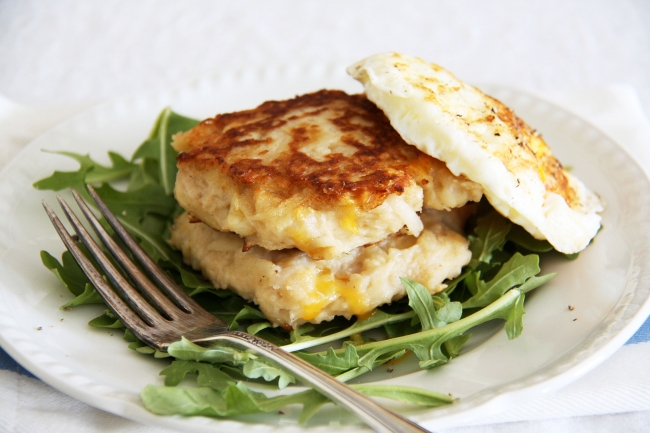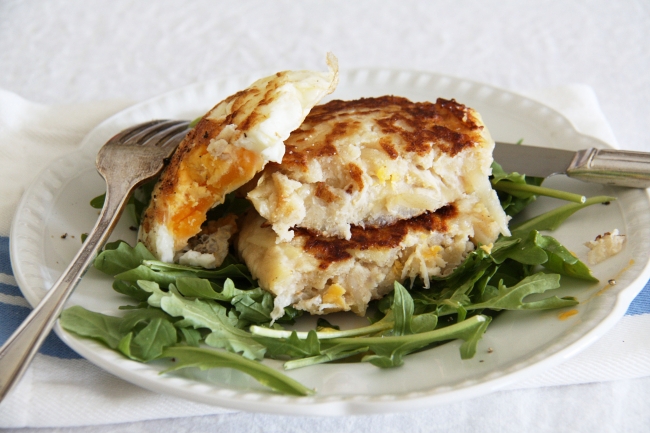 Recipe:
500g potatoes
2 x 20ml tblspns plain flour
1 large egg
80mls milk or buttermilk
Seasoning
2 green parts of spring onions, chopped
15mls grapeseed or olive oil
15mls butter
Good handful rocket
3 eggs
Peel 250g of the potatoes; grate coarsely then place in colander over sink.
Peel and dice the remainder of the potatoes and boil for around 15 minutes or until tender; drain, mash then set aside to cool for ten minutes or so.
Squeeze the grated potato until as much liquid has been removed as possible.
Place grated potato and mashed potato into a large bowl, sift in flour and mix lightly with a wooden spoon.  Whisk egg and milk in a jug then mix into the potato mixture with the spring onions if using, until well combined.  Season really well.   The mixture should be firm enough to form into patties but still soft.  You might have to experiment a bit to find the right consistency which works for you, there's a lot of different ways of making boxty!
Heat half the butter and oil in a 20cm (base) frypan to high heat then turn down to medium-high or medium, depending on the size of your hotplate.  Form the potato mixture into patties using a 1/3 cup measure and your hands, then place into frypan 3 at a time, flattening with an egg flip (the flatter they are, the quicker they'll cook).  Fry on both sides until golden brown and cooked through, around 5 minutes each side.  Place onto plate lined with paper towel and cover with foil and repeat with remainder of the oil, butter and potato mixture.  You'll need to turn the hotplate down as you go to prevent burning.
Add knob of butter to a non-stick pan and fry eggs to your liking.  I use egg rings which make a perfect shape for the potato cakes.
Serve on rocket with fried egg on top.
Makes: 6